I went to the outskirts of Siem Reap to pick up my moto (which is what people here call anything with a motor and two wheels). I was handed the key to a battered Honda Dream, a Frankencycle of a scooter's front end and a motorcycle's back end.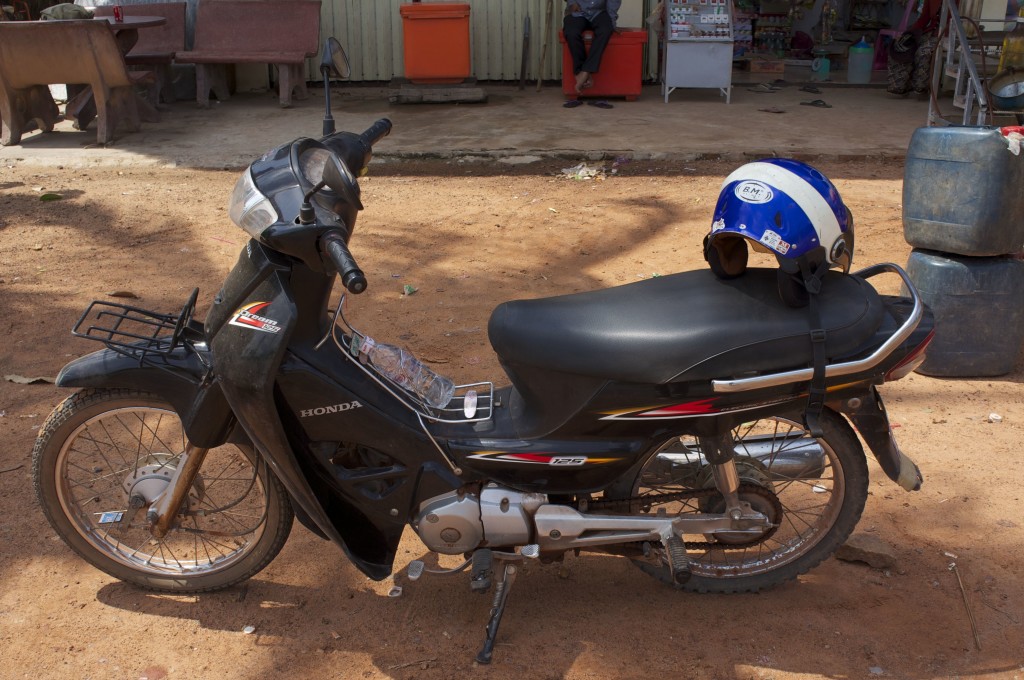 At the garage, a greasy guy lurched toward me and offered me a Bombay Sapphire Gin bottle. A little early in the morning, I thought, but why not? I reached for the bottle, but the guy pushed by me, flipped up the Honda's seat, and poured the contents of the bottle into the gas tank. This is how a Khmer-style gas station works.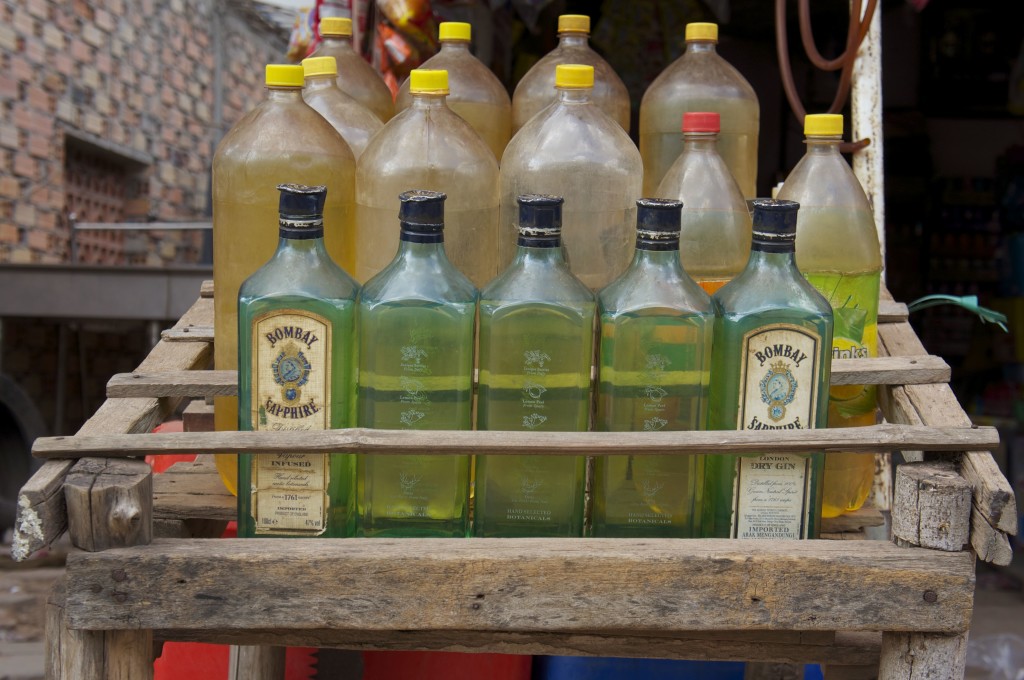 Once I left Siem Reap, the pavement gave way to deep red dirt. I rode slow, given that the previous night's rain had left muddy patches, but the Honda held to the track surprisingly well. About 10 km out of the city, I looked across rice fields to see the three towers of Angkor Wat way in the distance.
The Cambodian countryside was peaceful, lush, and compared to other rural areas of Asia I've seen, relatively prosperous.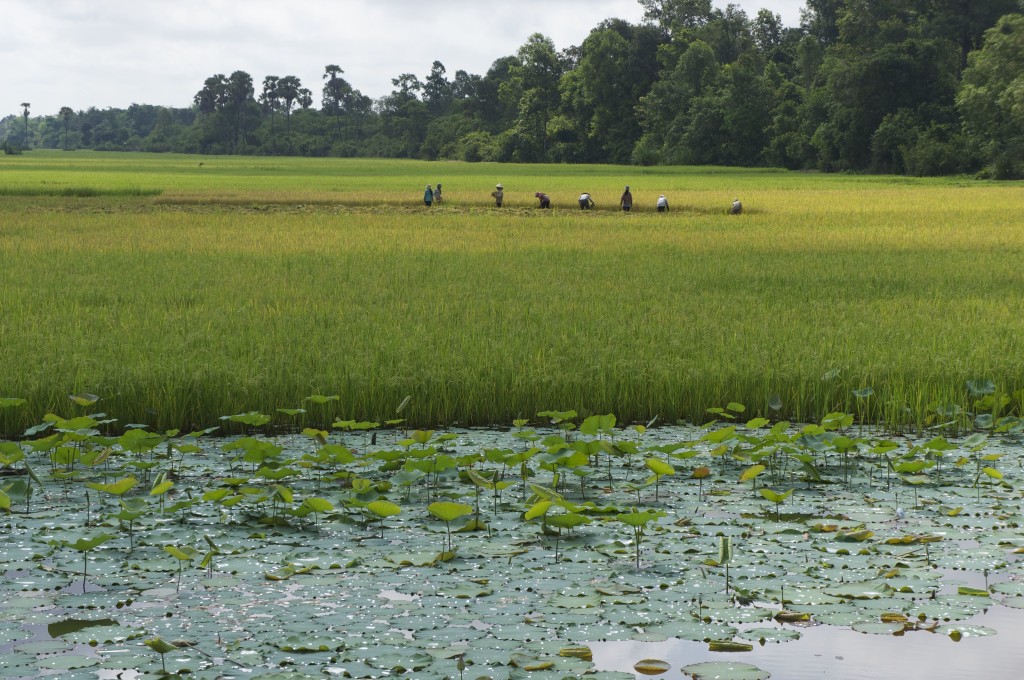 I passed by many houses built up on stilts and painted dusky red with dusky blue trim. The ground floors are concrete pads that are used as garages, porches, and patios. There are stairs or thatched ramps leading up to the living areas.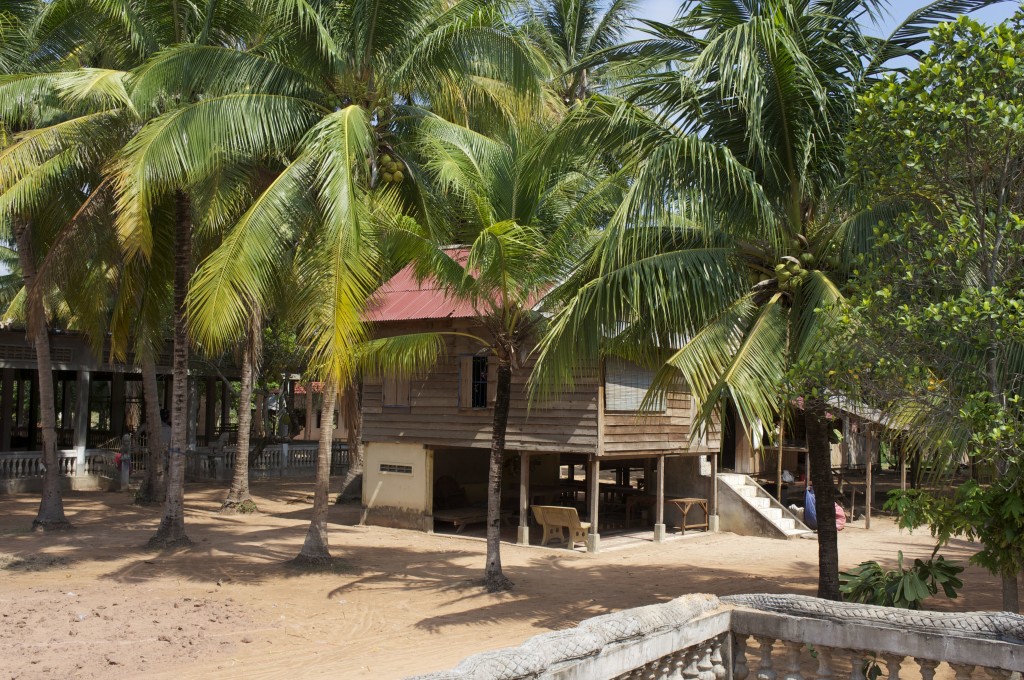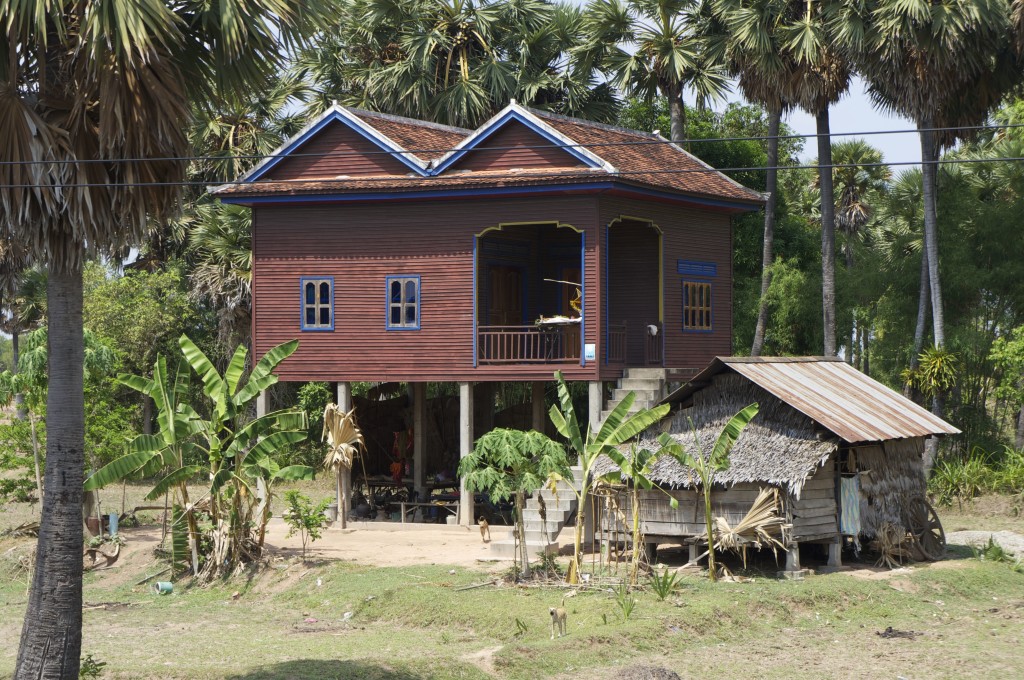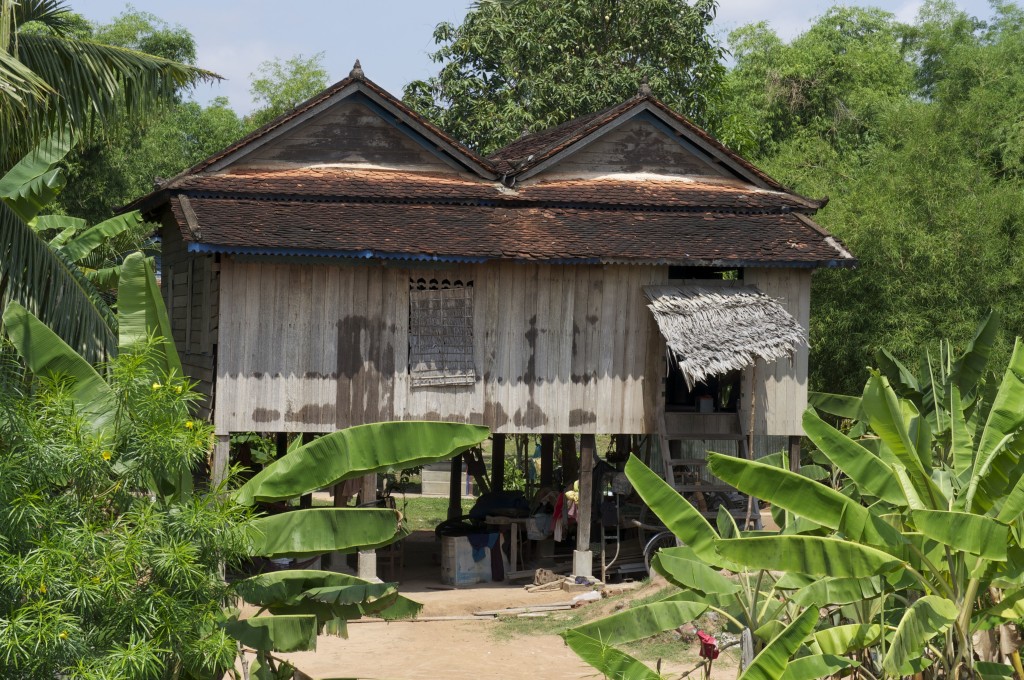 I don't romanticize poverty. But there are different ways of living poor. The Cambodians seem to do it artfully. Their houses are clean and tidy outside. Things are built and arranged with a strong aesthetic sense.
Around lunch time, I saw a sign for BBQ and stopped. I was led down a path through the jungle to a single guy who had a fire going. "Meat or no meat?" he asked. "Meat," I said. I was led further down the path past several outdoor porches built on piers over a small lake to the very last one.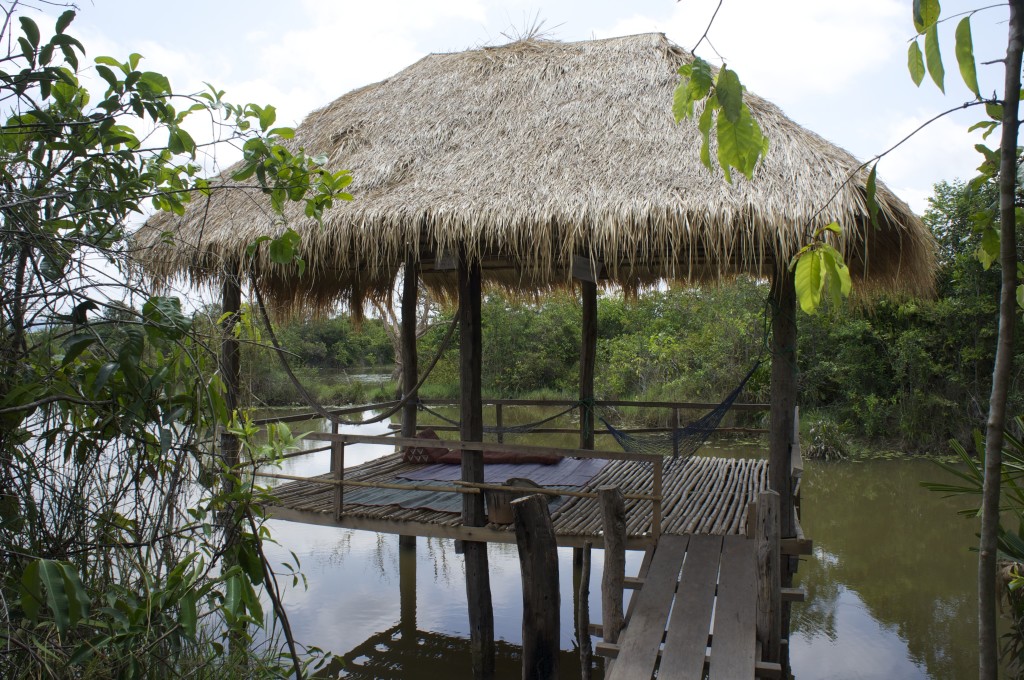 This was my private dining room. It had some hammocks, a bamboo floor, and straw mats. I snoozed for a bit until the cook brought me a plate of grilled chicken, pork, and sausage–delicious and far more than I could eat.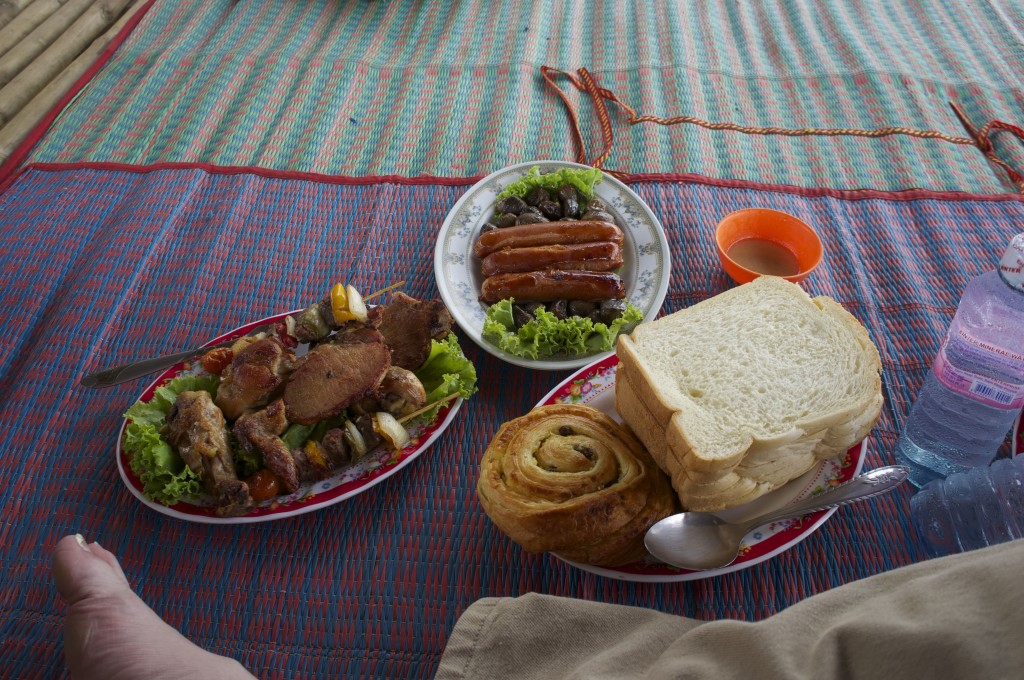 I ate while looking out over the lake.
Then I was on my way again. I stopped for gas here . . .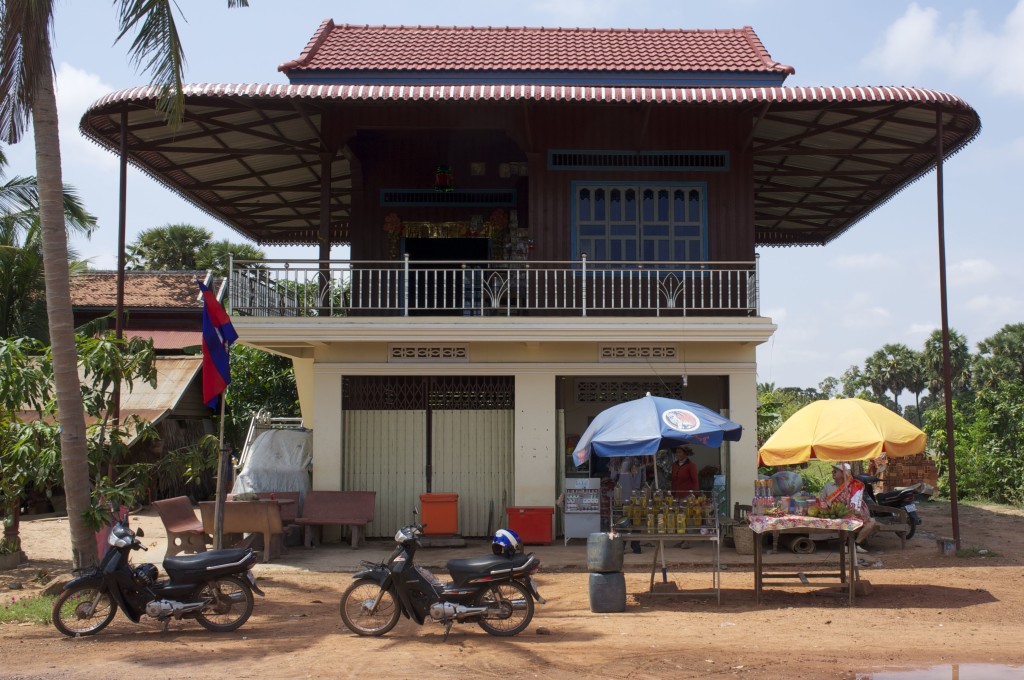 . . . and decided to go with the Johnnie Walker Red this time.
I passed various Buddhist schools, temples and monasteries. Several of them had similar murals painted on their walls that looked like something out of Hieronymus Bosch. A Buddhist conception of the torments of hell?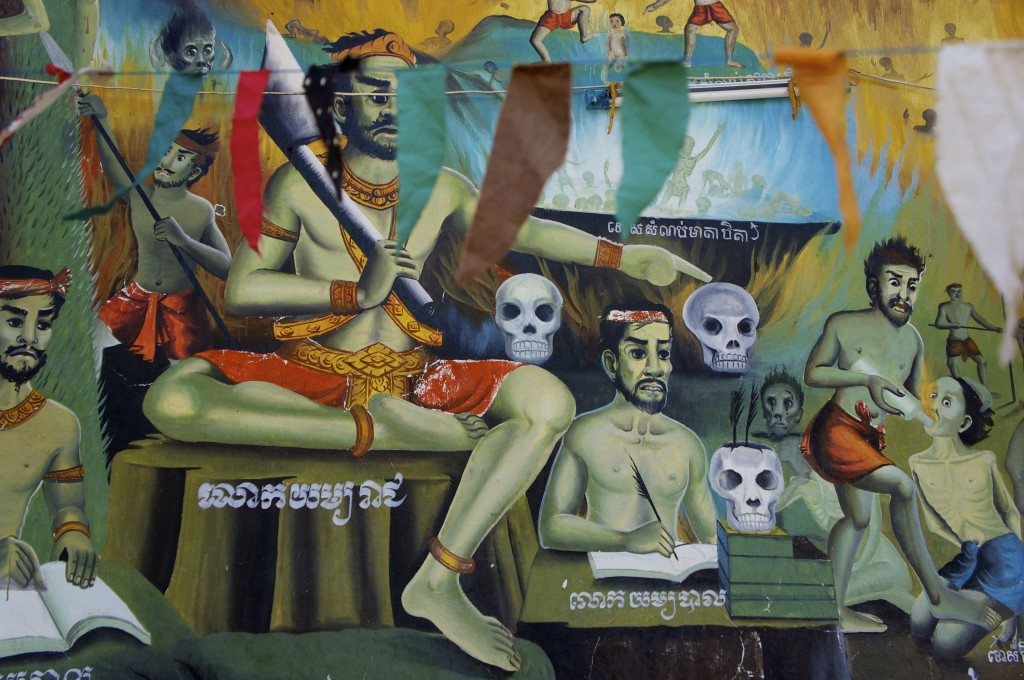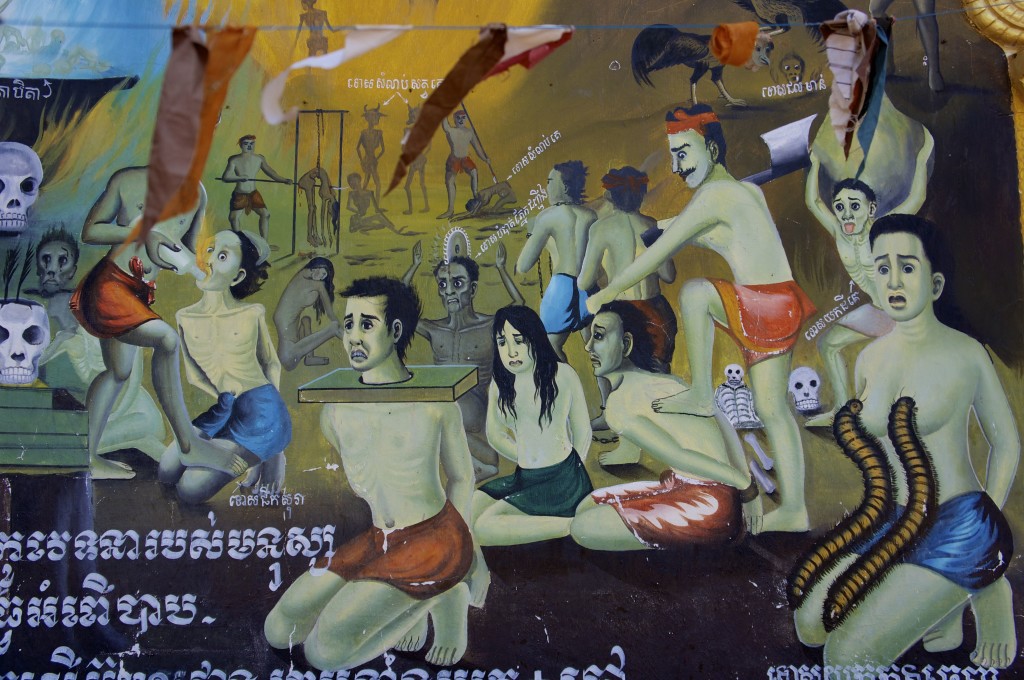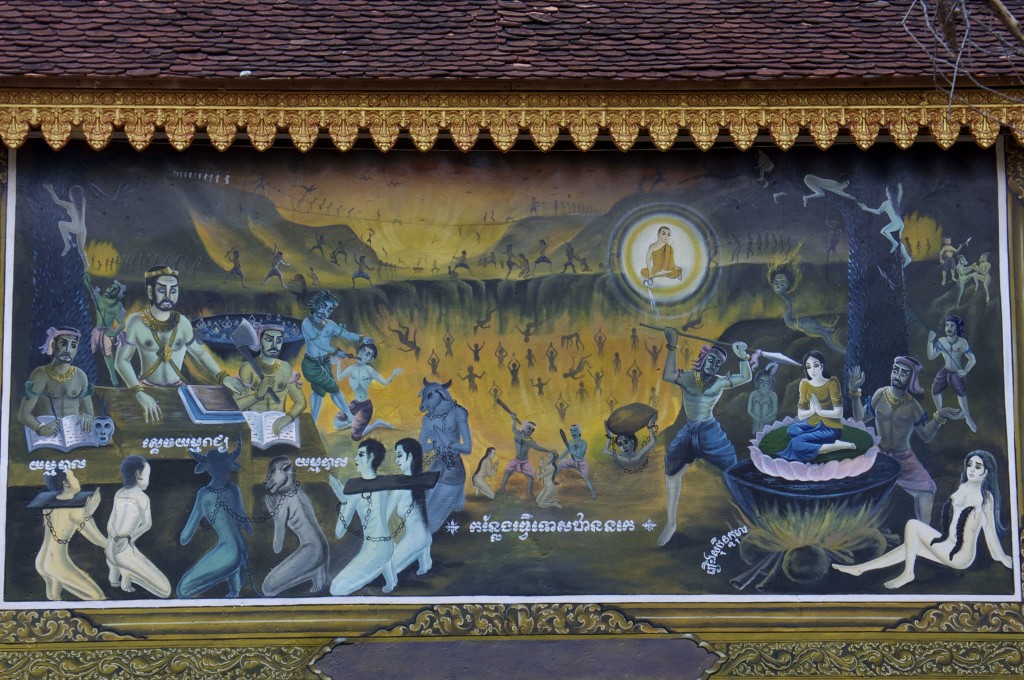 My destination was Chau Srey Vibol, an unrestored temple complex built in 900, i.e., 200 years before Angkor Wat. It was not easy to find and the roads were bad, but I made it — and it was a highlight of my trip.
Read about it in Cambodia: By Motorcycle to Chau Srey Vibol, Part 2.