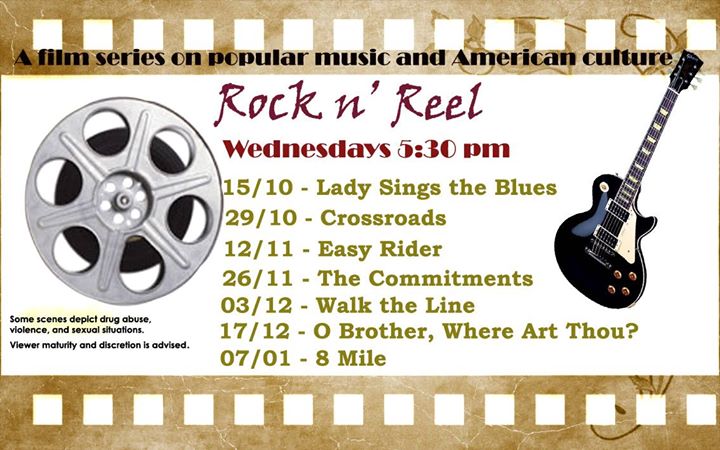 I've put together a film series for the American Corner here, a library and cultural center jointly funded by Amideast and the US State Department. The idea is to present different genres of American music through the presentation of movies that feature the music in its cultural context. The first film, Lady Sings the Blues, will be shown at 5:30 this Wednesday and all are invited.
Here's the program for the whole series:
1. Lady Sings the Blues. 1972. Jazz. Starring Diana Ross, Billy Dee Williams and Richard Pryor. The story of the life and career of legendary jazz singer Billie Holiday.
2. Crossroads. 1986. Blues. Starring Ralph Macchio, Joe Seneca, and Steve Vai. A young and gifted classical guitar player dreams of playing the blues.
3. Easy Rider. 1969. Rock 'n' roll. Starring Peter Fonda, Dennis Hopper, and Jack Nicholson. Two hippie bikers ride from Los Angeles to New Orleans in search of America.
4. The Commitments. 1991. R&B. Starring Robert Arkins, Michael Aherne, and Angeline Ball. A working-class Irish band is determined to bring soul music to Dublin.
5. Walk the Line. 2005. Country. Starring Joaquin Phoenix and Reese Witherspoon. A chronicle of country music legend Johnny Cash's life and songs.
6. O Brother, Where Art Thou? 2000. Folk. Starring George Clooney, John Turturro, John Goodman, and Holly Hunter. Escaped convicts travel across Mississippi in the 1930s trying to find a buried treasure.
7. 8 Mile. 2002. Hip hop. Starring Eminem and Kim Basinger. A young white Detroit rapper tries for his chance at fame.