Back when I lived in Tunisia, I became fascinated with old, weird French cars. I rode in them every day back then and saw scores on the roadways. What struck me is that, for good or ill, French car manufacturers go their own way when it comes to design. That's true of Citroëns in particular. No one could mistake an older car that came out of their design shop for anything else on the road.
Here's one of the Tunisian Citroën 2CVs I spotted on the streets of Sousse and blogged about two and a half years ago:
So when I got the chance to rent an almost identical 2CV here on Curaçao and drive it around the island for four days, I jumped at the opportunity. The company that provides them here, Ducks United, takes its name from the popular nickname that these beloved, stalwart cars earned: the Duck. Here's one explanation of how that name came to be: it comes
from the Ugly Duckling, a Hans Andersen fairy story. Before World War II, Citroën had a logo with a beautiful swan on it representing the floating motor (Le Moteur Flottant). At the 1948 Paris Car Show, the 2CV was likened to being an ugly duckling amongst the other handsome Citroën swans on show. Another version is that the beautiful Citroën swans had given birth to the 2CV ugly duckling. This nickname appears in many languages.
The car was delivered to the Bed & Bike Hostel where I'm staying in Willemstad. After some quick and easy paperwork formalities, the owner of the company, Geert Net, showed me how to operate the two (!) convertible roofs, the keyless ignition (a toggle switch and a push-button), the horn (a stalk protruding from the right of the steering column), the flip-up windows, and the shift. And then he left me to learn the car's many quirks on my own.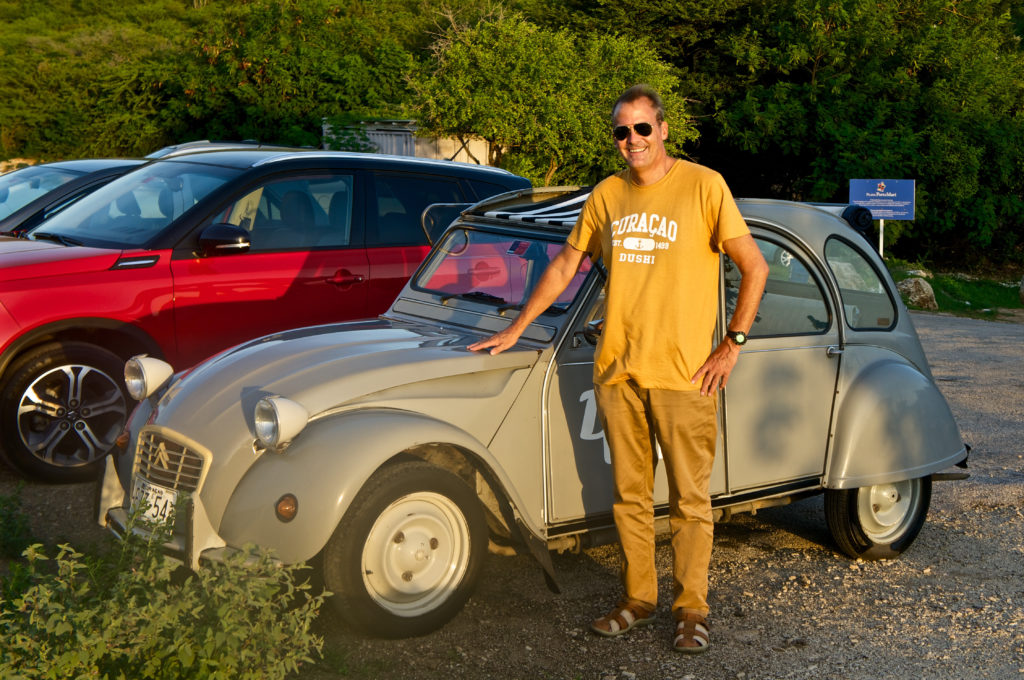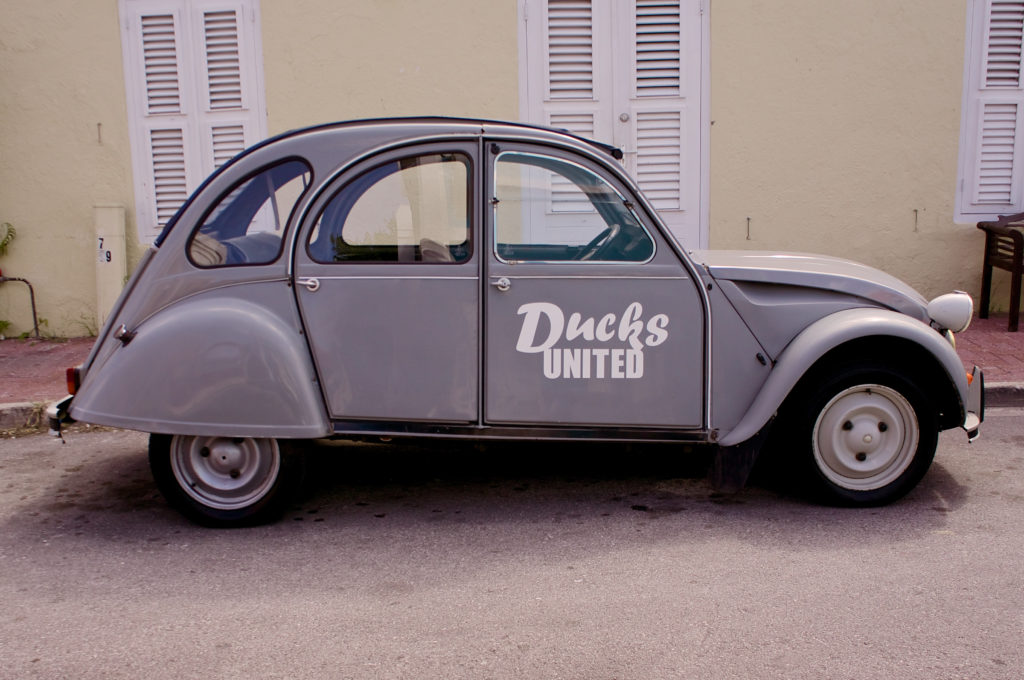 My ride was a 1981 2CV 6 Club, one of the many 2CV variants that Citroën built its 42 years of production (1948- 1990). It had a two-cylinder air-cooled engine mated to a four-speed manual transmission. The shift lever poked out of the firewall, ran under the rudimentary dashboard, and then at its very end turned up and was topped with a satisfyingly-large shift knob that felt good in the hand. Because the car is so underpowered, the transmission got a good workout, even on the very moderate hills of Curaçao.
I soon came to appreciate my ugly duckling's many virtues. Its long wheelbase gives it a much smoother ride than most cars its size. Its shift pattern is intuitive and easy to learn. And its distinctive design incorporates many complex curves, giving the body something like an Art Nouveau look.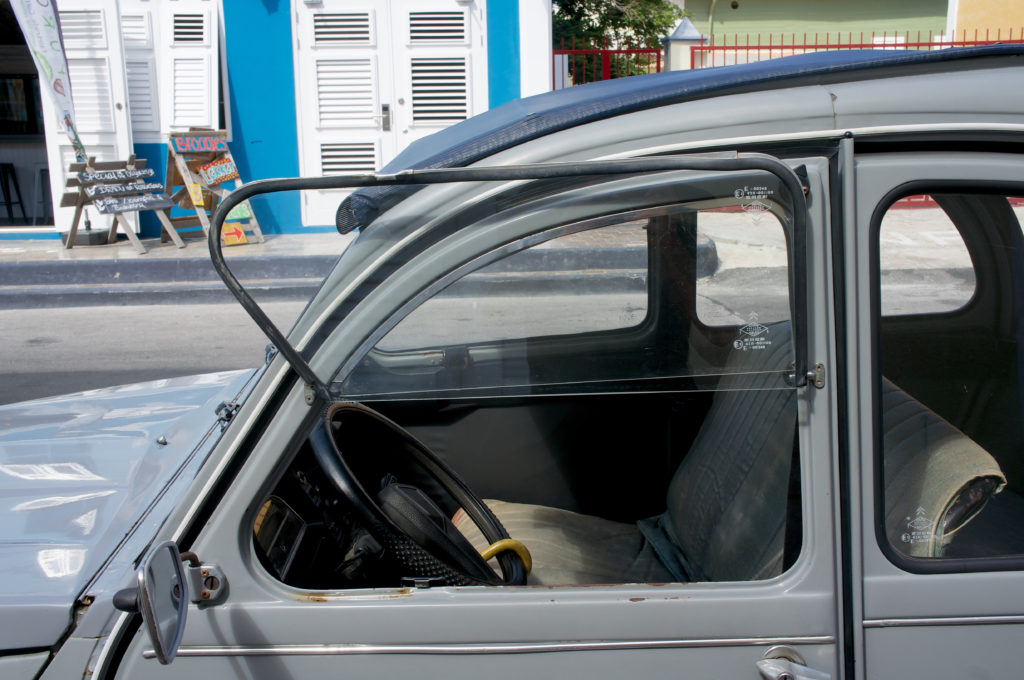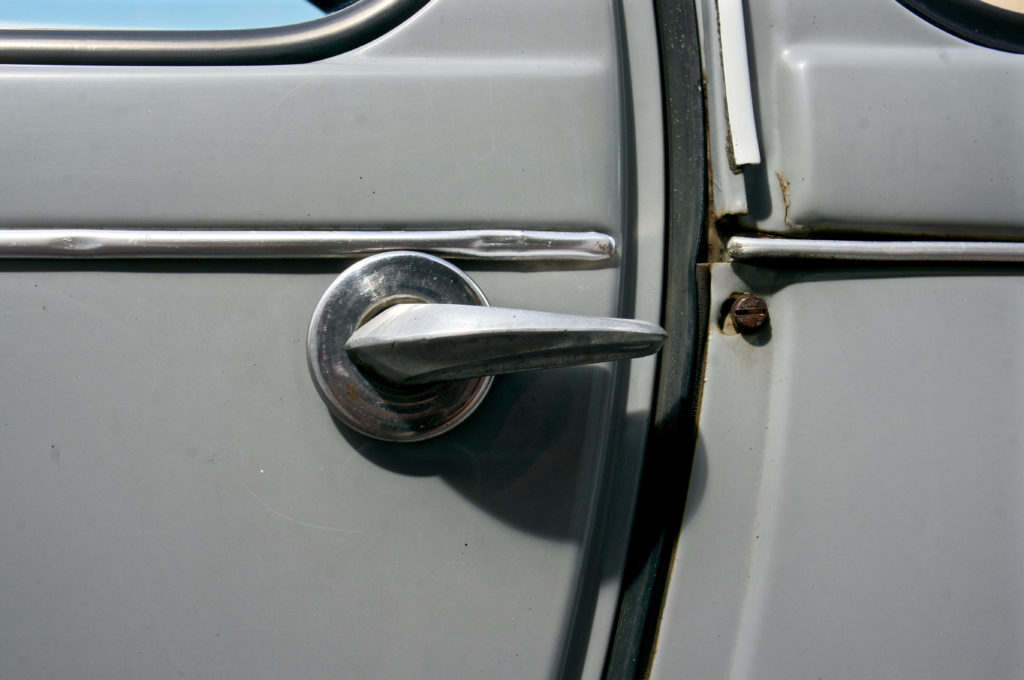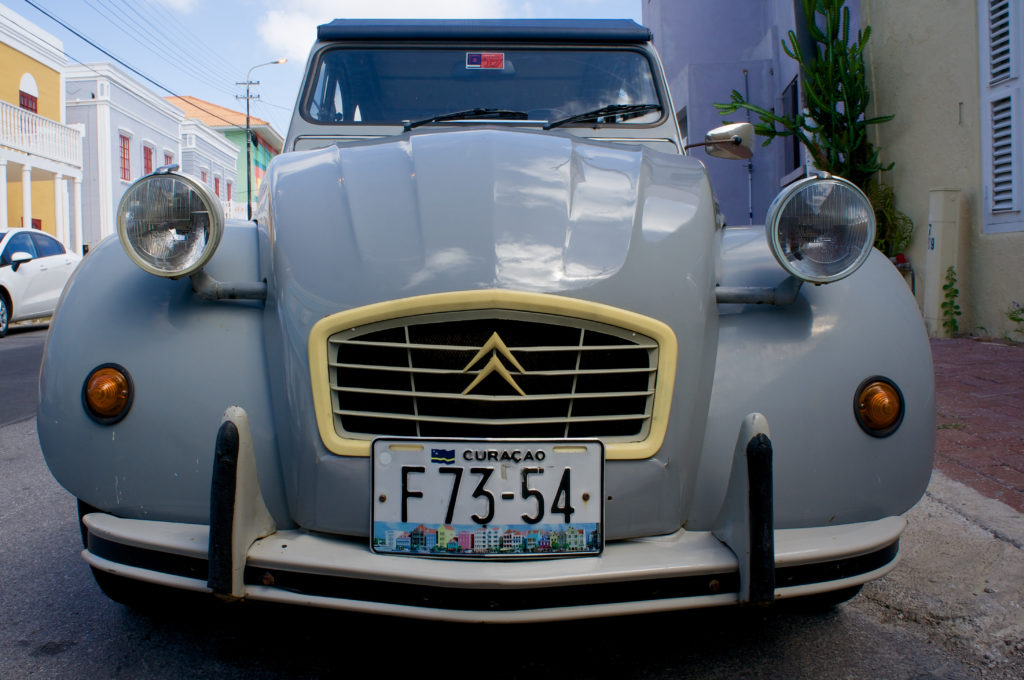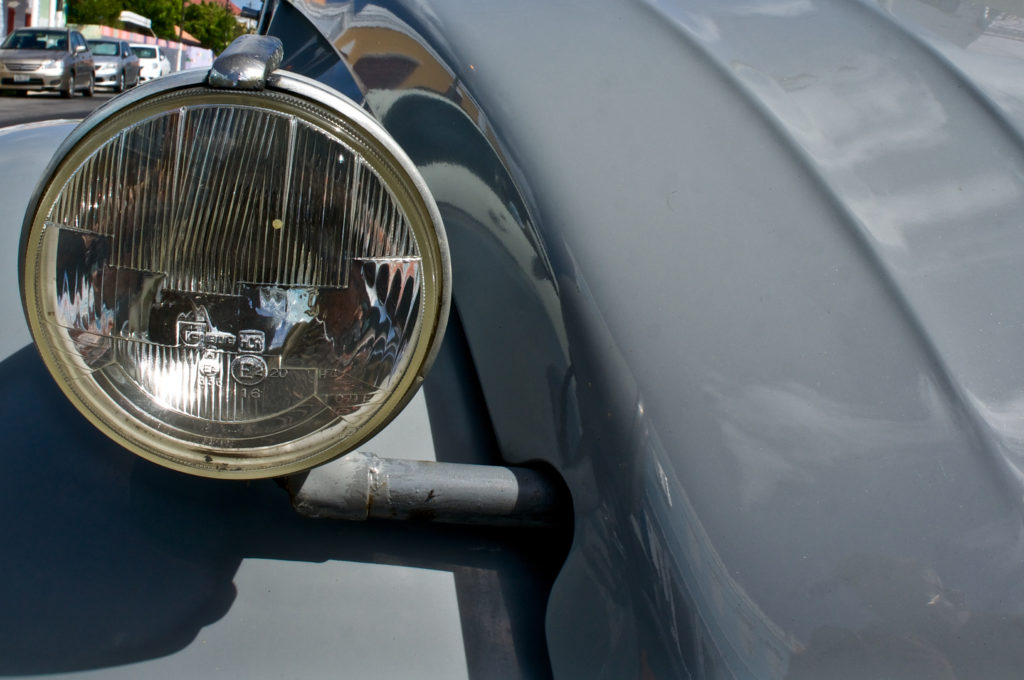 Other parts of the car were, frankly, not so beautiful. The one-piece instrument cluster and dashboard looked like 80s plastic. And indeed, they were.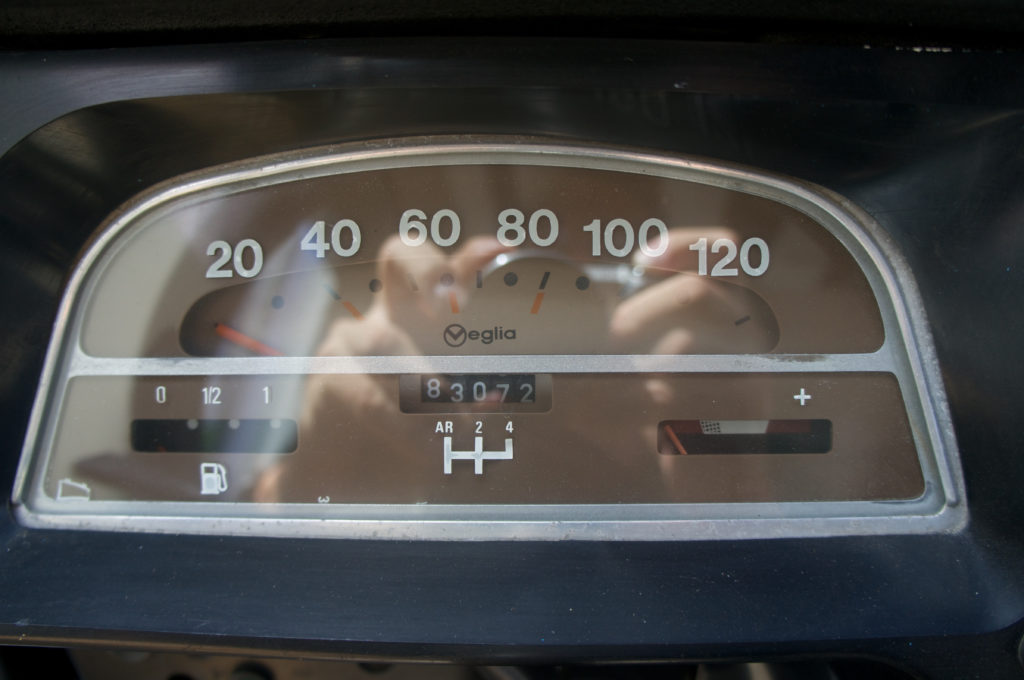 But overall, the 2CV delighted me. It seemed to have that effect on other people too. I got a lot of honks, waves, thumbs-ups, and smiles on the roads, at gas stations, and in parking lots.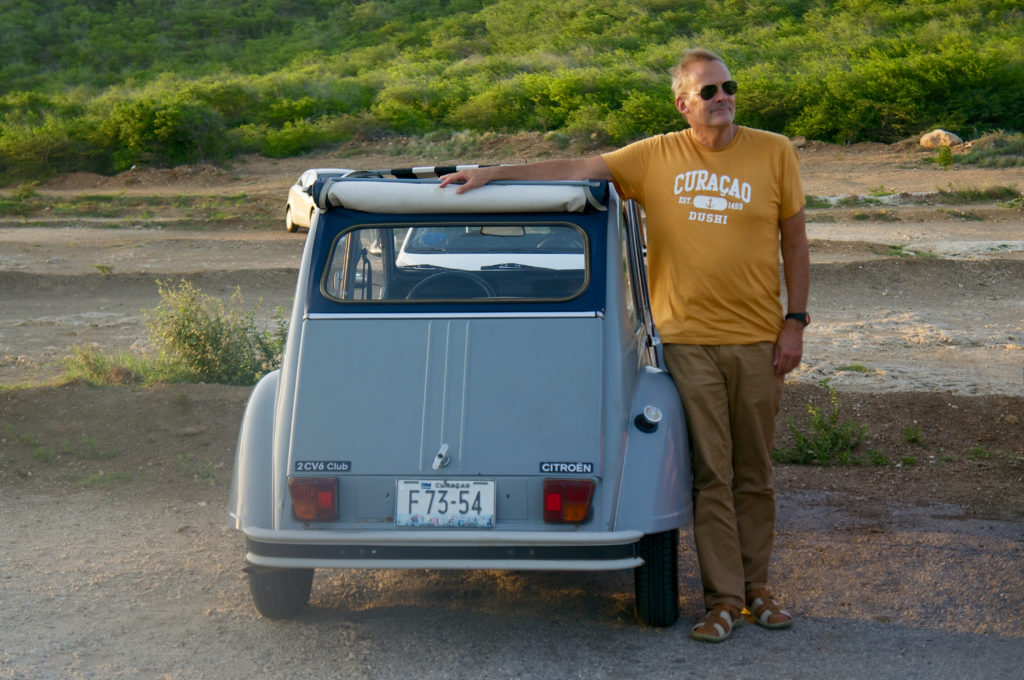 The word "jaunty" comes to mind whenever I look at it. And while it's probably not a good vehicle for high-speed highways and long-distance journeys, it was ideal for exploring this 171 square mile island.