I connected on Twitter recently with Joanna Bieleń woman from Stalowa Wola, Poland who, like me, has traveled some but wants to do more.
(By the way, if you're not following me on Twitter, you should. My feed centers on travel and living abroad.)
Joanna and I were chatting about our travels when she asked me a great question: "What are your favourite places in the USA? It is really interesting for me. My passion is tourism, culture and history." As we chatted further, she clarified that she was interested in the lesser-known American destinations.
I accepted Joanna's challenge, put on my thinking cap, and came up with my own best-of-list. My selections are based on personal visits to each of the places I recommend. Like all such lists, it reflects the interests and biases of the person who wrote it. I like a to see a mix of big, medium, and small cities and rural locations. I've included several towns associated with excellent colleges and universities; I find college towns to be vibrant and interesting, though others might disagree. I've tried to include a representative sample of American regions and cultures. And I've tried to avoid the obvious; no one needs me to tell them that New York and the Grand Canyon are amazing places.
The pictures here are not mine and are believed to be either in the public domain or used under license.
Here, then, is my list for Joanna — and for anyone else who wants to see a good variety of the USA.
Vermont
Surely a candidate for America's most beautiful state, Vermont is located in New England, the oldest corner of the country.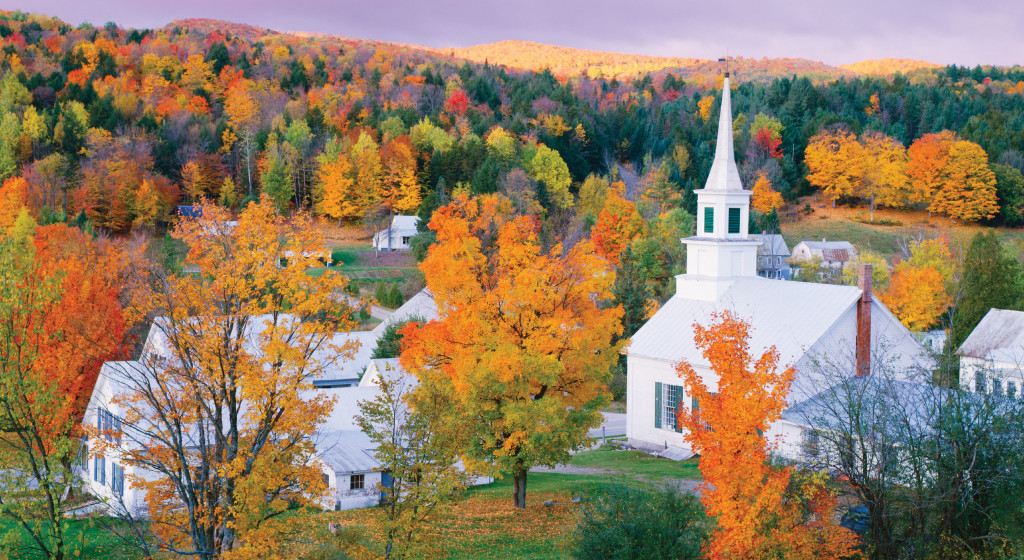 The rolling green hills and well-tended farms make for pleasant driving, biking, and motorcycling. All of the best aspects of New England are on display here among the locals: flinty self-reliance, supportive communities, common sense, tolerance for the occasional eccentric, and an appreciation for the land and its beauty. Fall is the best time to visit; the trees flame red and gold all over the hills and valleys.
---
Ithaca, New York
Ithaca is an old city of 30,000 people located in a beautiful part of upstate New York.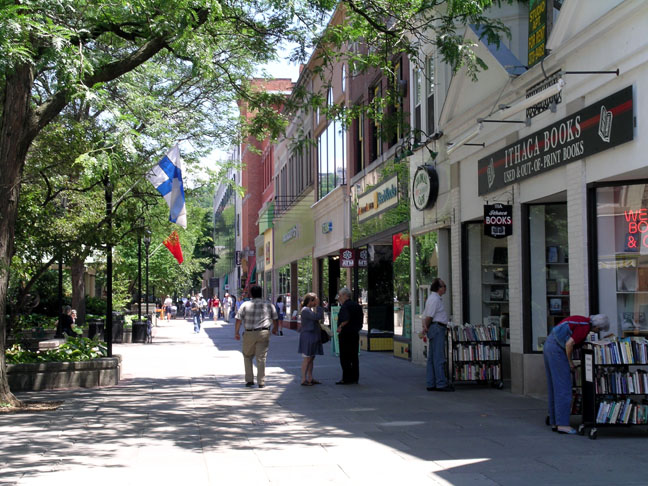 For years now, the city has promoted itself with the tagline "Ithaca is gorges," which puns on the similarity of the word "gorgeous" and the word "gorges." It's an apt slogan, since outdoor recreation opportunities abound there. The town is located at the tip of one of the Finger Lakes. Parts of Ithaca appear to have been literally carved out of the nearby granite cliffs. There is a sense there of something very old, unquestionably American, and faintly mysterious. Though Ithaca is a small town, it's got a vibrant cultural and intellectual life, thanks to the presence of Cornell University, an Ivy League college.
---
Chicago, Illinois
Although Chicago is America's third most populous city, it's sometimes overlooked by foreign tourists who focus on the Atlantic and Pacific coasts.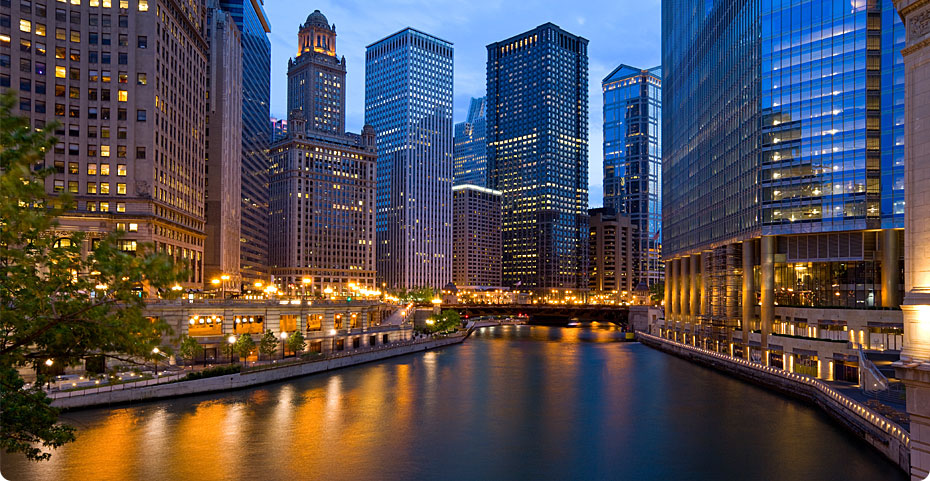 Its downtown is far more concentrated and architecturally distinguished than Los Angeles, and its streets are broader and have a more muscular feel than those of New York. Chicago feels more livable than either of those coastal cities and its people have a midwestern down-to-earth attitude that is sometimes in short supply on the ocean coasts. It has many distinguished universities, great shopping areas, lots of parks, a rich architectural heritage, and a wealth of cultural and athletic activities. For those reasons and more, Chicago is my favorite of America's ten largest cities.
---
Iowa City, Iowa
When you're in Iowa City, you're definitely in what Americans confusingly call "the midwest" (even though much of it is located in the eastern half the country).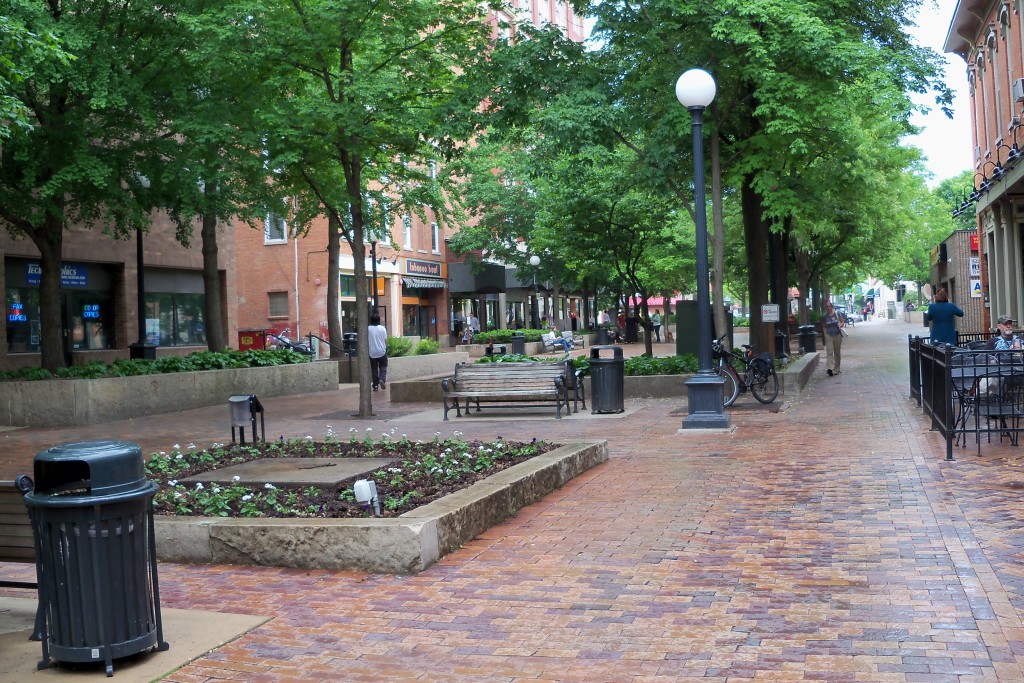 Some people cynically refer to the American midwest as "flyover country," suggesting that there is no reason to actually touch down there. Those people, though, have obviously not been to Iowa City. It's a university town, home to the highly-regarded University of Iowa and the celebrated Iowa Writers' Workshop. Bricks laid into some of the sidewalks there bear the signatures of some of the many great writers who have passed through that program. The university's presence has also brought banking, high-tech, and educational publishing/testing companies to town, giving the place a hip, intelligent, prosperous feel. There's plenty for a traveler to do by way of attending concerts, plays and lectures, going shopping, and cycling around town.
---
Eureka Springs, Arkansas
Eureka Springs is in the south, but not entirely of it.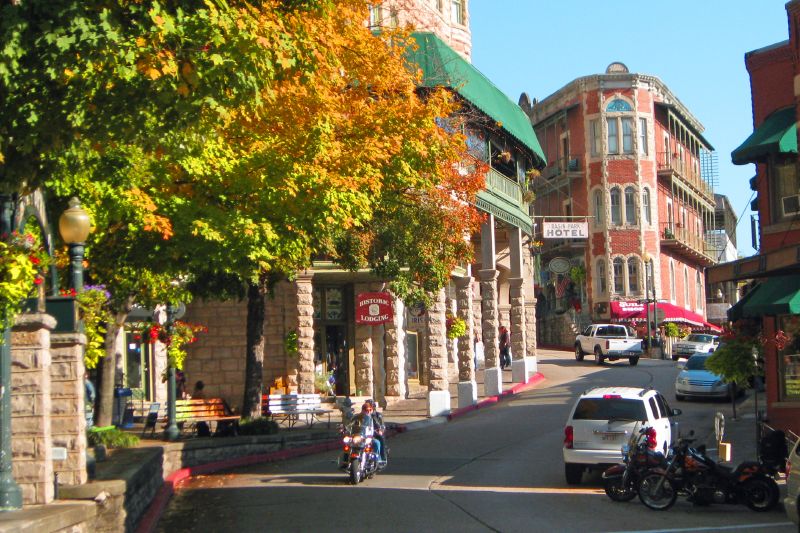 It's a small town in the Ozark Mountains that's unlike anything else in Arkansas. Originally built as a spa town for the movers and shakers of the late 19th century, Eureka Springs has quaint old mountain Victorian houses and grand hotels. No two streets run parallel or intersect at right angles. While this part of the country is generally very conservative and traditional, Eureka Springs has attracted an outsized share of LGBT people, artists, and other free spirits. For those more religiously inclined, there is the beautiful contemporary glass-and-wood Thorncrown Chapel set into the woods nearby. Sitting in its pews feels almost like sitting alone in the forest in the presence of the divine.
---
New Orleans, Louisiana
New Orleans is one of a kind.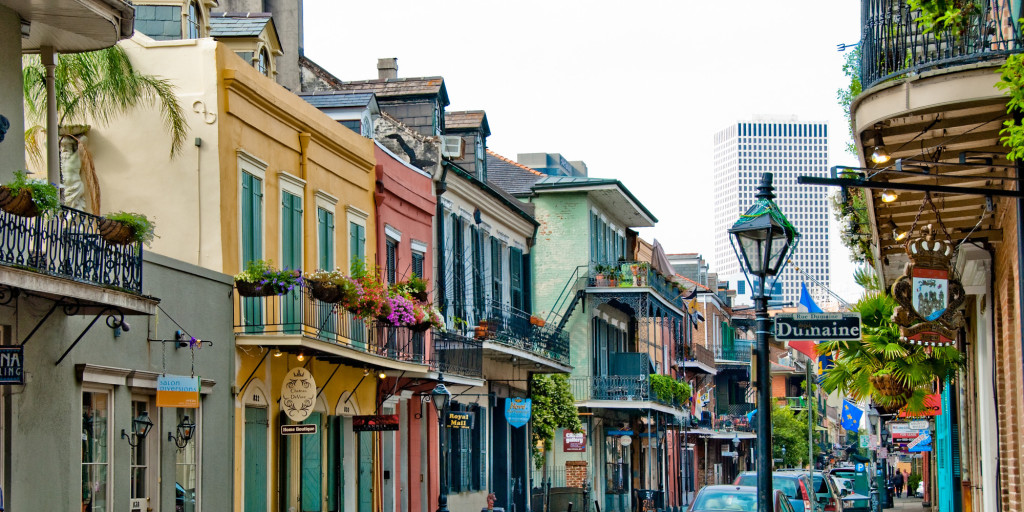 Alhough it has a different culture, heritage, legal system, and accent from the rest of the United States, some of America's most famous contributions to world culture come from the city they call The Big Easy. You can still hear traditional jazz at the Preservation Hall, dig the roots of blues on almost every street corner, and dance to authentic zydeco just a few miles out of town. Gumbo, jambalaya, voodoo, ghost stories, mardi gras, musical funerals, and every manner of intoxicating spirits known to humankind all mix together in the city they call The Big Easy. There is no other city in America remotely like it.
---
Austin, Texas
Austin is the capital of Texas, but it's much more than that.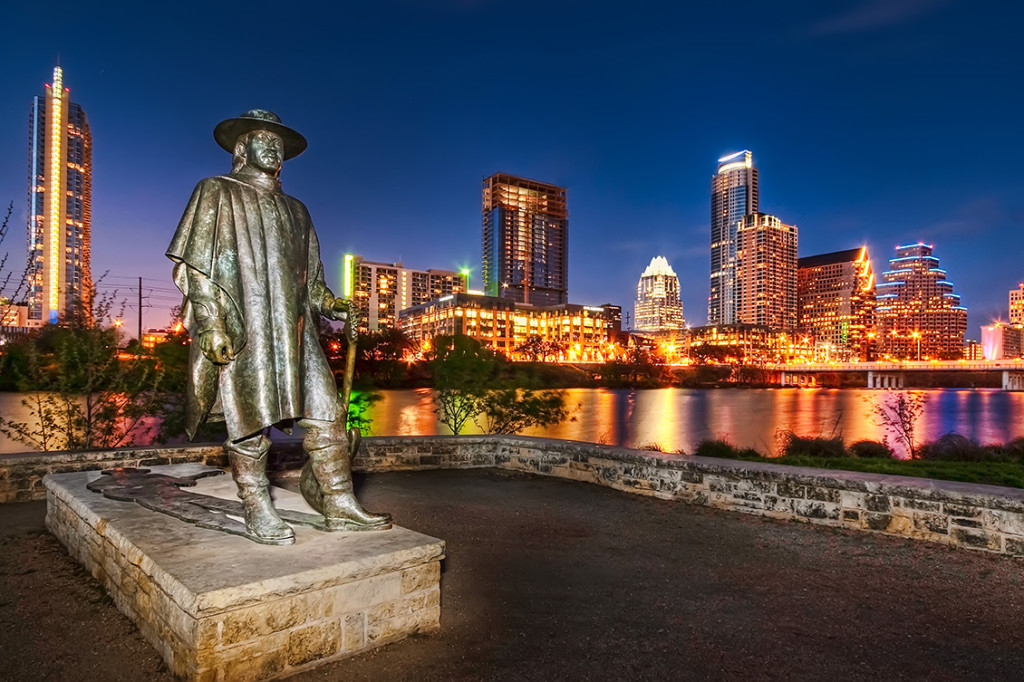 Austin is home to a fabulous music scene, including the Austin City Limits Festival and the South by Southwest music and film festival. Music pervades the city. The airport there is the only airport I have ever been to where there are live musicians playing. Eccentricity is not just tolerated — it is officially encouraged with the same of "Keep Austin Weird!" t-shirts and paraphernalia. Though much of Texas is a very conservative place, Austin (like Eureka Springs and Iowa City) is far more progressive than the state to which it belongs.
---
Taos, New Mexico
Taos, a small city in the Sangre de Cristo Mountains of northern New Mexico, has been home to many artists and writers who are drawn there by the brilliant blue skies, the dry desert climate, and the artful buildings and design of the old pueblo there.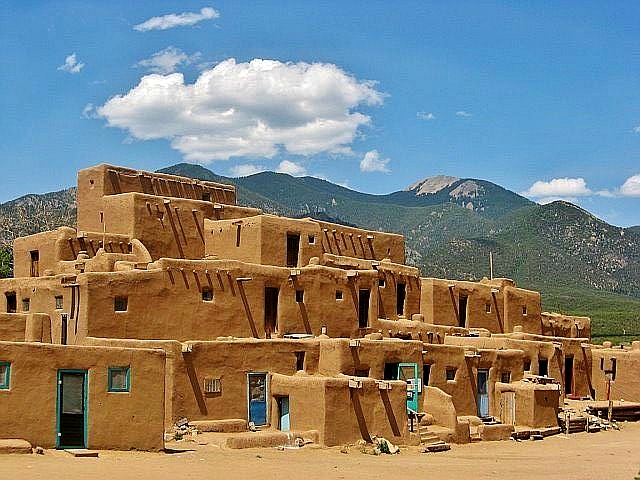 Home to such artists and writers as Dennis Hopper, Georgia O'Keeffe, D.H. Lawrence, Mark Rothko, Aldous Huxley, and Ansel Adams, Taos surely has more art galleries per capita than almost anywhere else in the world. There is a thriving art colony there that continues to draw creative people to this unique American community. Hiking, skiing and river rafting also attract their share visitors. Taos Pueblo, the Native American village that adjoins the town, is a UNESCO World Heritage site noted for being "a remarkable example of a traditional type of architectural ensemble from the pre-Hispanic period of the Americas and unique to this region which has successfully retained most of its traditional forms to the present day. Thanks to the determination of the latter-day Native American community, it appears to be successfully resisting the pressures of modern society."
---
Ouray, Colorado
Ouray is comprised of elegant mountain Victorian buildings nestled among the San Juan Mountains in southwestern Colorado.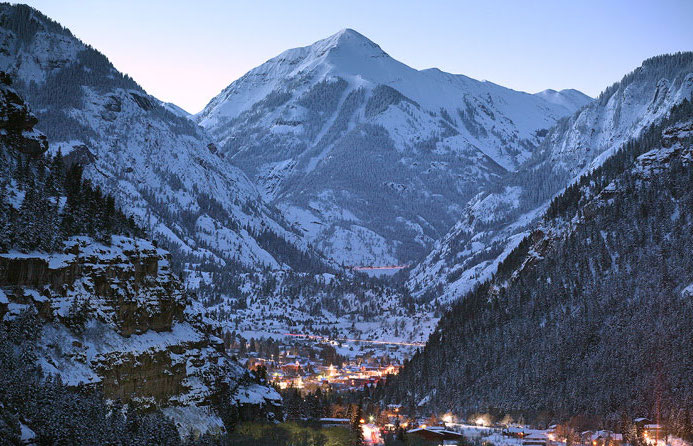 This is one of the most beautiful places in the American west. The mountains surrounding the town are visible in all their grandeur everywhere you look. Like Eureka Springs, it was originally built as a hot springs spa town, but today is better known for its variety of outdoor recreation activities, from skiing to cycling to hiking to hot air ballooning. The people there seemed almost unnaturally fit. The political culture is generally liberal, but with more than a dash of libertarian don't-tell-me-what-to-do rebelliousness.
---
Portland, Oregon
Thanks in part to the popular Portlandia television show, Portland is experiencing a wave of hipster chic in the US today.
Portland a medium-sized city that is home to a number of craft breweries, mild weather, strip joints, bike paths, and food trucks selling chow from every corner of the globe. There's a strong ecological consciousness there at both the personal and governmental levels. There's also a quirky intellectualism about the town, a larger-scale version of Reed College, the academically intense and socially eclectic liberal arts college that's located in one of the residential neighborhoods. Foodies will enjoy Portland for its culinary adventuresomeness and variety, while readers will want to spend a full day in Powell's Books, one of the world's largest used bookstores. The town is handsome, but not stunningly beautiful. Beauty, though is provided courtesy of nature and the Cascade Mountains that rise above the valley where the city sits.