On Saturday, I picked up a little no-name Vespa-style scooter from NR1 Scooter Rental to bomb around on for a few days.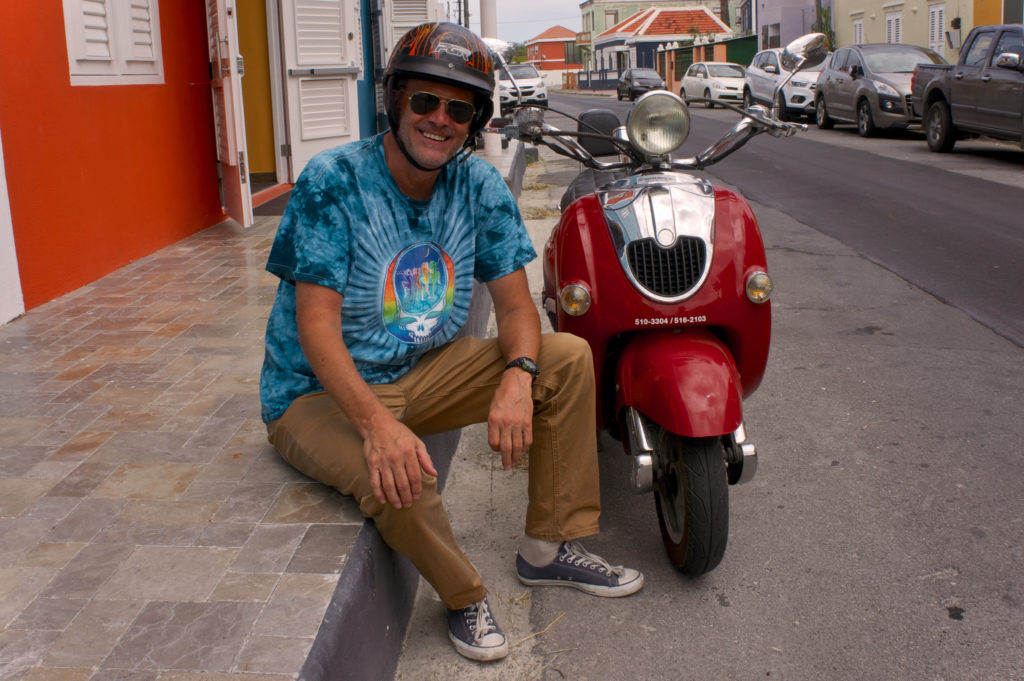 And so on Sunday, I took advantage of being mobile to get out of Willemstad and see more of Curaçao. I planned a trip to Westpunt, a place locally known for its sea turtles and its laid-back atmosphere. My hotelier told me that it was quite the hippie hangout back in the day. It sounded like my kind of place.
Curaçao is shaped like a bent, misshapen cigar that's angled northwest to southeast. Willemstad is in the southeastern fifth, while Westpunt is (as its name suggests) at the extreme northwestern end, a distance of about 48 kilometers.
I had traveled about a third of that distance before it started to rain. I'd been in Curaçao for 13 days and hadn't seen a drop of rain before then. But now the roadway was wet and I was anxiously trying to keep the scooter off the oil stripe that marked the center of my lane.
By the time I got to Westpunt, the front of my shirt and pants was thoroughly soaked. I locked the scooter to a signpost and headed toward a beach called Playa Grandi (big beach) by the mapmakers and Playa Piscado (fish beach) by the locals. I was here:
I followed the sign and walked through some tropical woods toward the sea.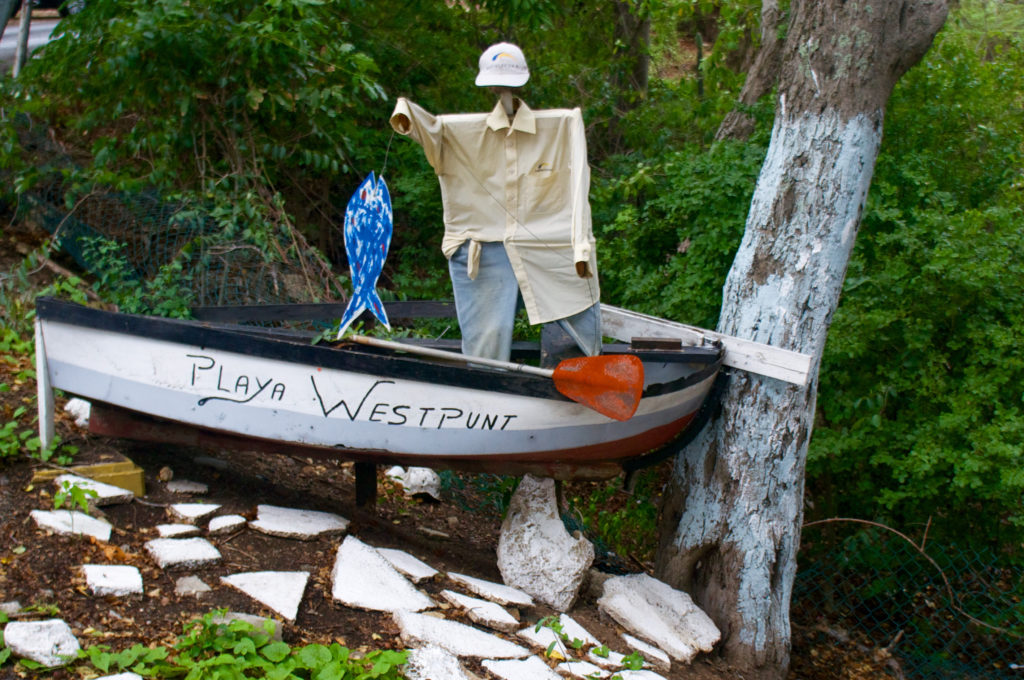 As I approached, I heard jazz echoing from the beach, standards like "Satin Doll" and "One Note Samba." Until this point, my experience of the Curaçao beach scene was limited to Mambo Beach, a man-made stretch of sand and restaurants about four kilometers east of my hostel in Willemstad. They don't play jazz there. It's a very nice place, with lots of mid- to upscale eateries and bars, a Starbucks and a Subway, and little shops selling higher end T-shirts and clothing.
Playa Piscado, however, was not only about as far from Mambo Beach geographically as one can get on Curaçao, but was also as different in terms of atmosphere as one could imagine. It isn't a beach where the Beautiful People go to see and be seen. It's a local place, definitely down-home. I fell in love with it immediately.
The big attraction on Playa Piscado are the sea turtles, which swim in the clear waters just a few meters offshore. I walked out on the dock and took a look.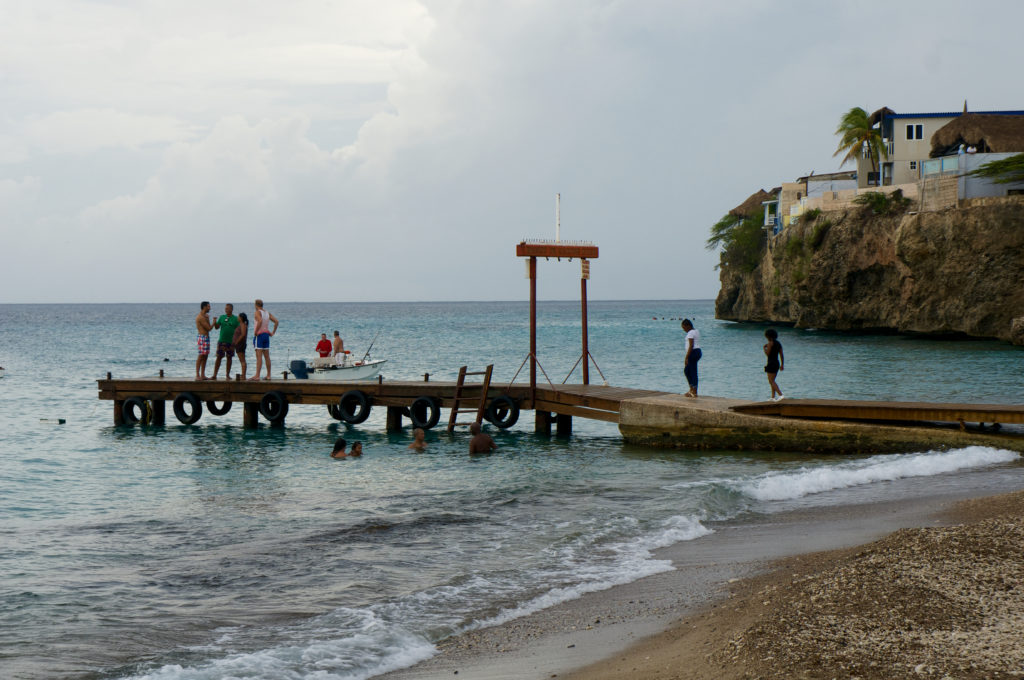 Sure enough, after a few minutes, I saw my first-ever sea turtle in the wild. My girlfriend Lori Seubert, my go-to with all questions about plants and animals, identified it via photos I sent her as a Green Sea Turtle.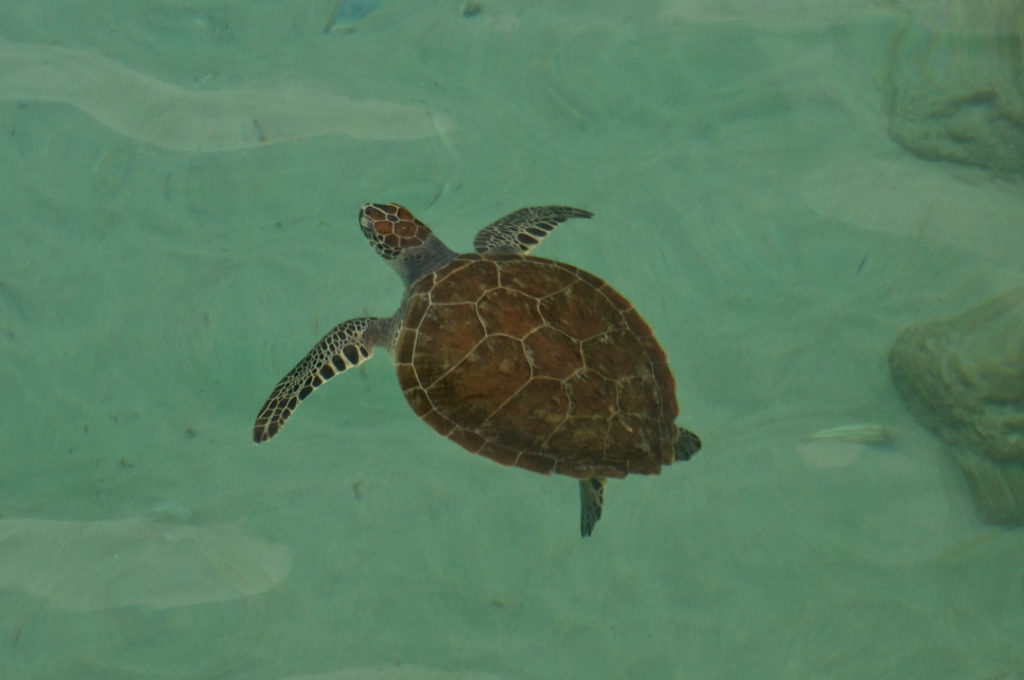 I wasn't the only one looking for turtles.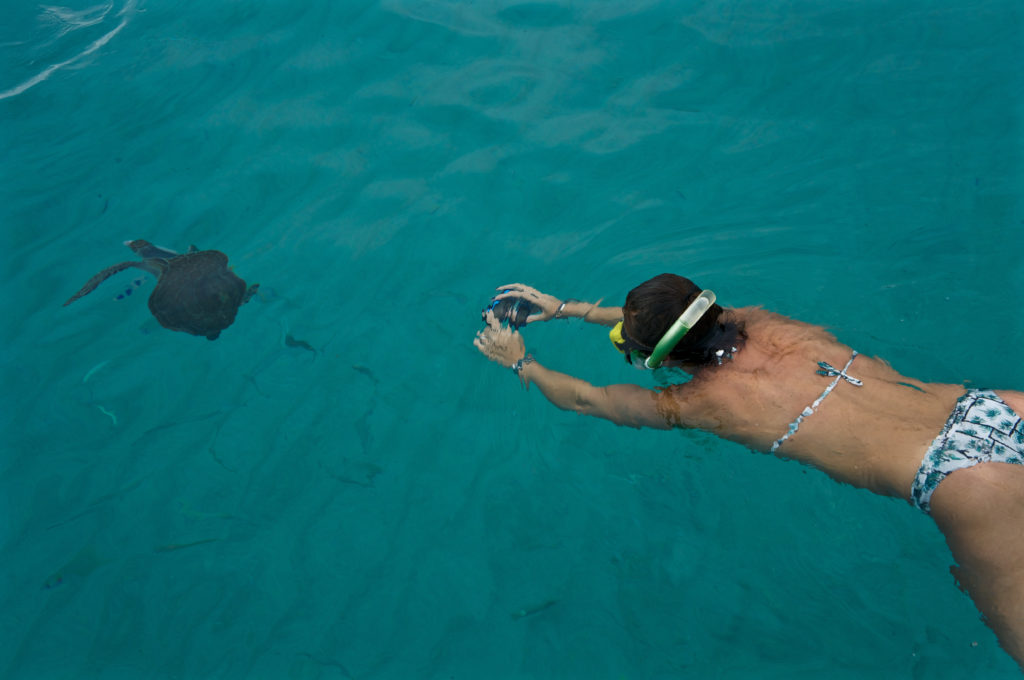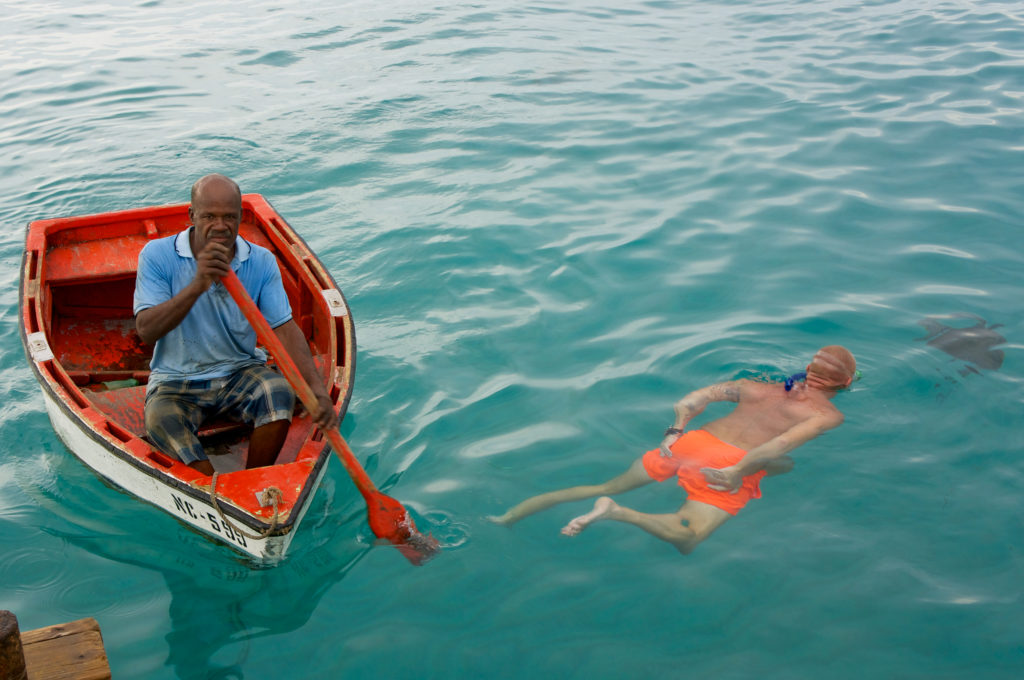 Then as I was scanning the waters, this unusual bird alighted on the dock beside me. Lori thinks it's a juvenile Green Heron.
The turtles and the birds are attracted by the bits of fish guts the fishermen throw into the water after cleaning their day's catch.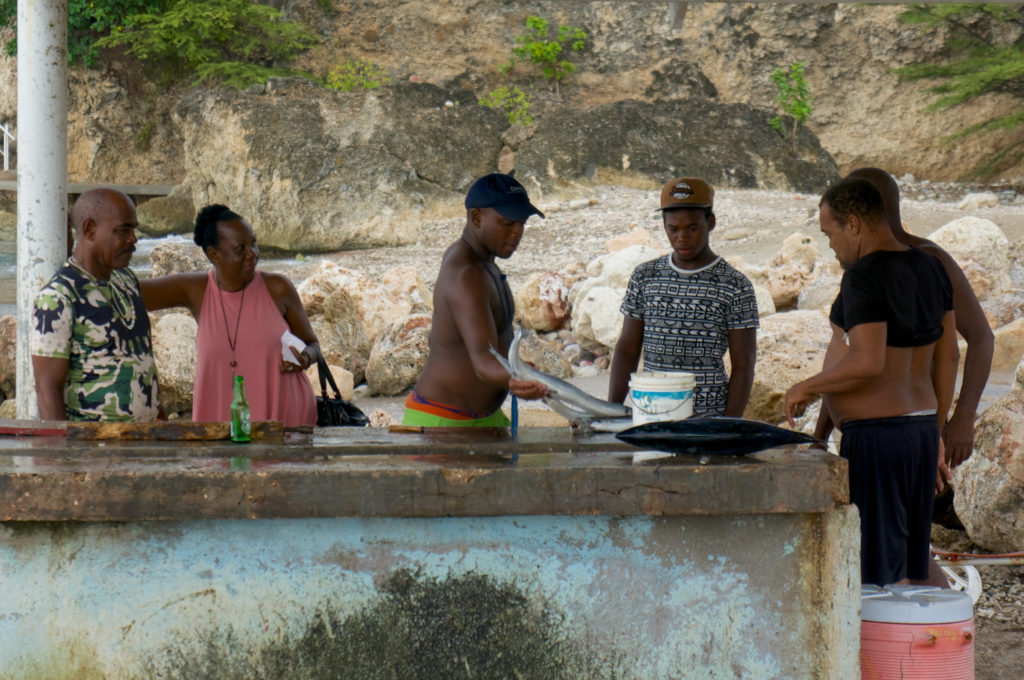 Playa Piscado isn't very sandy; it's a bed of coral fragments. And there are no fancy restaurants, just local hole-in-the-wall places. Literally: this place was recessed into a shallow cave.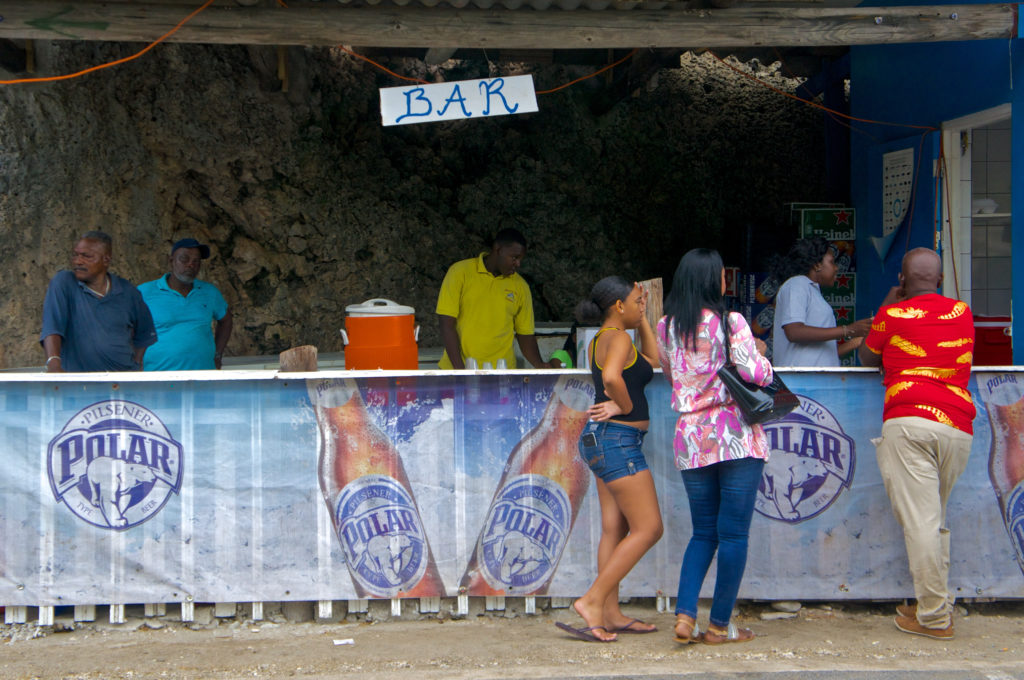 The Beautiful People don't hang out here. The people who were there on that rainy Sunday came to see the animals and just hang out. That was just fine by me.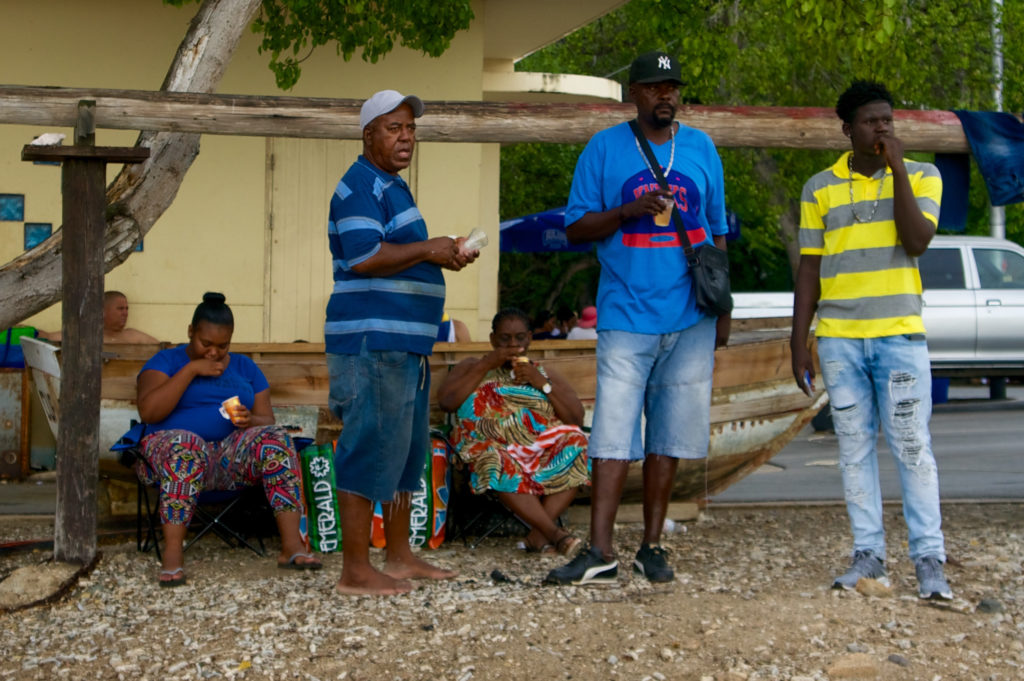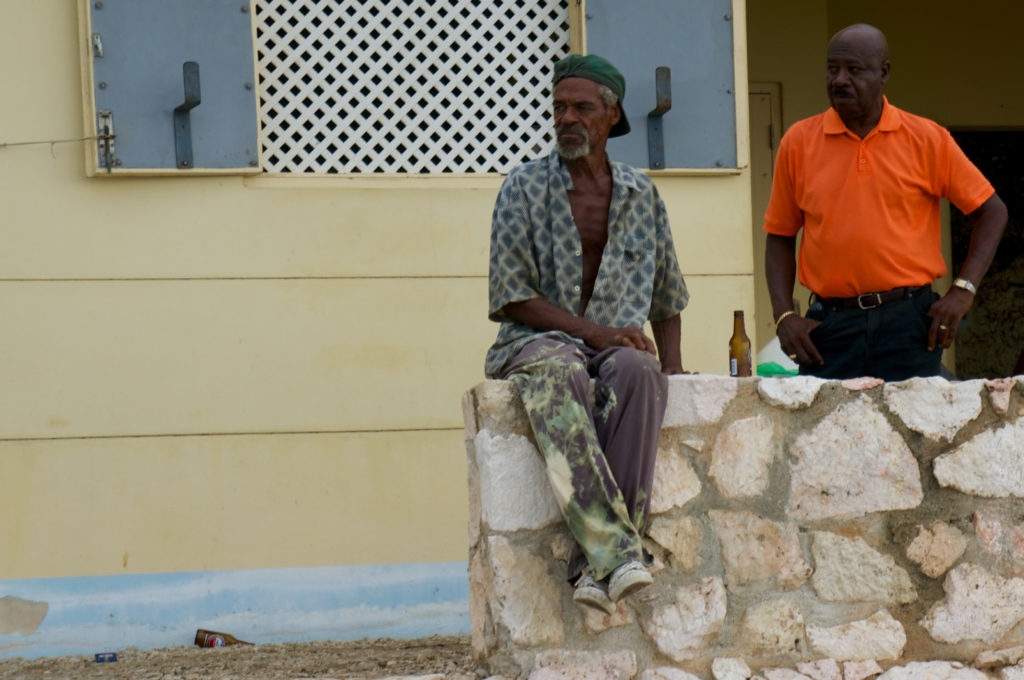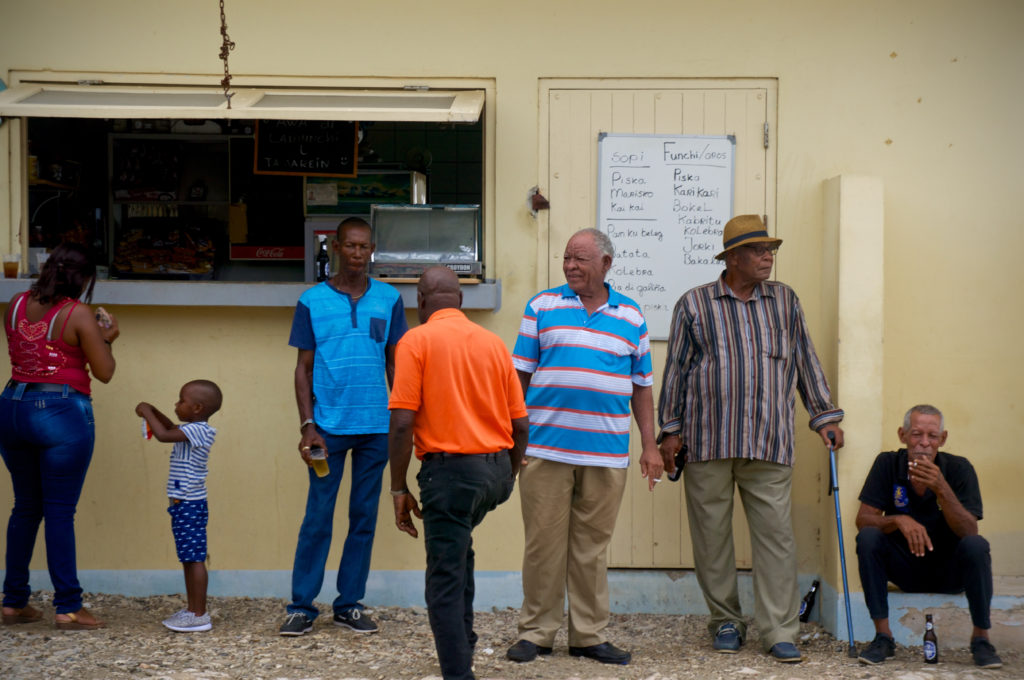 Everything I saw–the boats on the clear sea, the relatively modest houses lining the cliffs by the beach, and the chickens bustling about the wreck of an old wooden boat–spoke to me of a calm, unpretentious life here on the less-traveled end of a relatively obscure southern Caribbean island.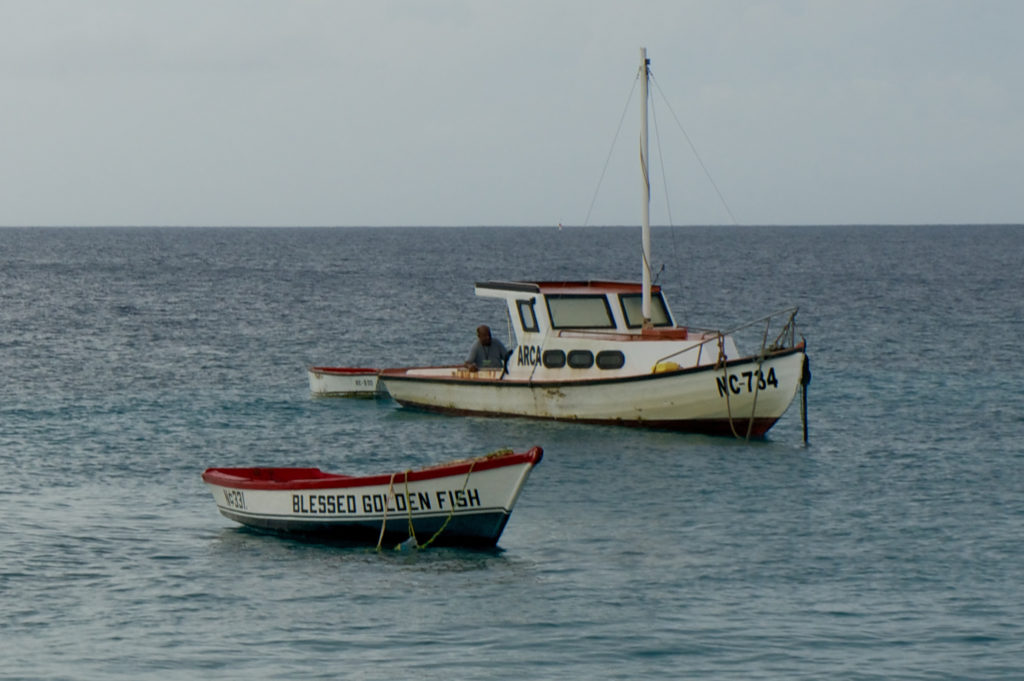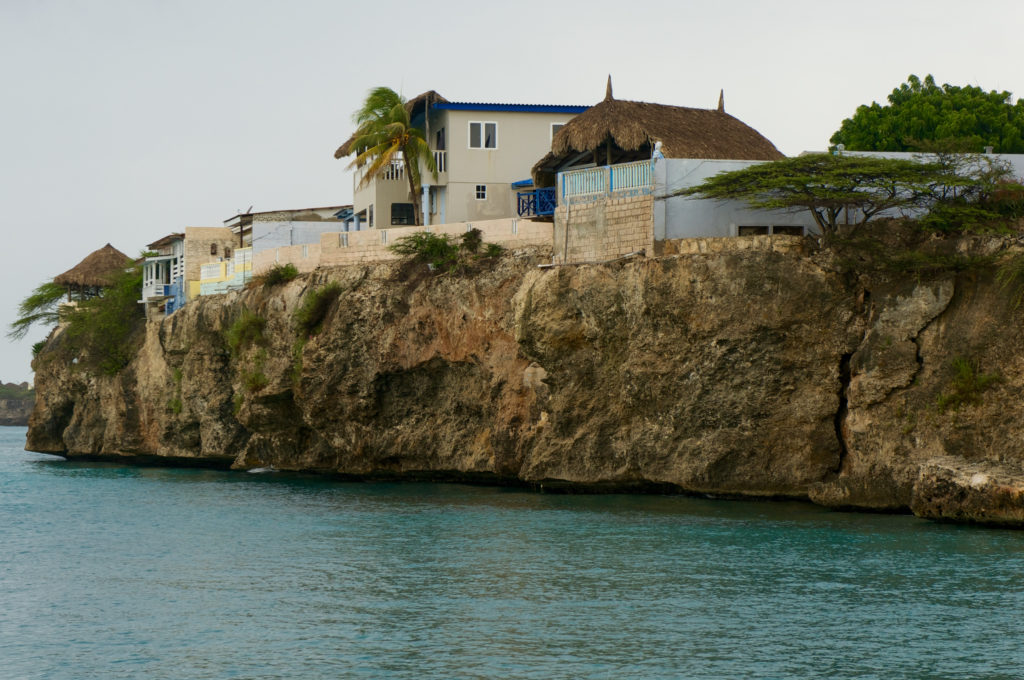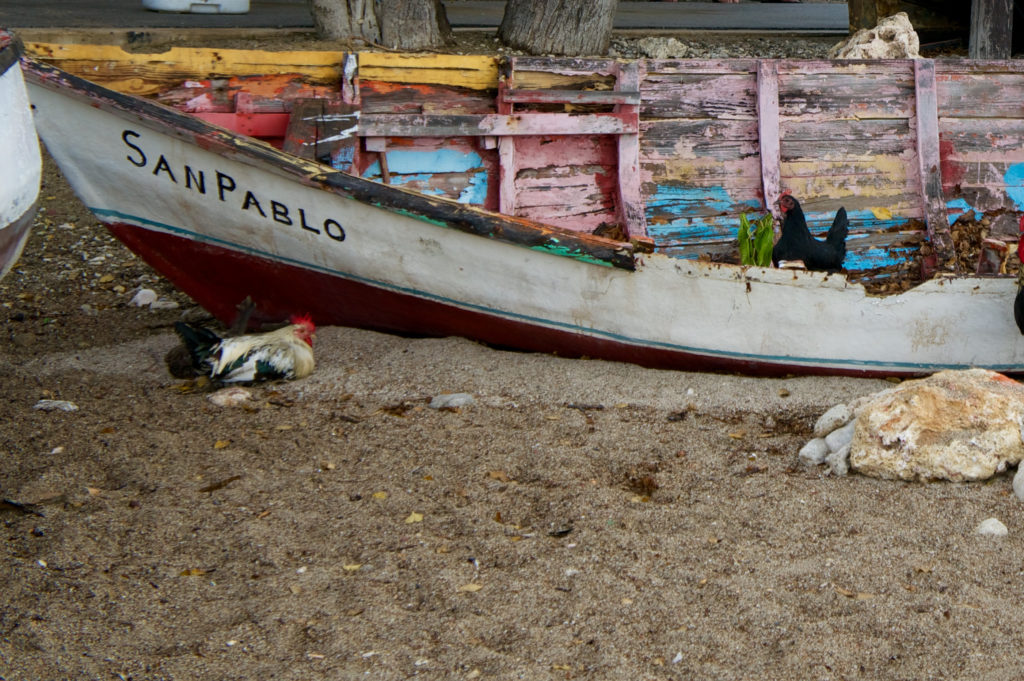 By the time my clothes had dried out, it was time to head home. I walked the path back to my scooter, noting the rather alarming signs along the way.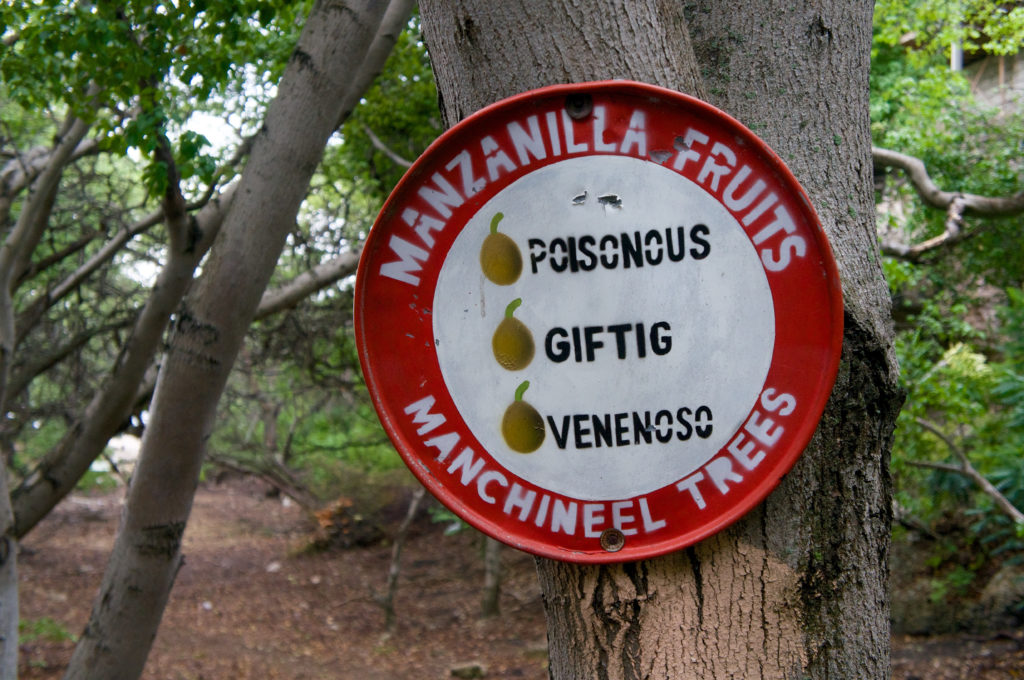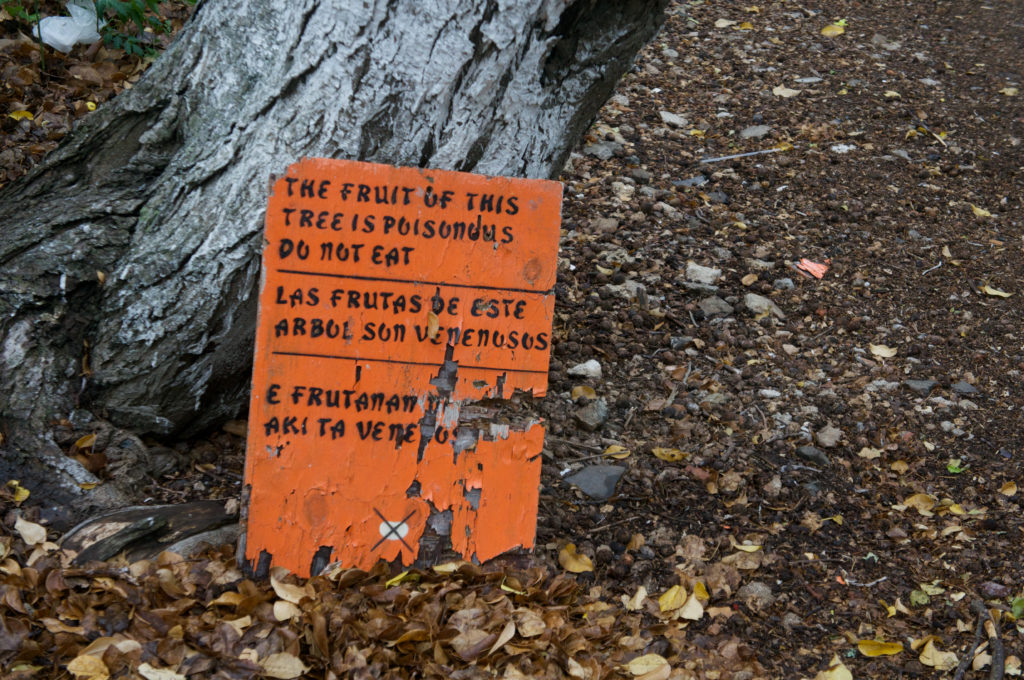 Where the trail joins the road, I was greeted by this installation. Perhaps a remnant of the beach's hippie heritage?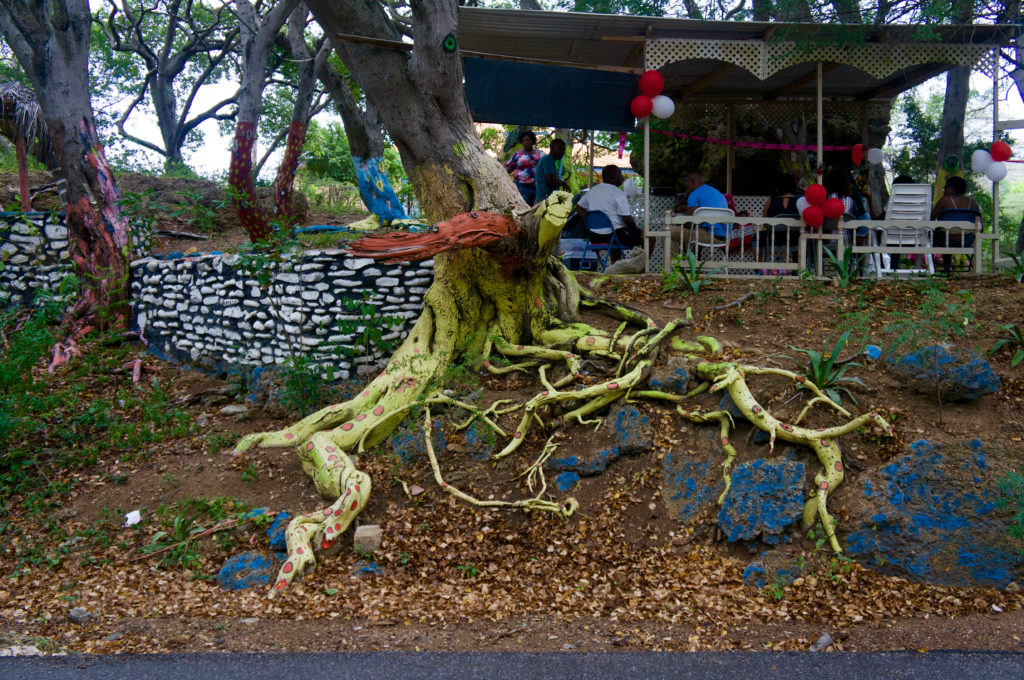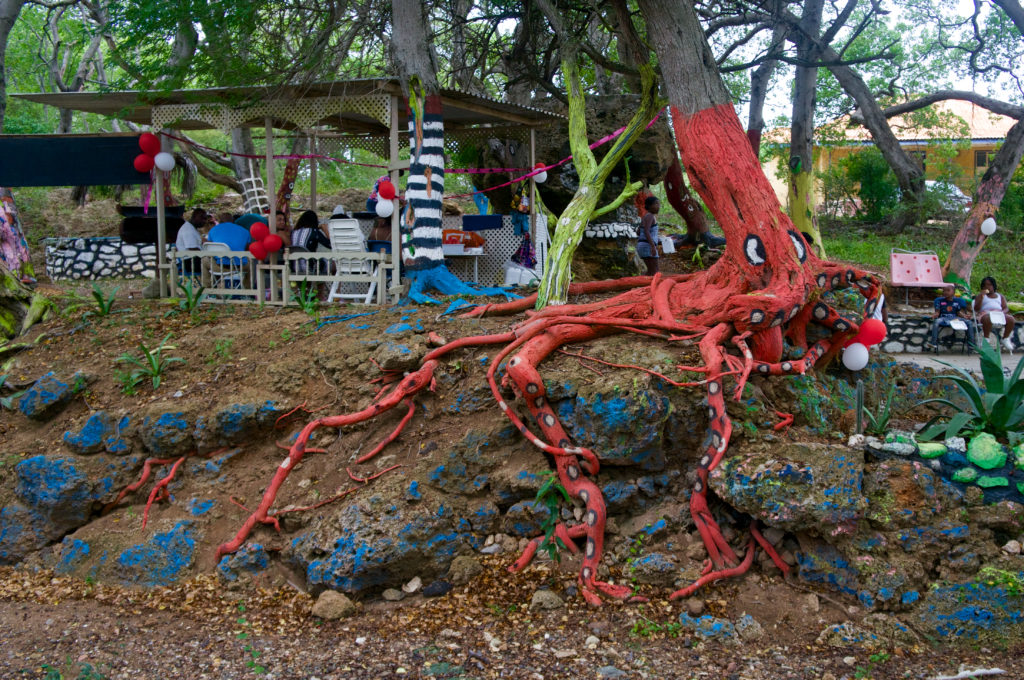 Since the rain had stopped, more cars were pulling off the road to park. An ice cream truck was just pulling up. I caught a glimpse of its dashboard and decided it would take an entire team of semioticians and pop culture historians at least a decade to work out all the references there.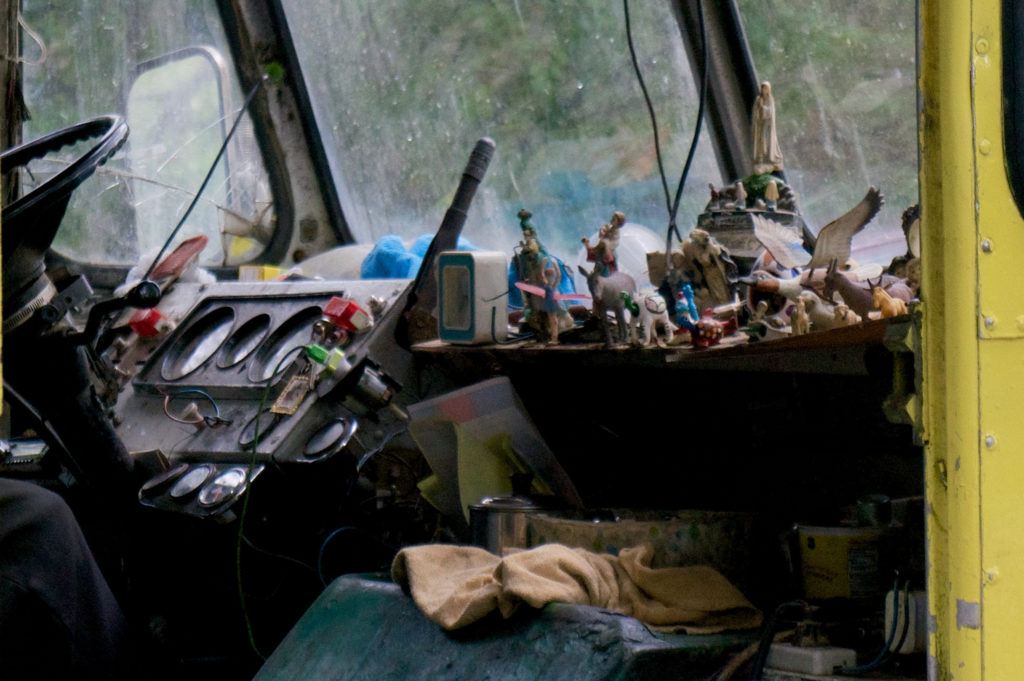 My scooter was just where I'd left it–and hard to miss with the big blue and white arrow pointing it out.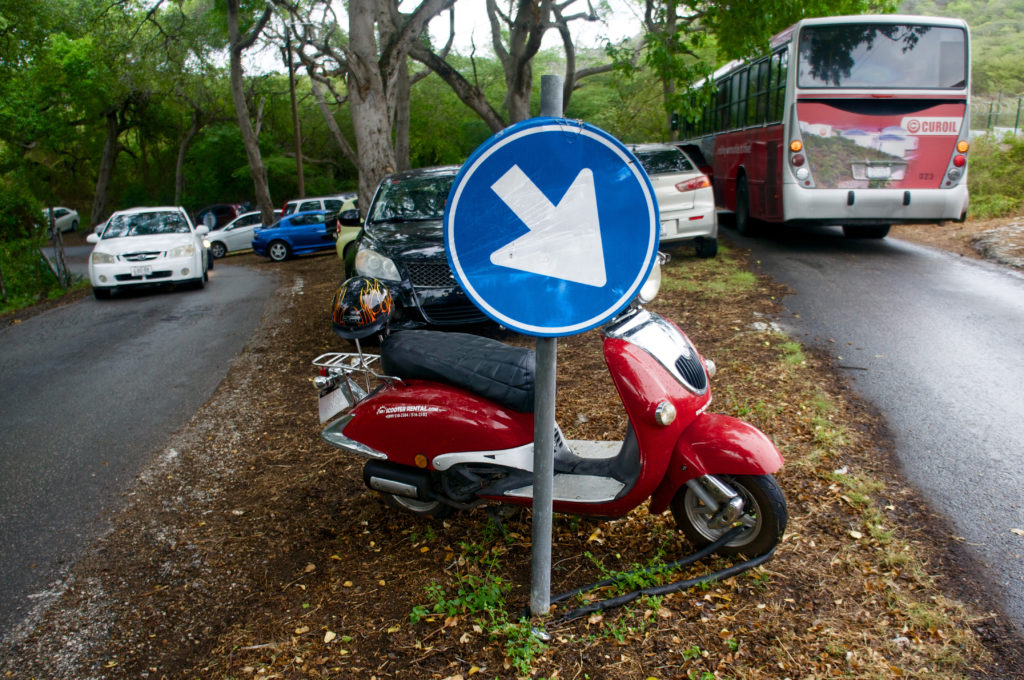 I hopped on and rode back to Willemstad, singing jazz standards into my helmet as I drove.