I'm back in Tunisia now, tanned and relaxed after my vacation in South Asia. I've got notes to myself that I made during my travels that don't fit into the posts I made about my travels. Here are some notes from Sri Lanka.
• I flew Emirates for the first time. The company pays a lot of attention to branding. The first classes stewardesses were arrayed in tan suits with crimson kepis and white scarves which covered one side of their head. Looks like a cross between Ottoman and Arab dress. The second class stewardesses wear tan knee-length skirts and white blouses.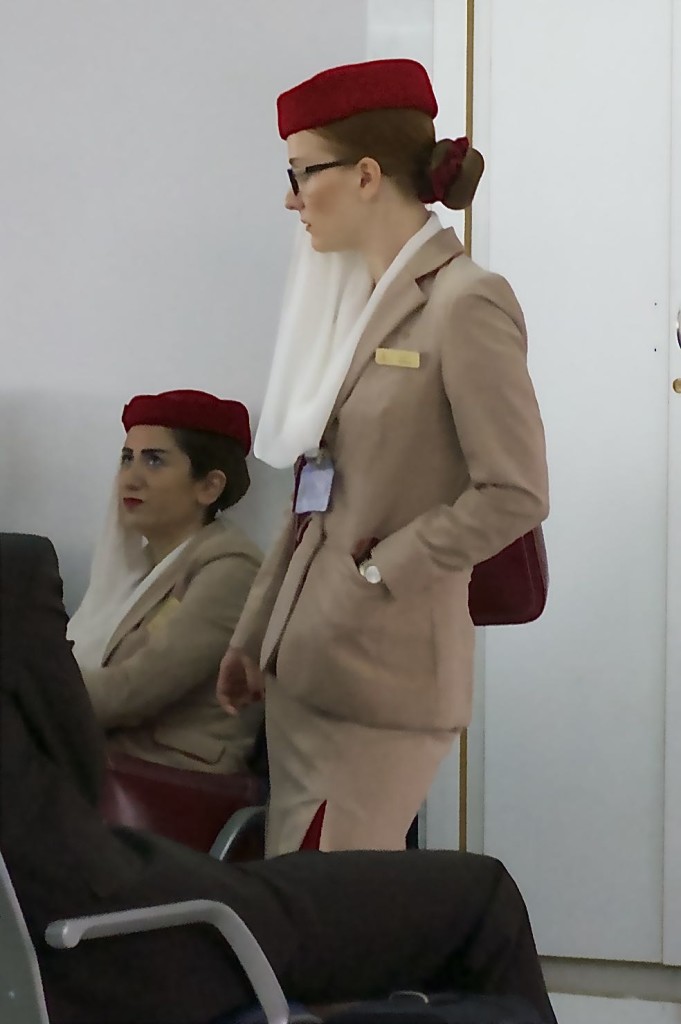 The stewards wear brown pinstriped suits. All the clothing has crimson piping and lining. The look is intended to convey richness and something faintly exotic. On the plane, the seatback videos display (upon request) the direction of Mecca relative to the plane via a graphic of the plane with an arrow pointing to a picture of the famous black stone.
• Saw this ungainly bird, an Antonov 225, at the Tunis airport. It's supposedly the longest and heaviest commercial plane in the world. It looks like it was designed by a Soviet committee: six engines, twin tail, very low landing gear.
• In Colombo, I stayed at the Colombo Beach Hostel. Spartan dorm-style accommodations. The travelers who spent nights in the room with me included three young American women traveling together. I came back to the room one night to see a tapestry draped over the edge of an upper bunk bed and a soft cheery light glowing from the bottom bunk. When I entered the room, a hand pulled the tapestry back and I saw all three women on the bunk below watching a movie together. They had strung Christmas lights around the lower bunk, giving it a cozy cave-like feel, like the kind of bedroom forts my friends and I created when we were eight. I give full props to anyone with the foresight to travel with tapestries and Christmas lights.
• One day I walked into our room and saw the three women's books laying about. I'm a book snoop. One was reading Zen and the Art of Motorcycle Maintenance, another A Moveable Feast, and the third Dr. Jekyll and Mr. Hyde. The first two are travel classics that people in the hostels I stayed at in Europe thirty years ago were reading. I felt a certain kinship. The Dr. Jekyll reader obviously marched to the beat of a very different drummer.
Also met an Asian American woman who'd worked for an ad agency in New York but had gotten sick of it and was now traveling around South Asia. She had broken her foot in India while sitting between carriages on a train in India. She made the mistake of dangling her feet out to catch the breeze when the train passed by a concrete mile marker. The blow smashed her ankle. She was hobbling on crutches. I felt bad for her, though she didn't seem particularly unhappy. I brought her food from the restaurants I visited.
Another hostel mate was Tim from Yorkshire, age 30, a sound technician who once worked aboard a ship in the Adriatic Sea that went from port to port giving performances of anarchist theater. The vessel was decked out like a pirate ship and the cast and crew aboard lived communally. He'd also done sound with another theater company that toured Qatar. He, too, was reading Zen and the Art.
Diego and Nadine, 19 and 20, were from northern Italy, near the Austrian border. They had been traveling together for five months with an open-return ticked on Ethiad. A sweet couple.
Kevin was from China, one of a growing number of independent young Chinese tourists I saw. Chinese people have generally travelled in tour groups, but I have seen more and more Chinese people in their twenties traveling solo, which I think is wonderful. He was lugging an enormous Nikon D800 and a substantial tripod. I dusted off what little Chinese I have while speaking with him.
• In Anuradhapura, I hired a guide to take me to the ancient Buddhist ruins. Avila drove a white Toyota HiLuxe and had been a guide for twenty years, starting off by driving tourists around in his father's old Morris Minor.
• Trains in Sri Lanka have a Victorian British feel. Signs around the stations are written with polite British circumlocutions. When a train is about to leave, the stationmaster comes out of his office with a large triangle bell and strikes it three times. There are separate bathrooms for tourists, something that didn't sit well with me. A portion of each carriage is reserved for monks and clergy.
• Over breakfast at a tiny cafe in Colombo, I met Frank from Buxton. He had long white hair and a beard, a Santa-ish look. He had retired at age 52 and has spent 17 years backpacking around the world. He maintains a flat in Buxton and has a long-term girlfriend; they live separately but travel together. I was somewhat in awe of how a guy living out of a backpack could have such an immaculate pressed white shirt, especially when he told such wonderful stories about riding through Lao in the back of a flatbed truck and hiking through the jungles of Malaysia.