I took a four-hour train trip upcountry to the city of Anuradhapura, the ancient capital of Sri Lanka from the 4th Century BCE to the 11th Century CE.
The Buddhist shrines, temples, monasteries, and other religious sites there comprise a UNESCO World Heritage Site. I was interested in seeing the ruins. I was here:
I started out at what had been a monastery. There were unusual rock formations at this site: giant boulders leaning against each other, creating keyholes and caves. Clearly the rocks there had been shaped by people, too, but the place was so old that I couldn't tell where nature's handiwork ended and human architecture began.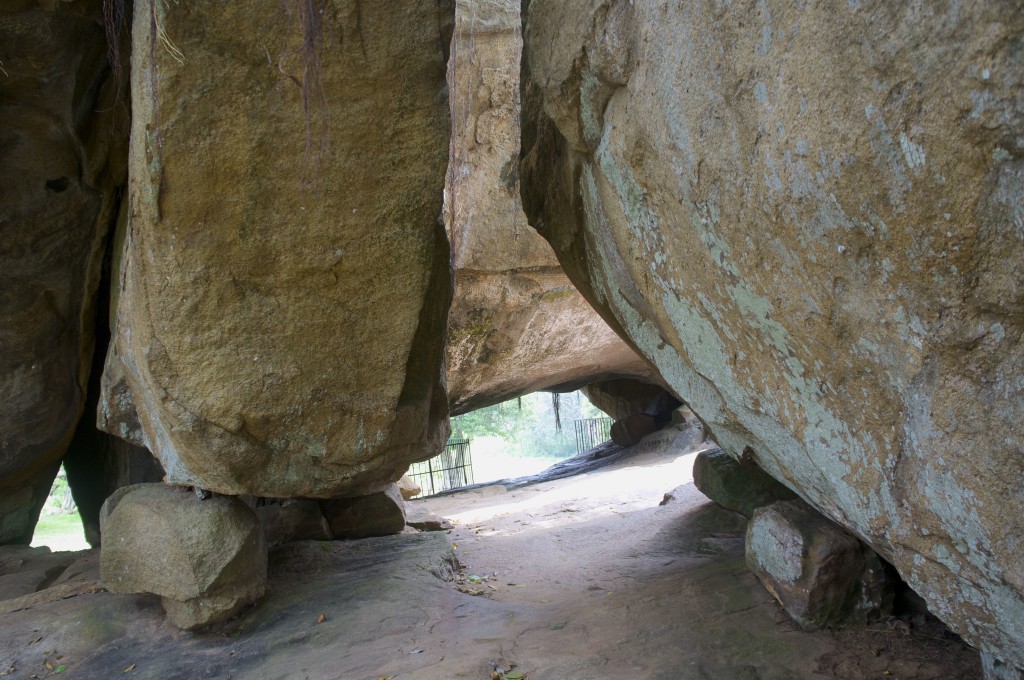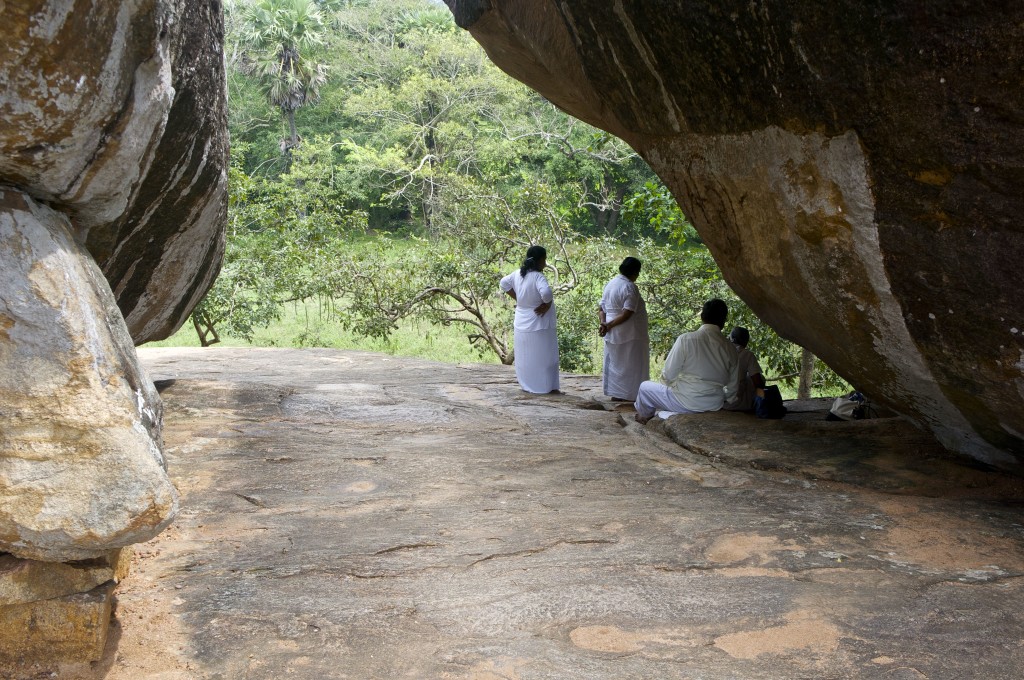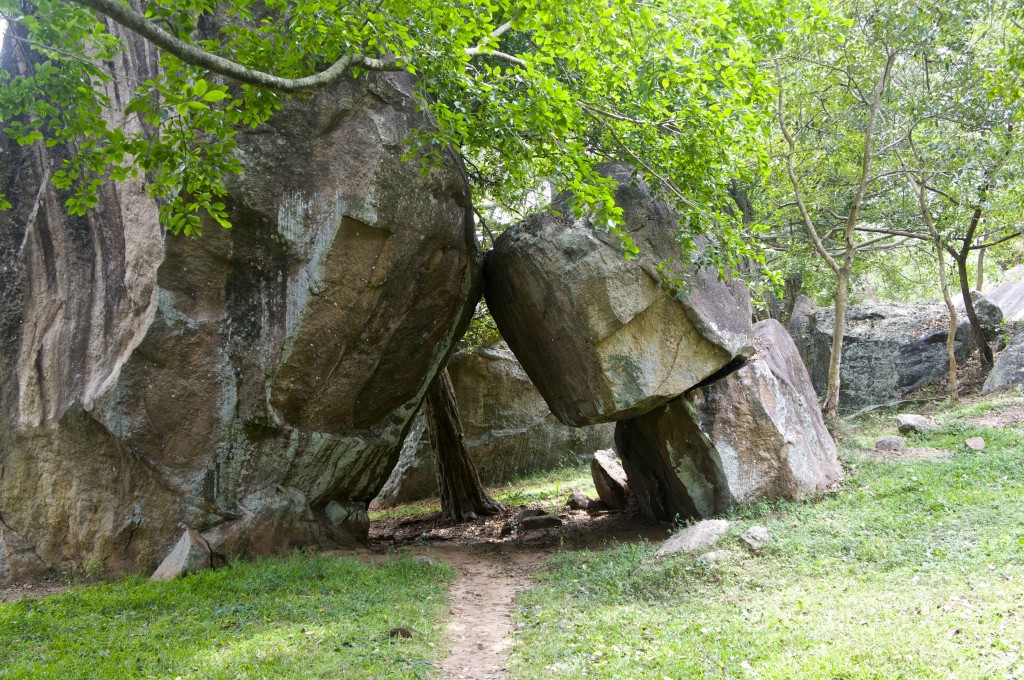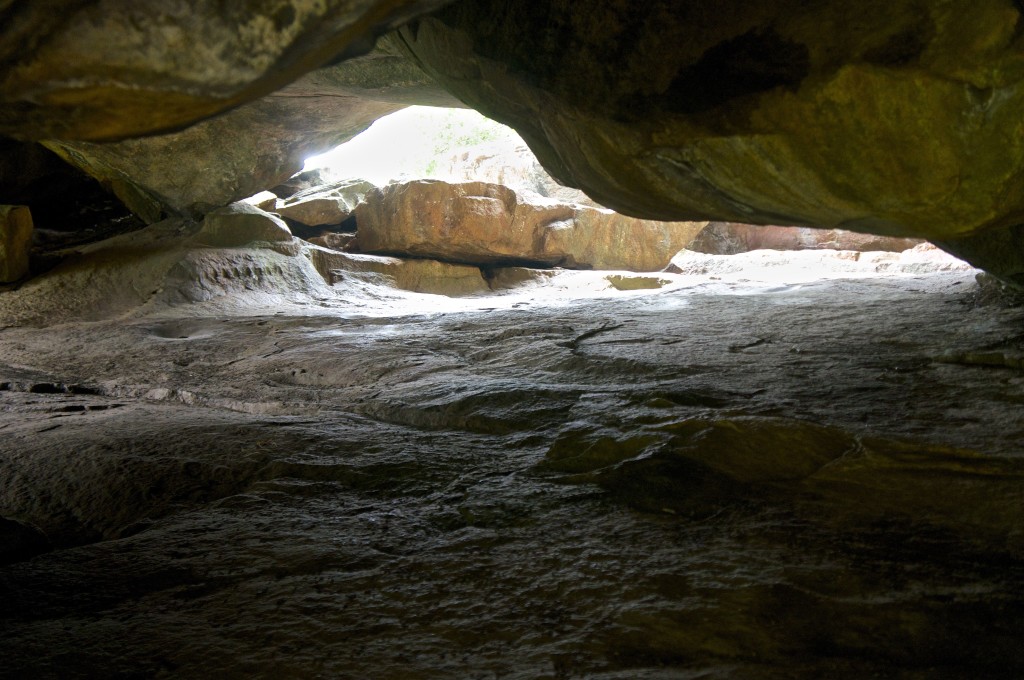 In one of the natural keyholes, I found this monitor lizard looking like something out of prehistory.
There wasn't much by way of informative of descriptive signage — at least not much I could read. But I thought Sinhalese script was fascinating.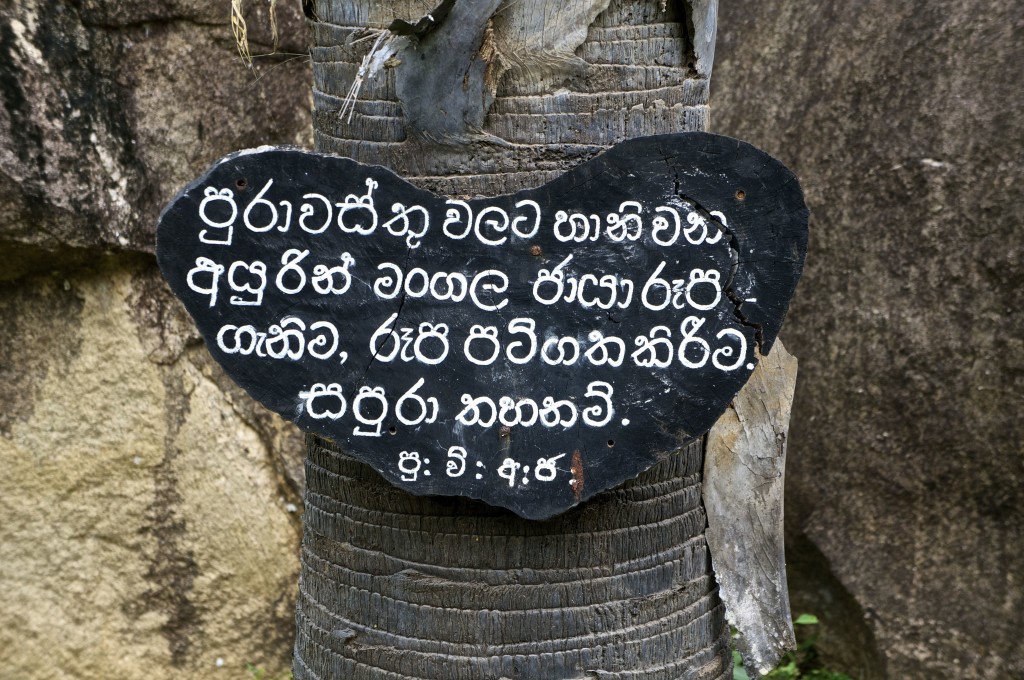 I went to some of the temple complexes, which are still visited by the faithful. I was wearing cargo shorts that came just to the middle of my knees. Signs — in English this time — advised visitors that their clothing must be modest and respectful, that pants and skirts had to cover the knees, and that dark colors were frowned upon. I slid my shorts lower on my hips hoping I could pass muster, but no dice. The guards at the entrance gate stopped me. Fortunately, they have some sarongs available for stupid Americans to use, so I wrapped myself as best I could. I've seen Indian hippies looking cool and elegant in their batik sarongs. I looked neither. And why does this sarong make me look fat?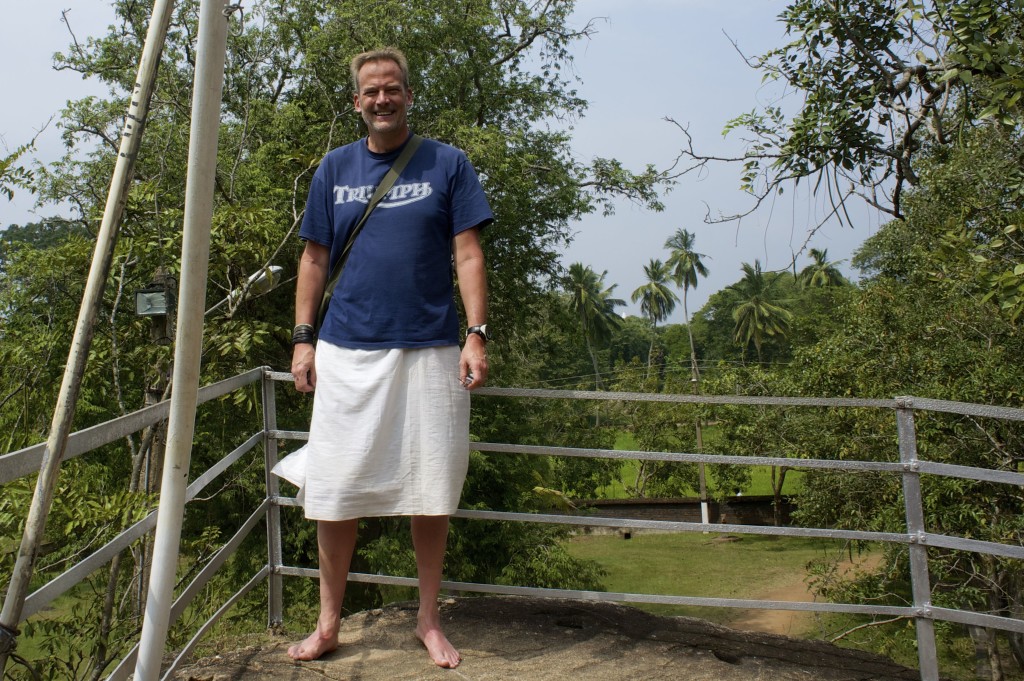 Perhaps I was expecting another Angkor Wat or Angkor Thom, but I came away from the ruins at Anuradhapura unmoved. What remained of the sites wasn't particularly beautiful, nor was it displayed and preserved in a very artful way. You'll have to take my word for that; photography was forbidden in some spots and discouraged in others. The sites obviously had great meaning to the many Buddhist pilgrims I saw gathered there, but as an outsider they left me disappointed.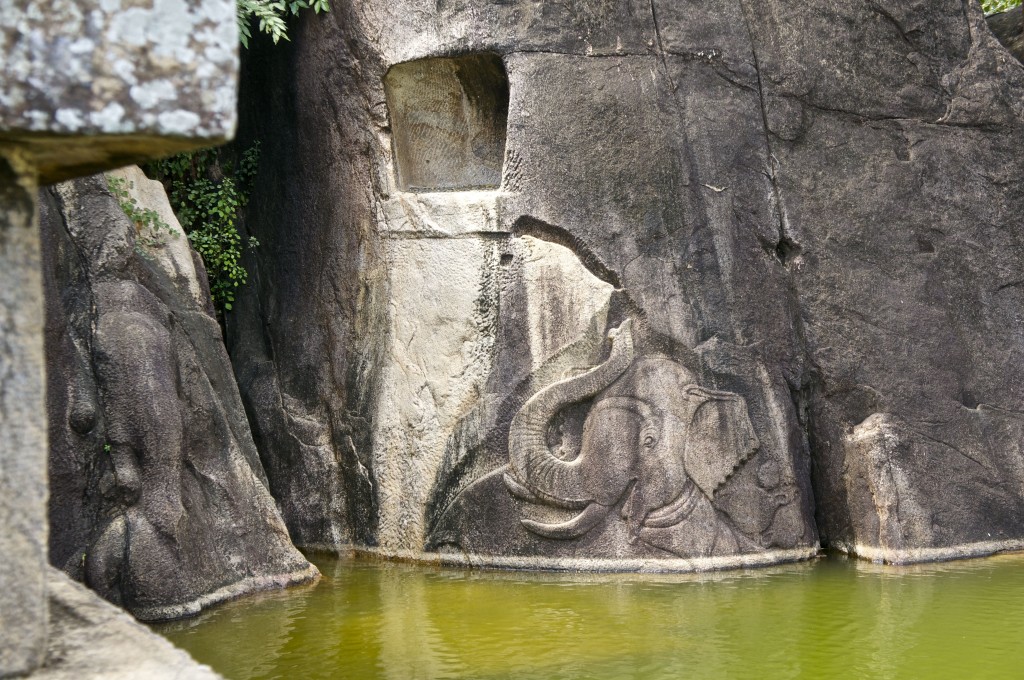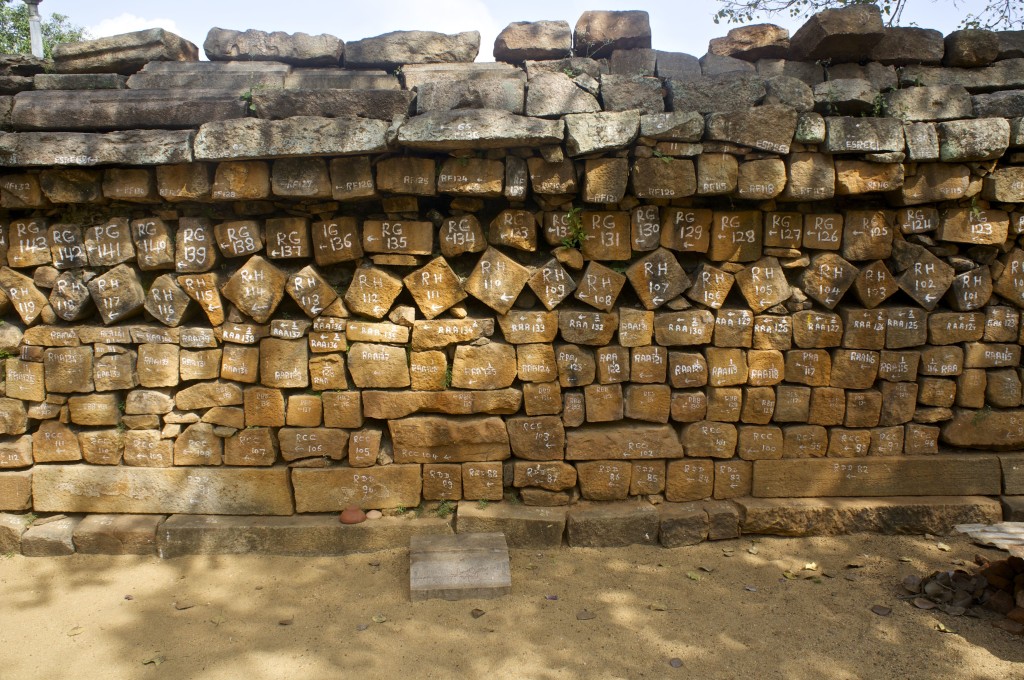 At one of the shrines, people had laid flowers on the altar as offerings to the Buddha. These were promptly devoured by a pair of macaques (tentatively identified by my zoologically-minded friends as macaca sinica sinica).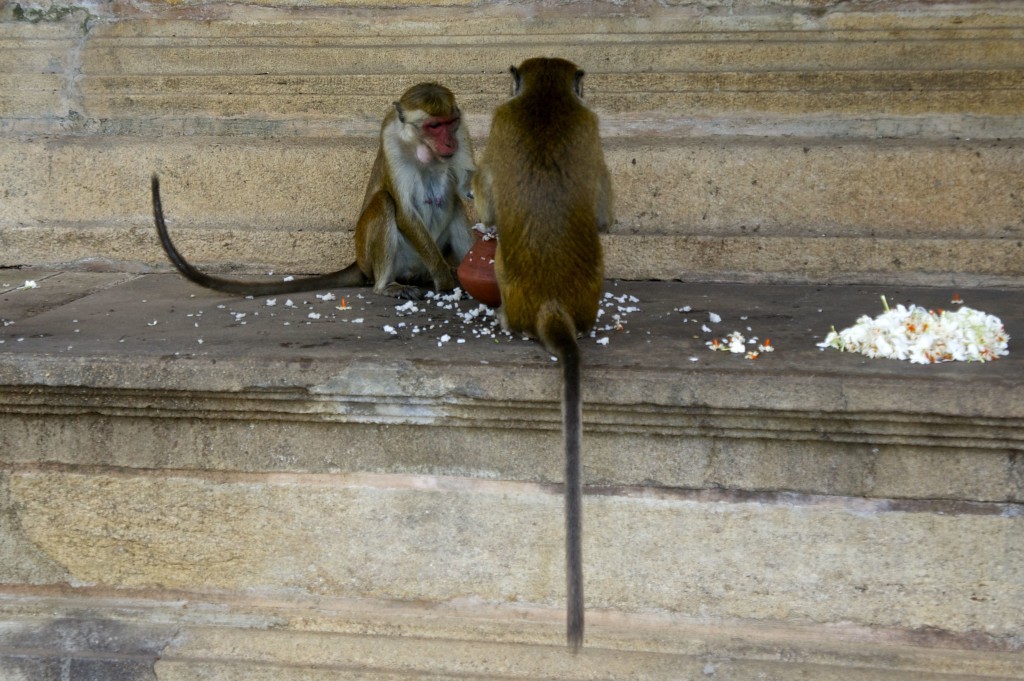 After taking in the ruins, I went back to my hotel, a cozy little place on a rural/residential road, right next to this institution.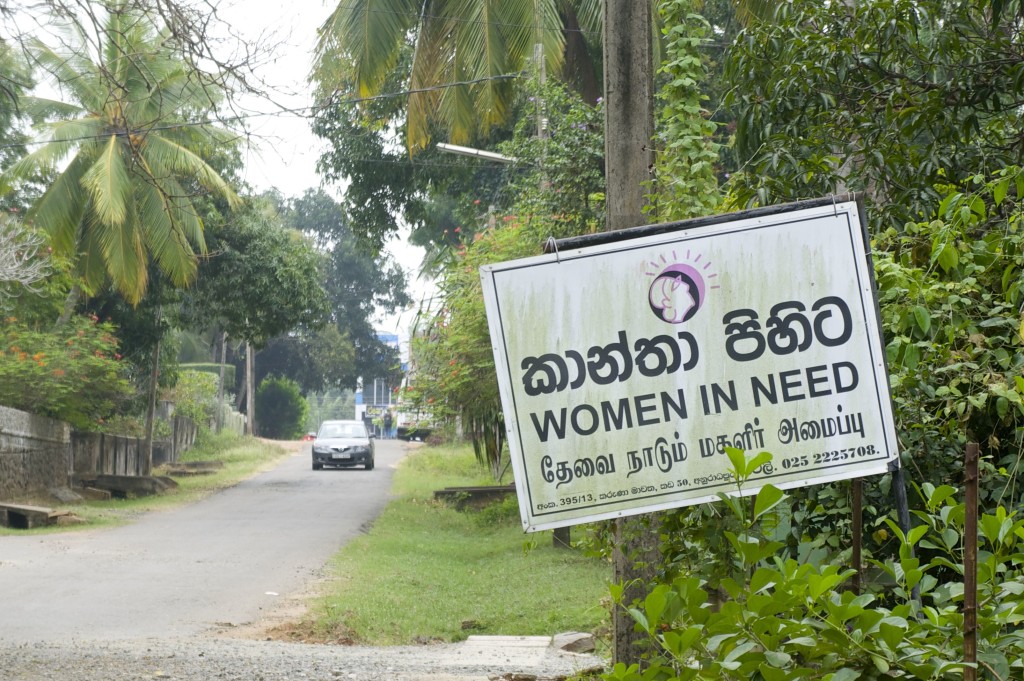 Maybe I should have taken more time in Anuradhapura and the surrounding area to find some sites that really spoke to me. It didn't happen on this trip — but there's always next time.