When I first saw these words painted on the side of a two-story building, I thought it was an ad for something. Maybe a local beer – although the "decolonized minds" caption didn't quite fit with that. Come to find out that Tula is a local Curaçaoan hero, an enslaved African man who liberated himself and went on to lead a slave revolt here in 1795. He was eventually captured by the Dutch and tortured to death. Today he is revered as one of the most important figures in Curaçao's history. Unknown to me until recently, there was a movie made about him in 2013 called Tula: The Revolt which featured Danny Glover in a supporting role.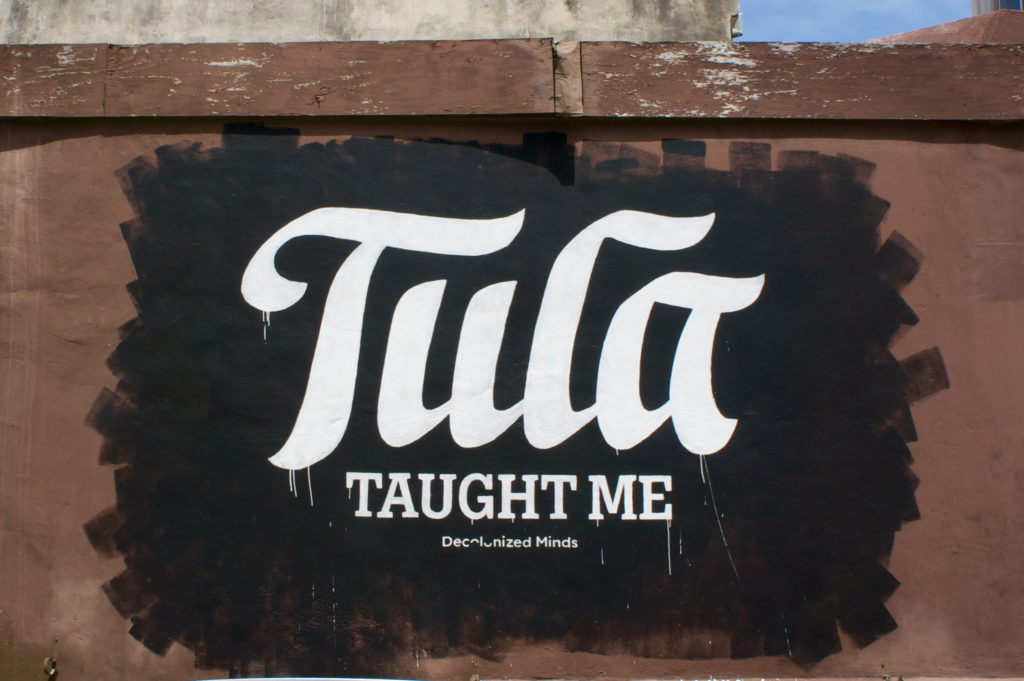 These four striking paintings below were done by Alex da Silva, an artist who was born in Angola, studied in the Netherlands, and spent considerable time in Cape Verde. I was surprised to learn that there are strong linguistic and cultural ties between Cape Verde and Curaçao. Papiamento, the language of the Netherlands Antilles, is very similar to Cape Verdean Portuguese creole.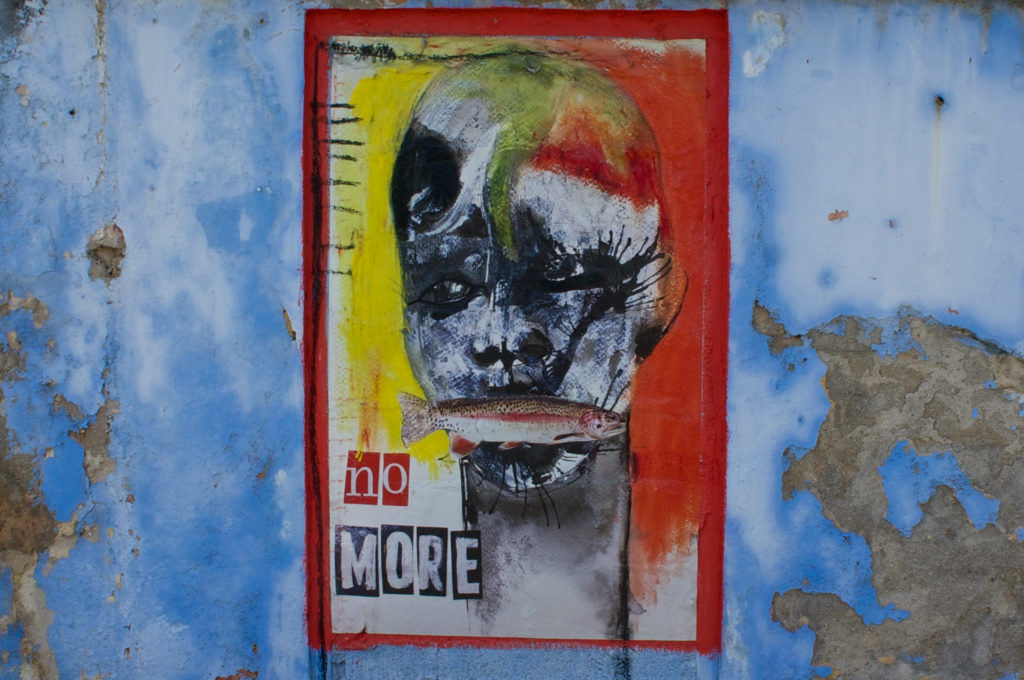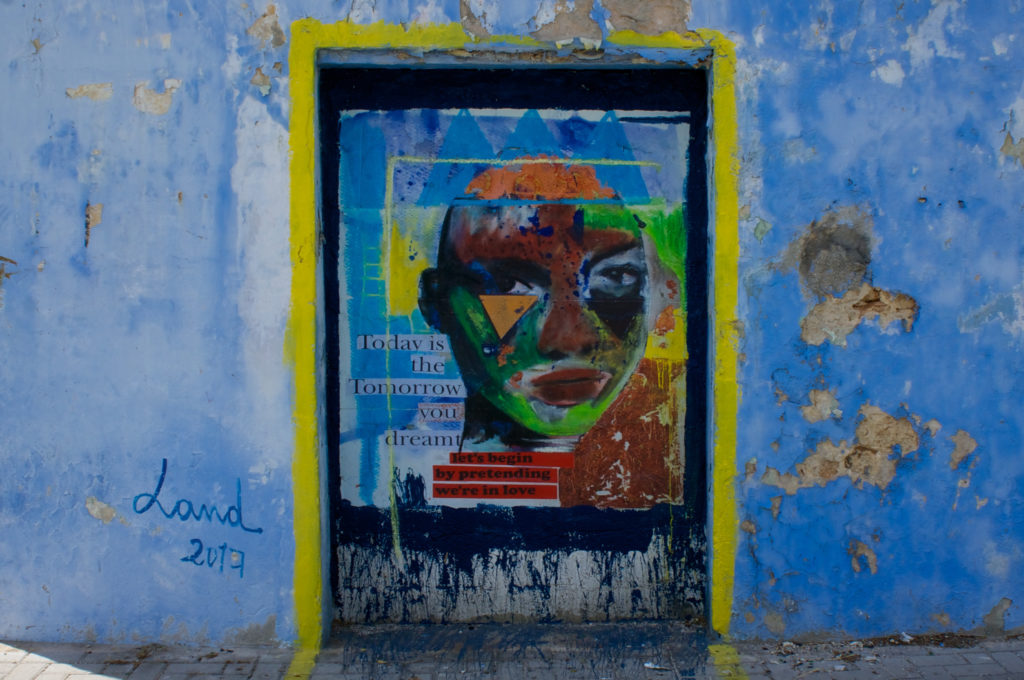 I liked this fish/submarine installation that's situated in a small public playground in a quiet part of town. The medium is the message: the sculpture is constructed from objects the artist found washed up on the beaches here.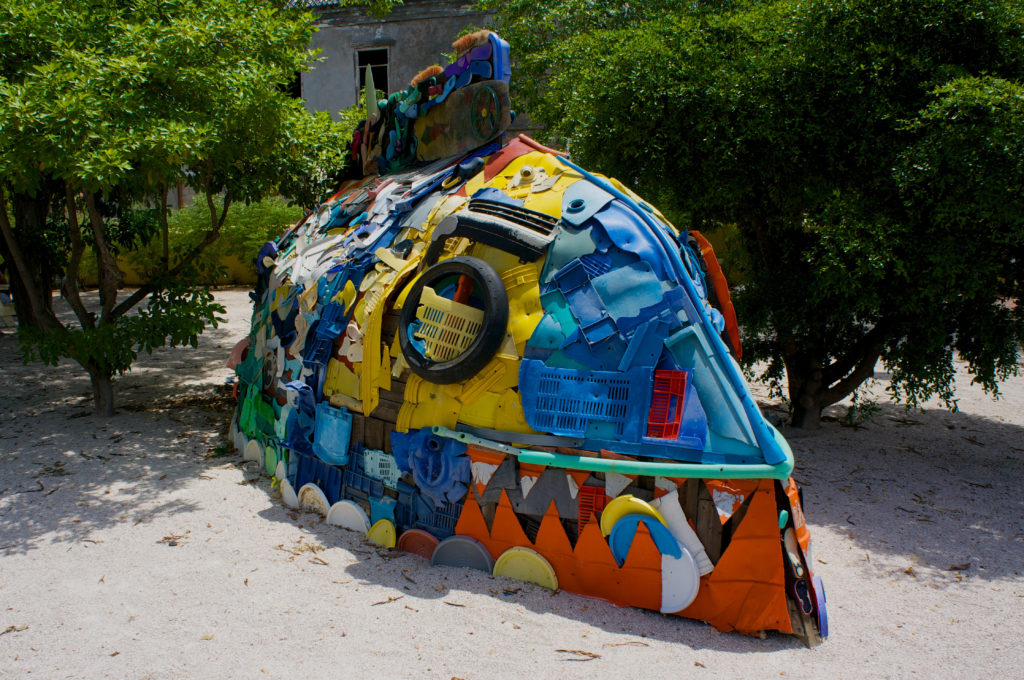 Across from the playground was this amazing whole-building mural, which picks up the color scheme of the fish/submarine.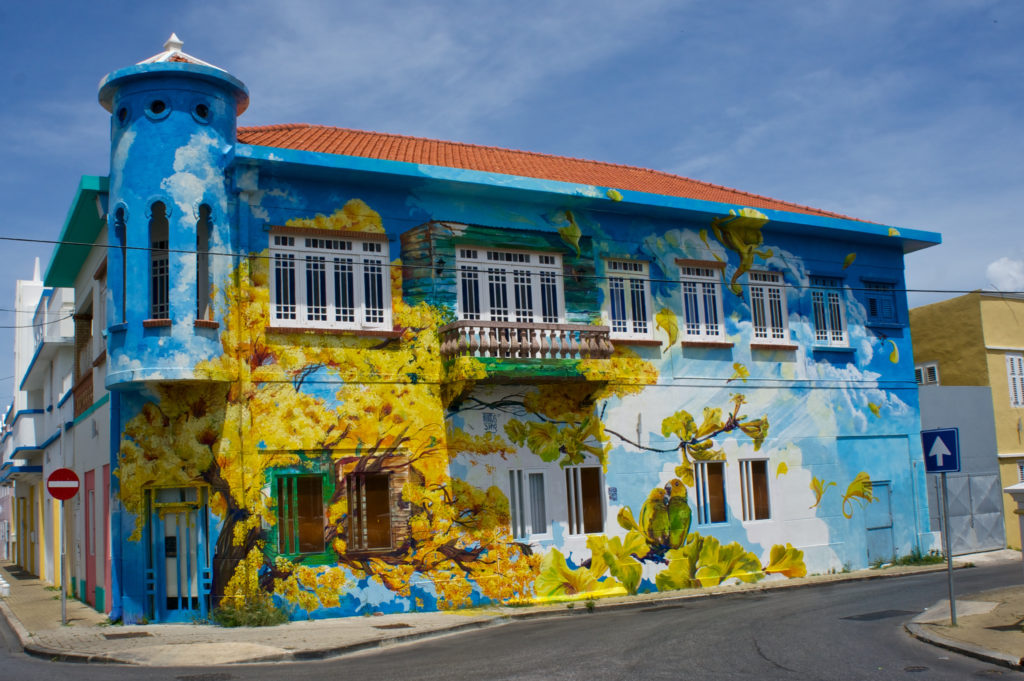 Also nearby was this Miro-influenced work by Junius Isen, entitled Together As One. The 2011 mural is now in need of restoration.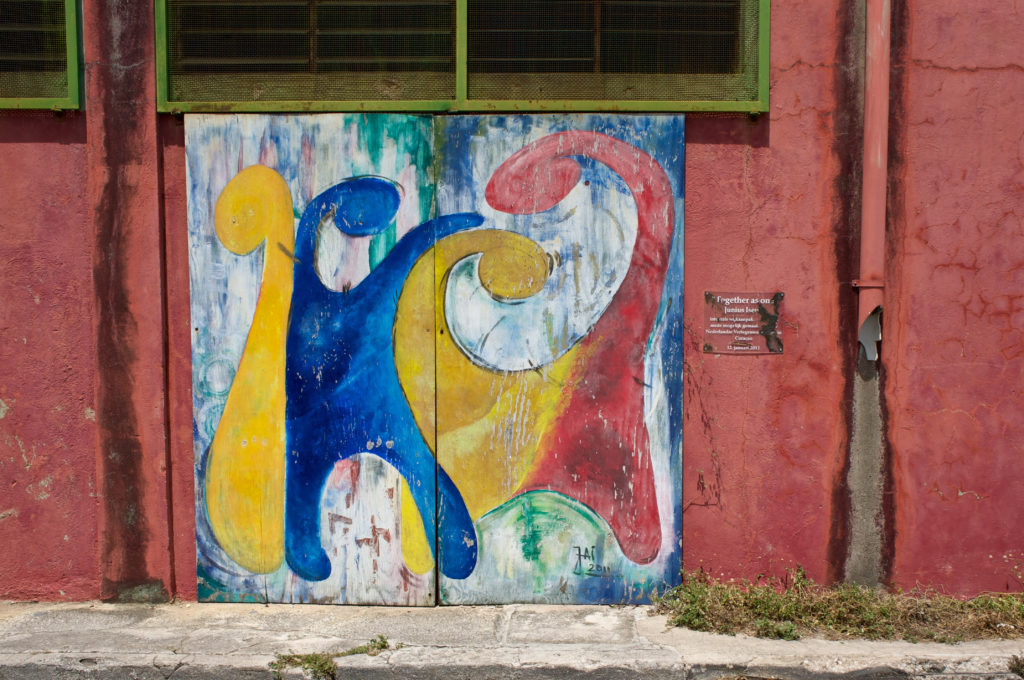 The mural below is my favorite. It was created by Curacao artist Garrick Marchena. The text is in Papiamento and a translation of it reads:
They are coming.
They are close.
They take.
They don't ask.
And we let them.
When I first posted this image to Facebook, my friends interpreted it as a referring to colonialism or to child rape. But according to local artist Avantia Damberg, it's actually about how public access to the sea is being curtailed by hotel and condominium developments that illegally restrict beaches to their guests and residents. It's about how Curaçaoan children's future is being sold to the highest bidders. But though that may be the original intent, one way I assess the greatness of art is whether it's susceptible of multiple interpretations. This mural clearly is.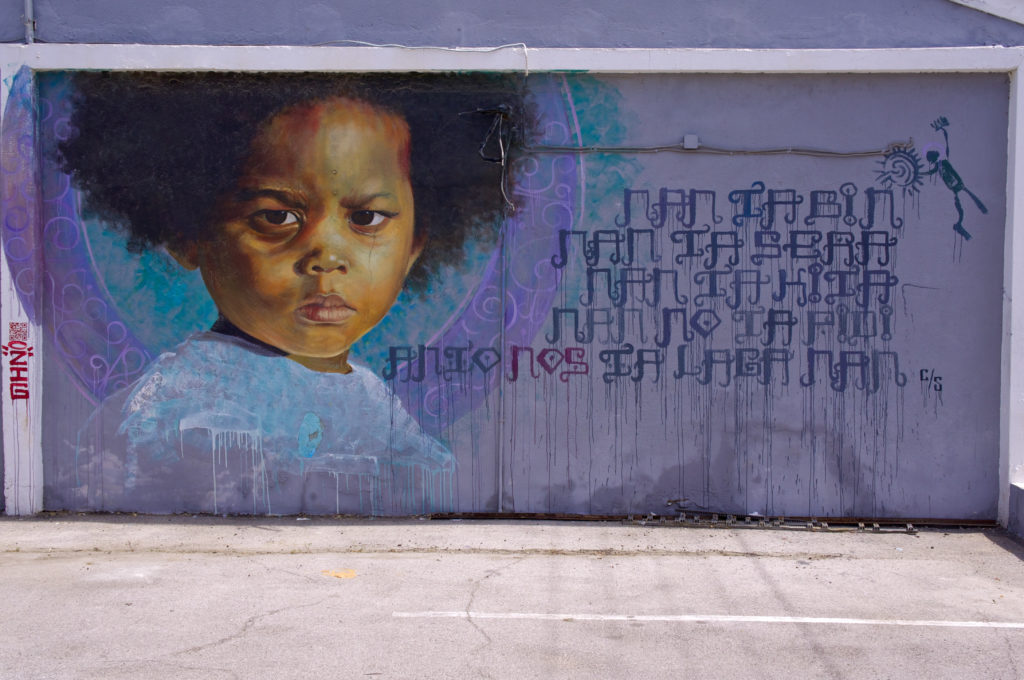 While other cities treat "love locks" as a nuisance, Willemstad has embraced them. This installation by the waterfront seems to be a very popular spot for tourist pix.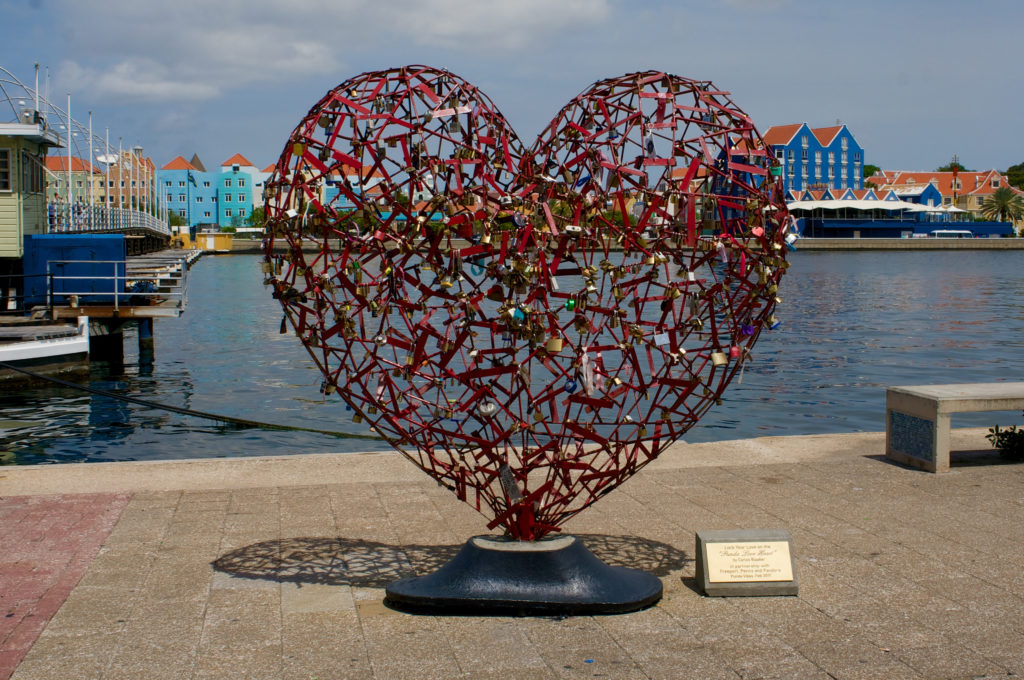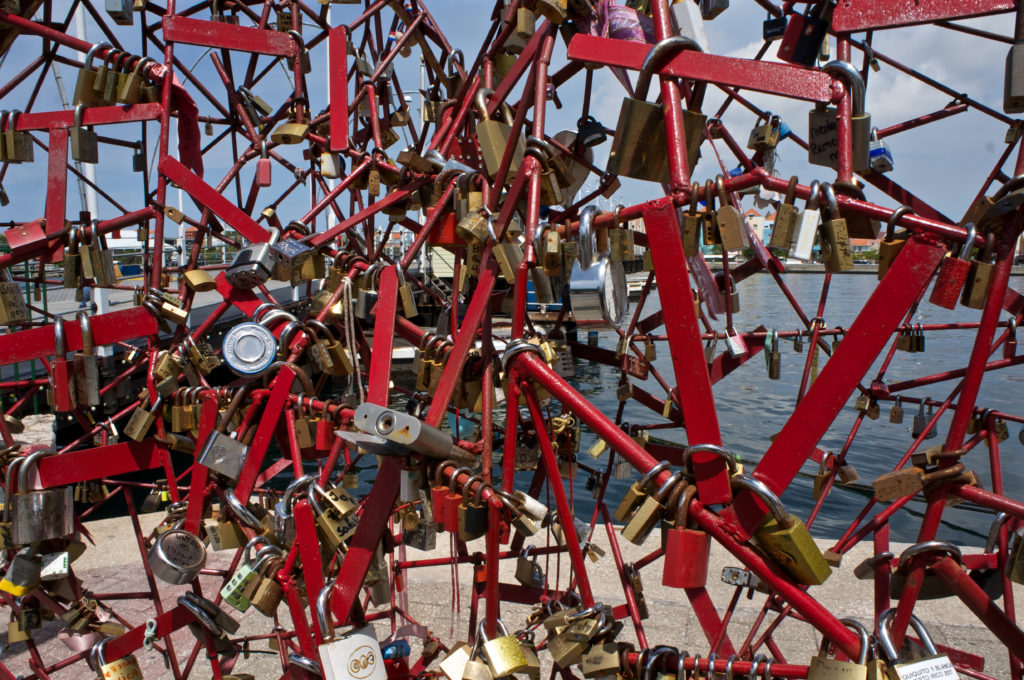 There are a lot of walls in Willemstad with images or text on them that don't seem like "art" until you put a frame around them. Like these: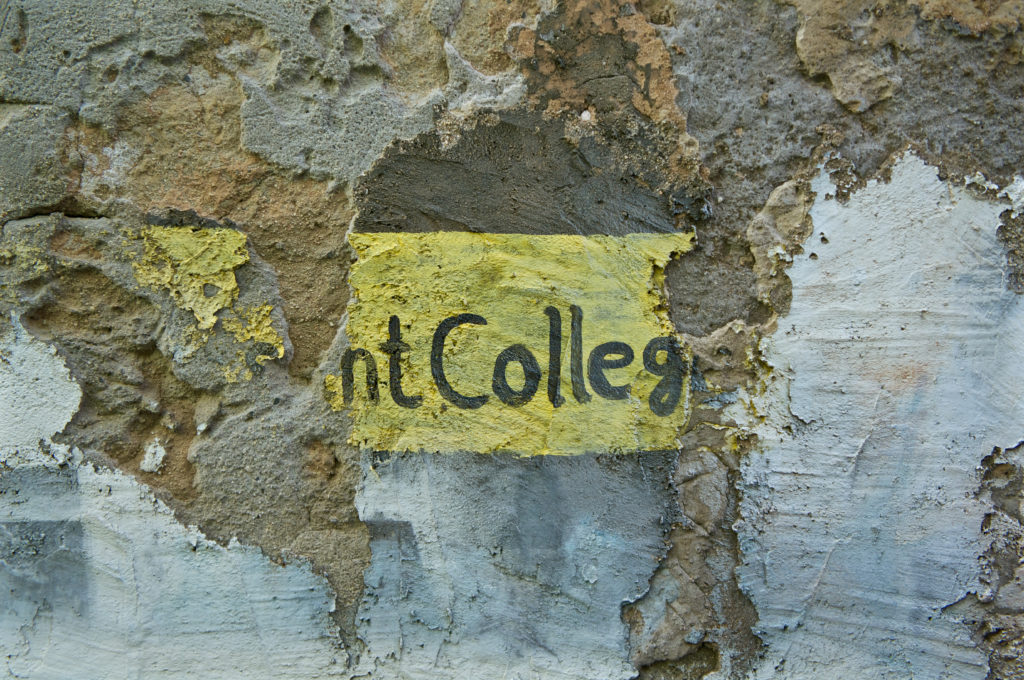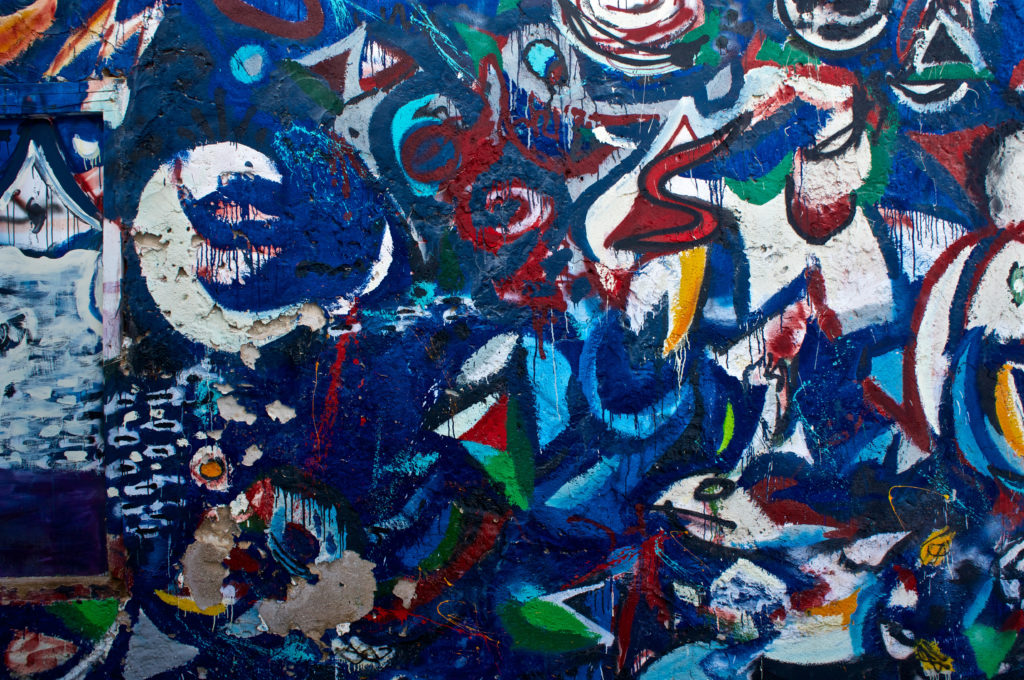 The three photos below were taken less than a kilometer from where I am staying in a district of Willemstad called Pietermaai. Until just a few years ago, this district was known for its abandoned buildings, drug dens, and crime. But an aggressive restoration plan led to its rebirth as (in the words of one travel website) "the Latin Quarter of Willemstad." Today it has boutique hotels, delicious restaurants, sophisticated music bars, and high-zoot apartments. The photos below show both what the whole district used to look like and how art is used to blunt the grimness of decaying, disused buildings that remain.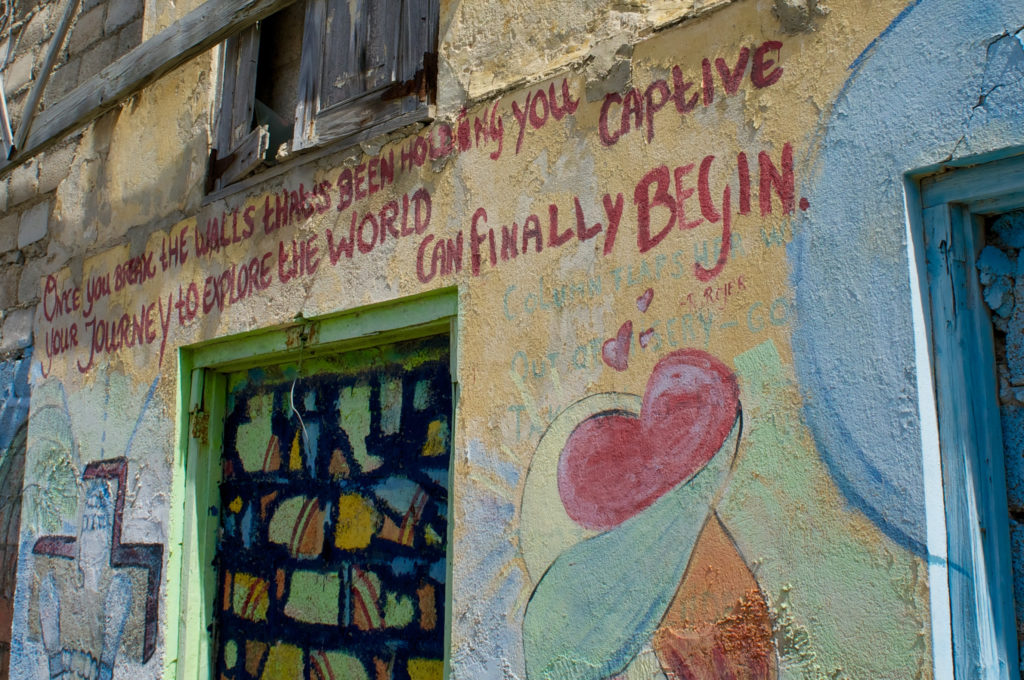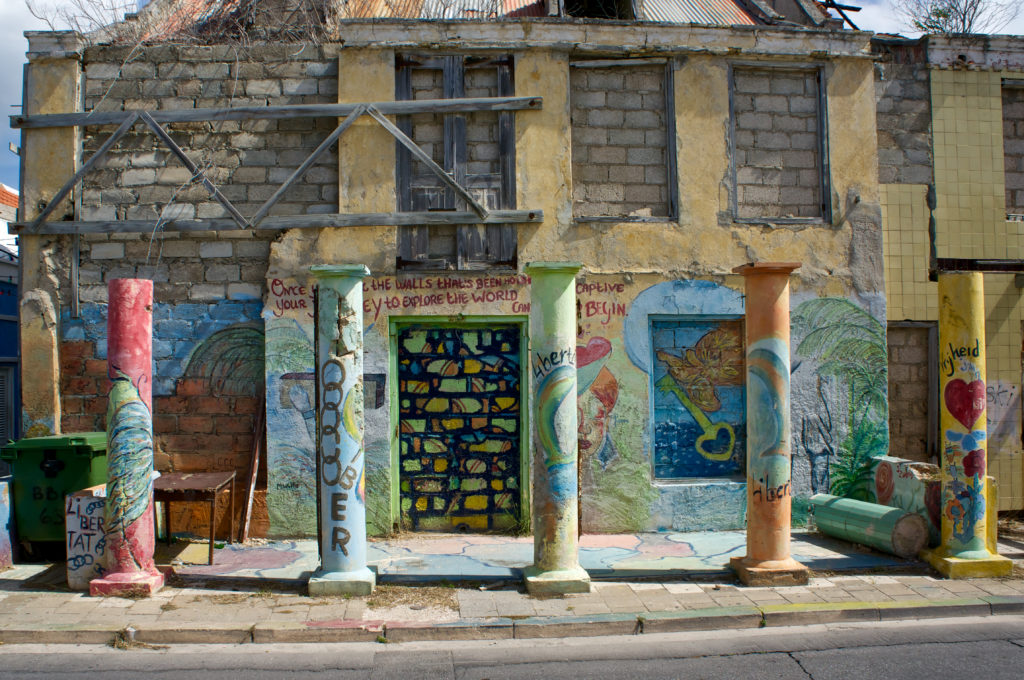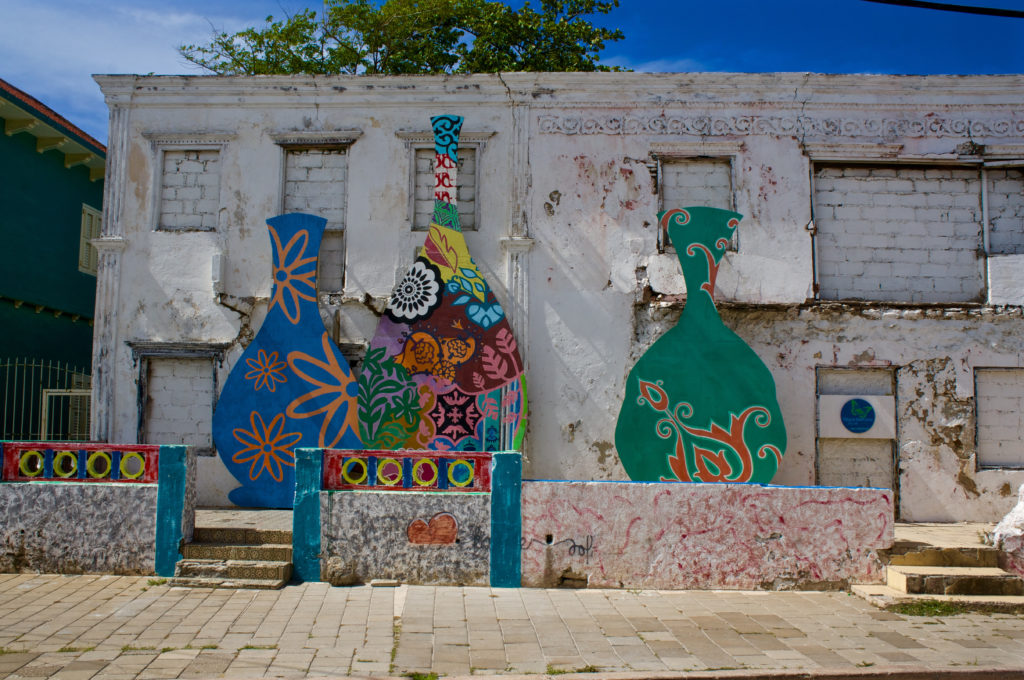 This mural on a wall in downtown Willemstad is also by Garrick Marchena. I think the illustration of the hawk is kind of anodyne, but the font for the text is wonderful. According to the artist's website, it was "inspired by the Indian cave paintings of our ABC [Aruba, Bonaire, Curacao] islands and combined with the California Cholo style letters of the 50's." In Papiamento, the text by poet Hemayel Martina reads:
Avochinan preokupá mi ta invoká
boso pa eskoltá i yuda nos emansipá
sin odio ni vengansa ma ku amor
ya e presiosidat di hoya akí
por resaltá i mundu henter
skucha ora kriaturanan
dje paraiso akí ku
orguyo grita:
Ami ta Kòrsou.
In English, that translates as:
Worried ancestors, I invoke you to escort us
and help lift us into the sky of emancipation
abundantly devoid of hatred, but devoted with love and compassion
so the preciousness of this rock
may shine and the whole world
hear when voices from
this paradise reverberate
with a fervent cry:
I am Curaçao.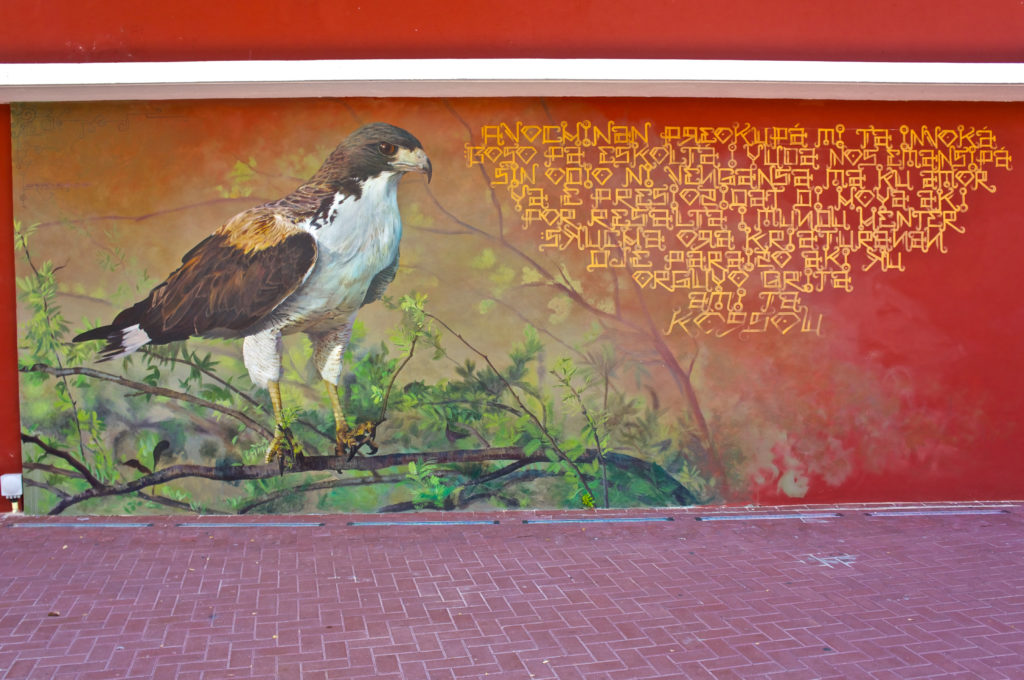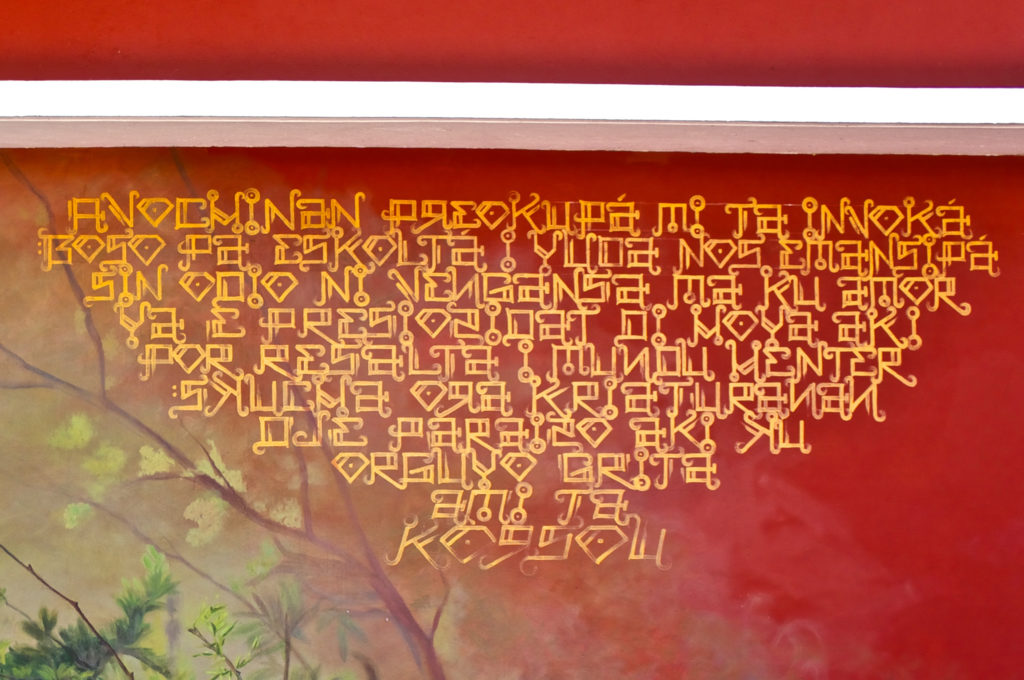 To my surprise, Marchena also painted the two murals below. He's clearly comfortable working in very different styles and media.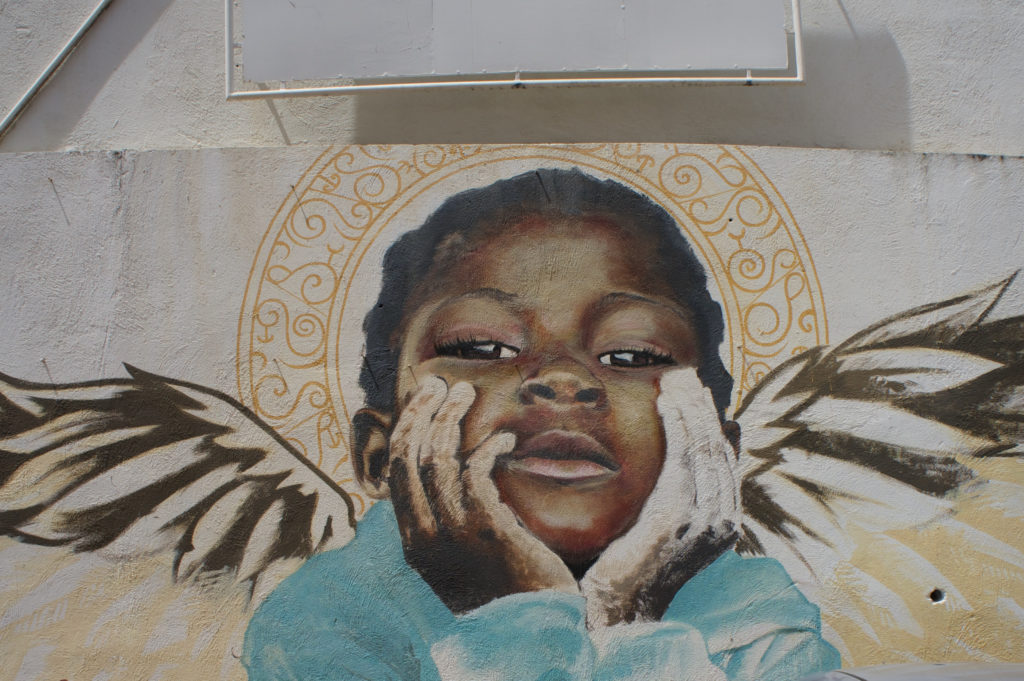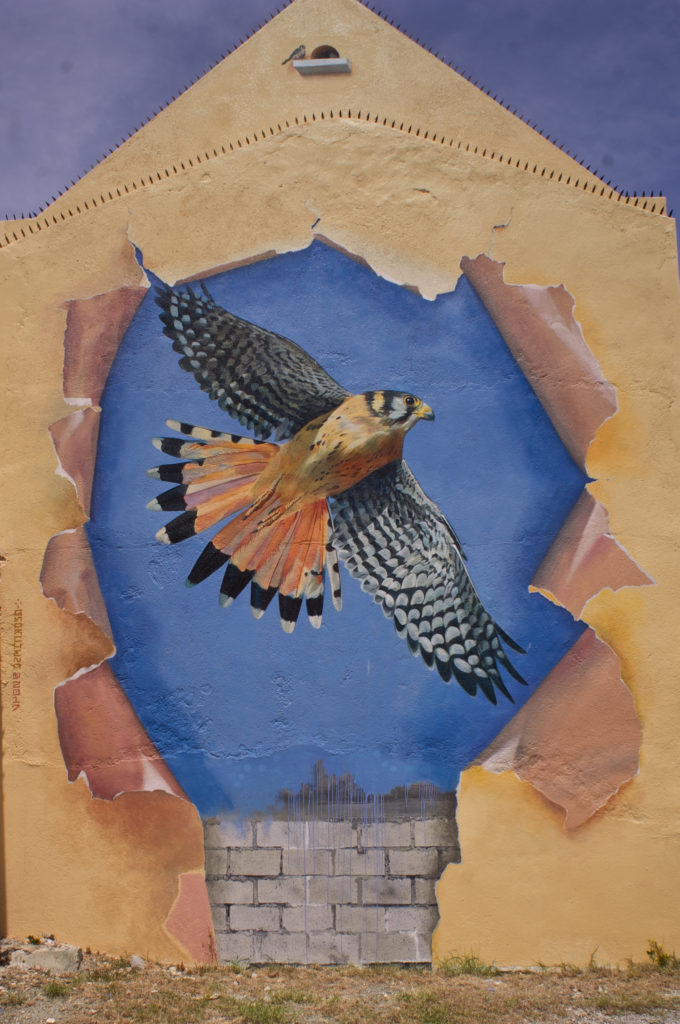 One of my most delightful finds, though, was a whole row of whimsical spontaneous street art like this: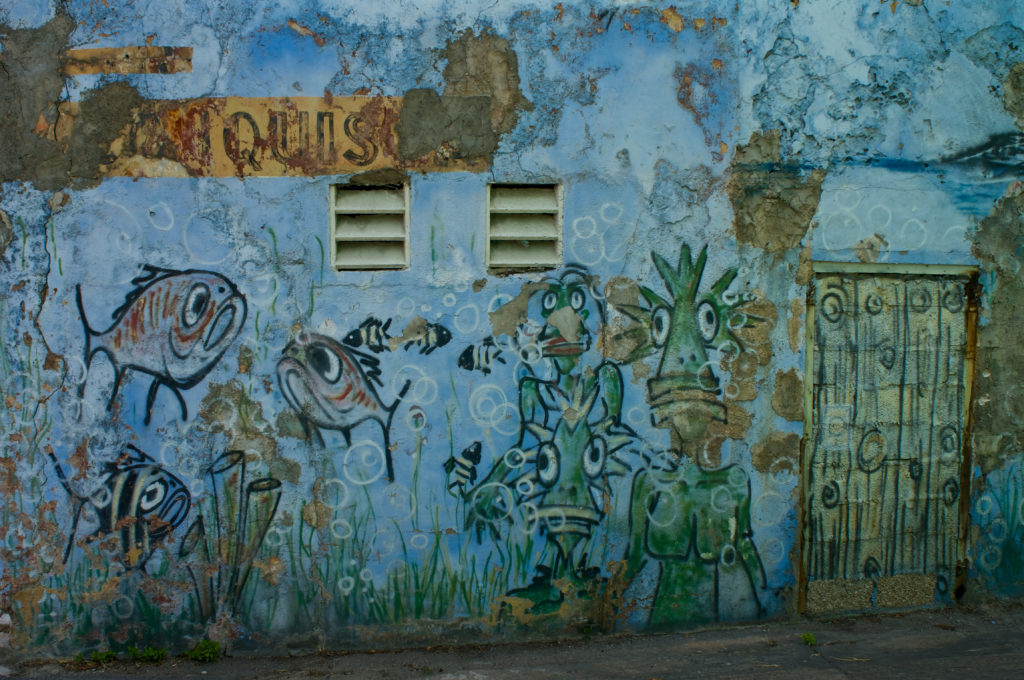 What's cool about the Curaçao art scene is that the island is small enough so that most of the artists seem to know each other. I was introduced to the scene here by Avantia Damberg, a visual artist who conducts tours of the public art in Willemstad. When I was with her, it was impossible for us to walk down any given street without her meeting another artist she knew. Something about the climate here – both the beautiful Caribbean weather and the island's reputation for tolerance – makes this place a good place for artists and those who enjoy their works.