We crossed into the Tropic of Cancer on Tuesday at 11:15 am traveling southwest in a comfortable Nissan Tiida. Sophie's husband Wang was driving and her father, Mr. Li, was riding shotgun. Sophie and I were in back. It was a much more comfortable and interesting ride than my last trip to Xishuangbanna.
It was National Day, the second or third biggest holiday on the Chinese calendar, a celebration the founding of the People's Republic 64 years ago. Traffic was heavy but never stopped moving. In honor of the holiday (and probably to make traffic flow more smoothly) collection of tolls was suspended.
Rachel is a new friend of mine who works at Yuxi People's Hospital. We chatted about our respective national holidays as the kilometers rolled by. I told her about Thanksgiving, but she already knew all about it from having seen an episode of her favorite TV show, Friends.
We passed by houses of the Yi people, neat white structures with circular symbols resembling hex signs.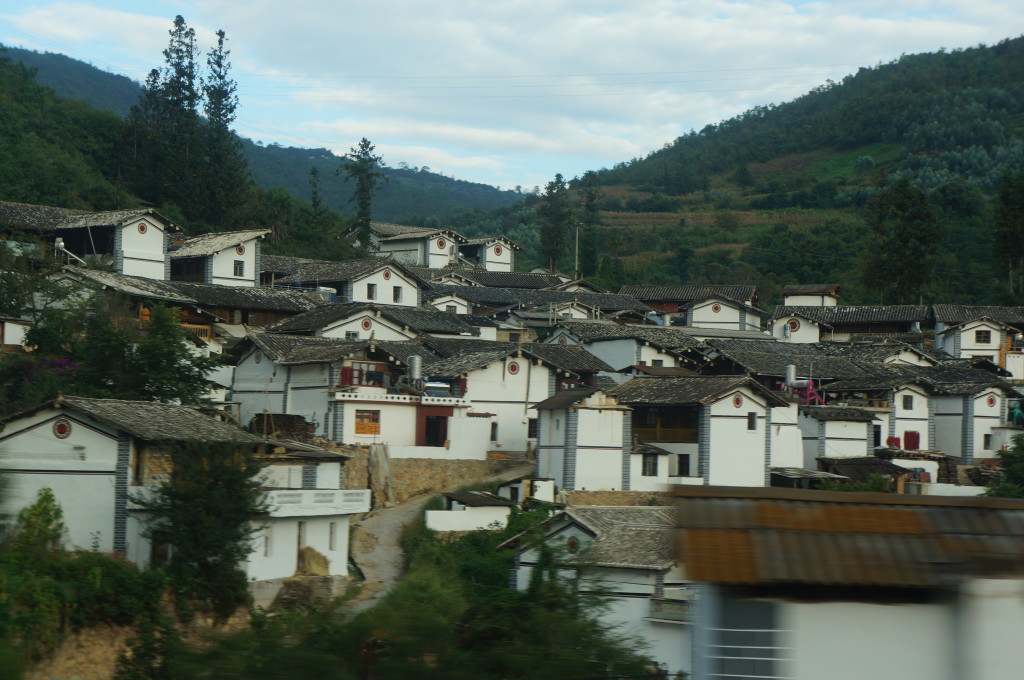 We stopped at the village of Mohei for lunch: rice, spicy beef with noodles, fresh bamboo with green onions, a tofu hotpot, fried pork belly strips, and grilled eggplant. The restaurant was little more than a corrugated roof mounted over a concrete slab and the kitchen was about the size of an American bathroom, but the food was good and plentiful.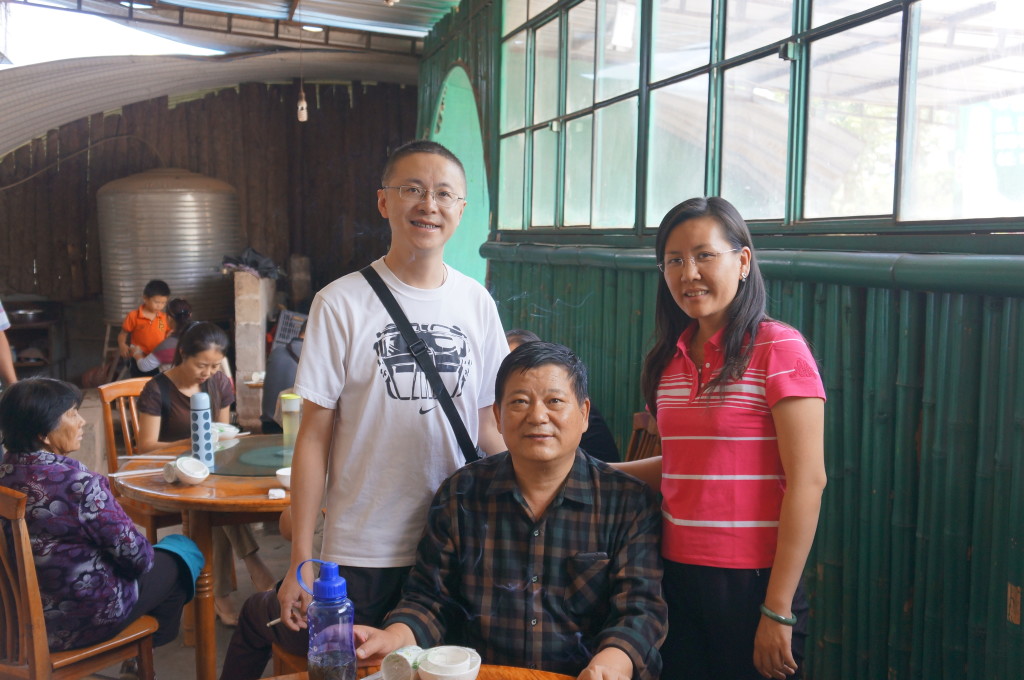 Once we were on the road again, the scenery became more dramatic. We drove by impossibly steep mountainsides that were meticulously terraced and planted with tea and coffee. I tried counting the terrace levels on the highest mountainsides and lost count around seventy. Foliage became more colorful, with purple phoenix flowers blooming by the roadside and banana trees growing in the forest beyond.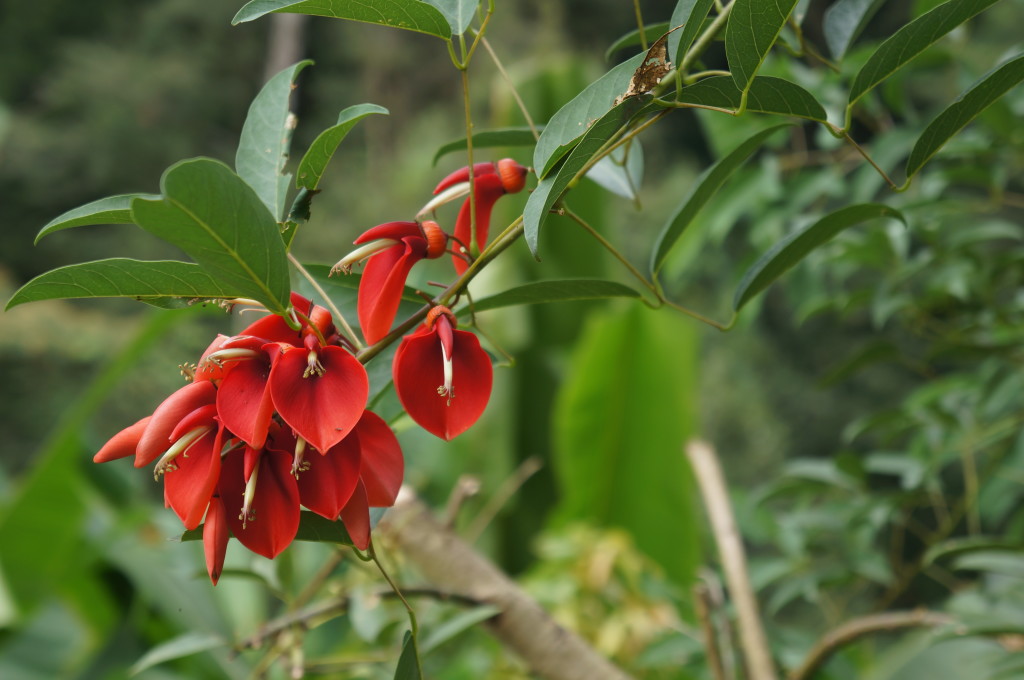 We entered a rainforest preserve where elephants still live in the wild. In fact, the G85 is the only highway I've seen that has an elephant channel under the road so that elephants can safely cross–which raises the question, why did the elephant cross the road, anyway?
Mr. Li is 57 and works for the Chinese Department of Human Resources and Social Security. I remarked that he had seen a lot of changes in China in his lifetime and asked him what he thought the best and worst changes were. The best change, he replied, was that when he was young, people didn't have enough food or enough money to buy food, if it was even available. Now people have enough food and money. But the worst change, he went on, was that people have lost faith. I asked what he meant, whether he was referring to religious faith, faith in government, or faith in society. All of those things, he said. "You used to be able to count on people to know right from wrong, for the most part. But then twenty years ago, China opened itself up to a lot of outside influences and now there are some people who don't believe in anything having to do with right and wrong at all."
In Jinghong, the capital of Xishuangbanna, I checked into the same fleabag hotel I'd stayed in last time. The desk clerk tried to charge me ¥260 a night. I was livid. I'd been quoted ¥200 on the phone last week when I made the reservation, and even that rate was more than three times as much as I'd paid a month ago. Canny Chinese businesses jack up prices ridiculously around National Day to take advantage of the surge in demand, but this was absurd. The desk clerk spoke no English, so I let loose with a tirade of pure gibberish with a few profanities mixed in. The clerk looked alarmed, glanced over at her manager, who nodded. Presto: it was all a big misunderstanding and we were back at a mere ¥200. The clerk collected my passport to run it over to the police station; foreigners have to register with the local authorities wherever they stay the night. I was stashed in room 407, the same putrid pink and purple room I had last time, which I shared during my stay with a small tan lizard.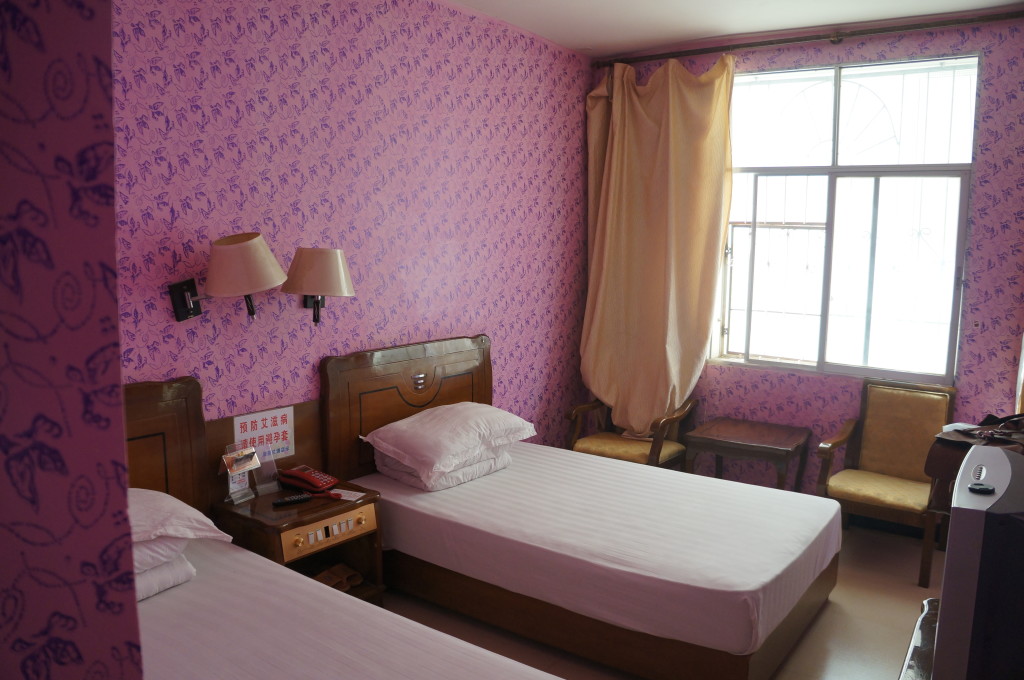 After a quick nap, I was picked up once again by Rachel and her family. We headed out of the city to the town of Gasa, where there is a Dai village devoted to the restaurant trade. According to Rachel, there had long been a Dai community at that site, but it was quite poor. About ten years ago, the government redeveloped the area and built new houses, a Buddhist temple, and other buildings. The houses double as restaurants–or maybe the restaurants double as houses–and the area is now quite prosperous, with 80% of the people in the community working in the booming village restaurant trade.


Rachel's family was warm, funny, and welcoming. Her grandmother, 88 years old, kissed my hand when she met me and seemed to generally glow with welcome and acceptance.


Her two aunties bickered like a pair of old comediennes over the few words of English they shared between them. Her husband is a big NBA fan, and we made plans to watch some games together once the season starts. Her father asked if I wanted to have a drink with him. I accepted and soon some of the proprietor's homemade rice wine hooch (presented in a repurposed plastic water bottle) was lifting our spirits. It being National Day, I toasted China, Xi Jinping, and Mr. Li's family. The food was delicious and included rice noodles in a tomato-based stew, pork, chick and fish barbeque, some kind of vegetable that tasted like spicy peas, fried pickle skins, and lots of other dishes all served family style on a large lazy Susan table.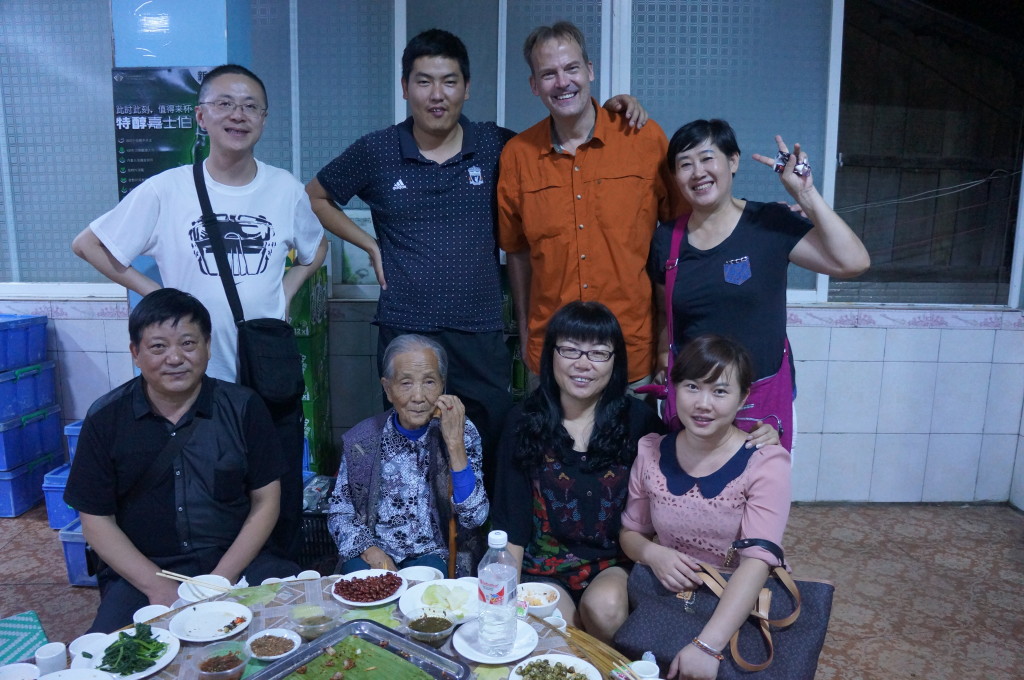 It was wonderful to be among family. It was my 103rd day in China and was probably my best.
Read Xishuangbana Redux–Part II.
Read Xishuangbana Redux–Part III.