Literature and travel are tightly linked with me. Back when I graduated from college, bought a Eurail Pass, and backpacked through western Europe, I learned to love the racks of Penguin and Pelican paperbacks that seemed to be stationed in every convenience store. I read my way through train rides, solo meals, and rainy days. The books I bought added noticeably to the weight of my pack, until I finally, reluctantly, and for the first time in my life began leaving books behind after reading them.
Later in life, I was a founding member of a book group that reads only literature in translation. Our group traveled the world through literature. We also made a point to serve the food and spirits native to the country that produced whatever book we were reading. Through that, I learned to appreciate the literature of the non-English speaking world and added a number of must-sees to my travel list.
Still later, when I was going through a difficult emotional time, one fraught with many losses, I turned to travel books to enable my imagination to roam the world and to help me forget my woes. During one six-month period, I brought a book — usually a travel book — to a biker/bikini bar four or five nights a week, camped out on a barstool, and read while chaos roared behind me.
More recently, books have been an essential part of my expat life. As wonderful as living in another culture can be, it also has its share of lonely stretches. Reading gets me through those. After weeks and months of immersion in another language, it's a delight to become reacquainted with English.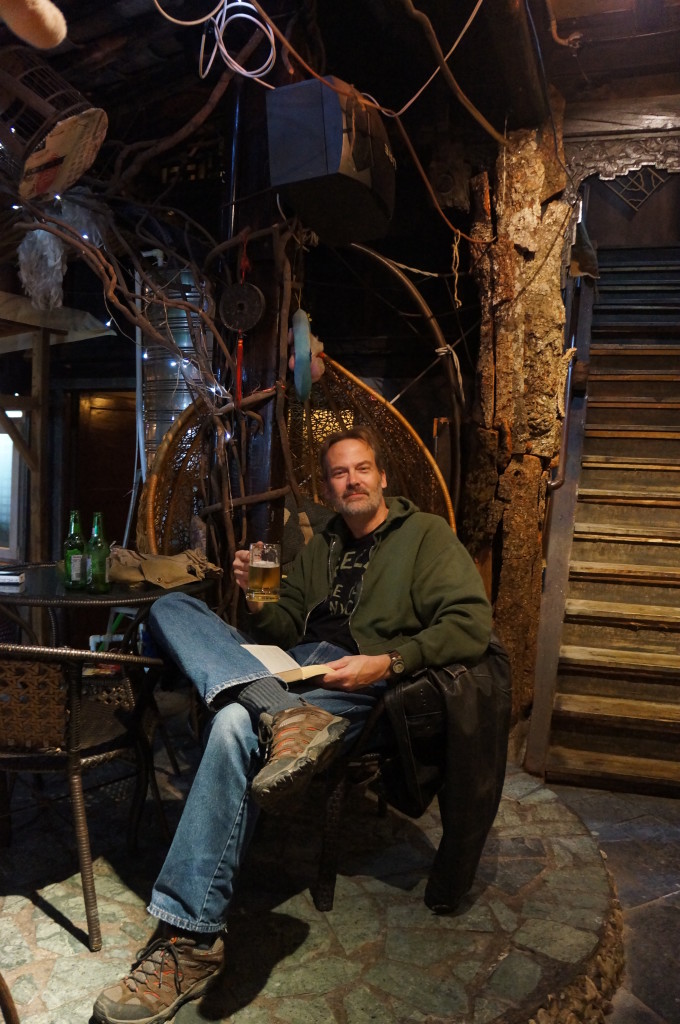 The books I enjoyed most were those about travel adventure. "Adventure," though, is a much-overused word. Many folks apply it to some mildly exciting trip that goes according to plan. Not me. I think of adventure as what happens when things don't go according to plan. Ziplining in Mexico? Not an adventure. Being interrogated by the police in Tunisia on suspicion of fornication? Definitely an adventure.
Then there are other books that aren't specifically about travel, but take place in foreign locations and/or involve expatriates. Graham Greene is the gold standard here; I learned about much of the world through his stories of weary British expats living in the developing world.
Here, then, is the first installment of the forty books that made me a traveler. You can read Part 2 here or visit my buy page. I'll put up a new installment every week or so. Each of these books is hyperlinked to Amazon. Buying a book through the links here doesn't increase your cost by a cent, but it does put a few cents into my bank account (which I will use to keep this blog going). Enjoy exploring this literature — and please let me know what you think of my selections.
The Quiet American
Graham Greene
I had a prejudice against this book for a long time after I read it due to its title. The titular American isn't any quieter than any other character. At one point, Greene simply tells us that he was, as if that settles things. But that cavil aside, this is a fine -- perhaps definitive -- portrait of expat life during the 1950s. It warns against the hubris of ideologically-driven westerners who come to tropical lands full of theories to test on the natives. On a more powerfully emotional level, though, this is a book about the strange and unequal relationships between expats and their native lovers, the way they romanticize each other, and the grief they often come to.
The Old Patagonian Express: By Train Through the Americas
Paul Theroux
Veteran travel writer Paul Theroux took a train trip from Boston to Patagonia. He loved putting his hand on the Red Line tracks in Boston and being connected to Argentina by a ribbon of steel. It wasn't literally true, of course, but the image stayed with me and made me a fan of train travel throughout the world. And the fact that I read substantial portions of it while actually riding the Red Line made adventure travel seem all the more possible. He took books with him as he traveled, like I do, and blended what he was reading at the time with what he was seeing as he rode the rails.
South: The Story of Shackleton's 1914-1917 Expedition
Sir Ernest Henry Shackleton
My favorite definition of "adventure" is what happens when things don't go according to plan. By that standard, Shackleton and his crew had adventures up the wazoo. Heading for Antarctica, they were shipwrecked and then made a daring, if not crazy, journey across the southern ocean in an open boat to reach an island where they might stand some hope of being rescued. There's a lot of technical, nautical and meteorological data to wade through, but Shackleton's leadership skills shine through the jargon. And the bravery and stalwartness of his crew convinced me that he couldn't have chosen a finer posse to accompany him to the ends of the earth. The fact that every last man survived the ordeal is an incredible testament to human strength and perseverance in the face of the most daunting odds.

Zen and the Art of Motorcycle Maintenance: An Inquiry Into Values
Robert Pirsig
I first read this classic when I was in my teens and it didn't do much for me. Almost four decades later, though, I reread it and it made a great deal more sense. Pirsig was brilliant yet mentally ill and went to pieces in a way that destroyed his marriage and terrified his young son. The motorcycle trip he took from Minnesota to California was his attempt to reassemble his very self. It's also about his obsession with the metaphysics of quality, a theory he developed to connect the objective with the subjective. When I became a motorcyclist myself, I identified completely with the contemplative states Pirsig entered into while rolling through Montana. This is a book that satisfies dramatically, intellectually, and spiritually. I was surprised and gratified earlier this year when I spotted two twenty-something women reading it at a hostel in Sri Lanka. The book has stood the test of time.
The Royal Road to Romance
Richard Halliburton
This is a -- no, the -- classic wanderlust book. In the 1920s, Richard Halliburton, a small-town merchant's son from Tennessee, was more famous than Amelia Earhart. The Royal Road to Romance, an account of his travels from the Alps to Andorra to India to Panama, served as the basis for his profitable work on the American lecture circuit. He continued to travel and have adventures all over the world until he was lost at sea in 1939 while attempting to cross the Pacific in a Chinese junk. He traveled with a insouciant attitude toward money, convention, and officialdom. This led to him being jailed as a spy in Gibraltar, spending the night at the Taj Mahal, evading fares on various trains, and climbing the Matterhorn despite being utterly ignorant of mountain climbing and woefully under-equipped. Though they may not know it, every backpacker who has set off for a foreign land with a light wallet and no firm plans is following in Halliburton's footsteps.