When one of my private tutoring students asked if I would like to go with her to a Chinese cultural event this evening, I jumped at the chance without knowing what it was all about. I'm glad I did. I'm learning that saying yes to invitations, even when I am uncertain about them, is a route to deeper understanding of the place I've lived for two months now.
We went to a traditional tea house near Nie Er Music Square. A long table was set up in the foyer with Chinese calligraphy brushes, paper, and accessories.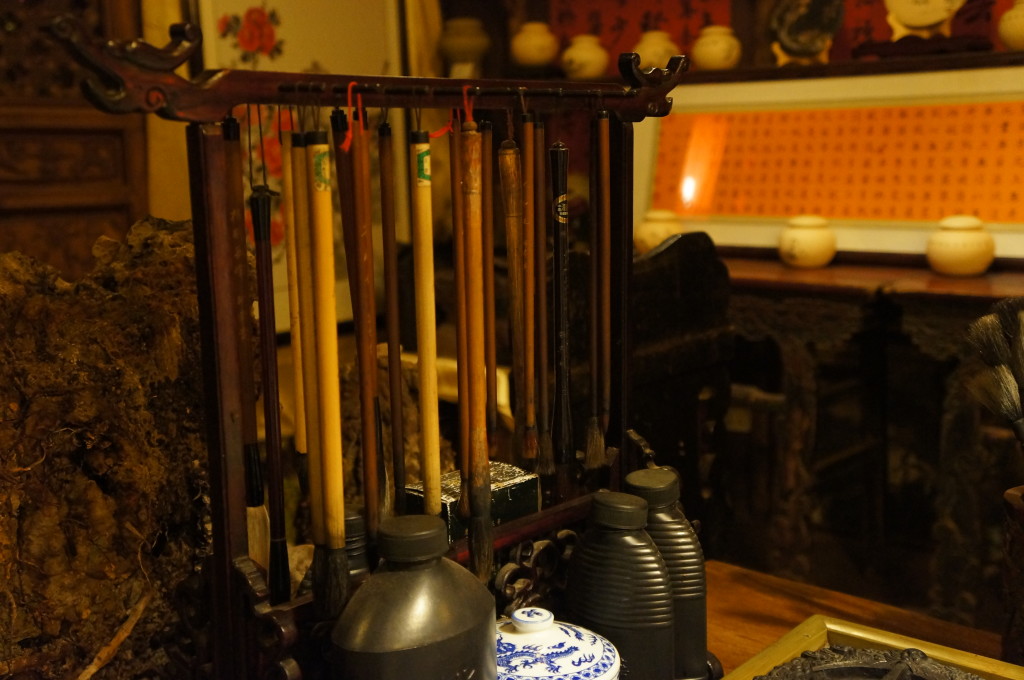 A half dozen women and several men sat around the table sipping tea and practicing painting Chinese characters onto very delicate off-white paper. Some of the group wore period clothing.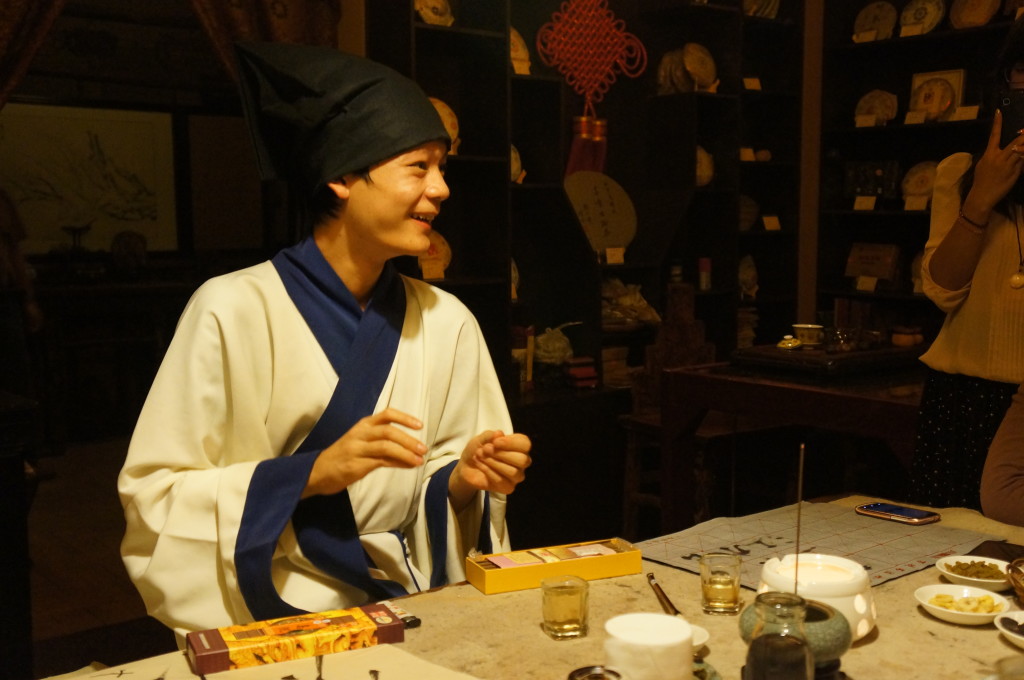 I was encouraged to try my hand at calligraphy, despite my abject ignorance of Chinese ideograms and my general lack of artistic talent. The first character combination I was given to copy was 毛泽东 — Mao Zedong. The Great Helmsman himself would find his name completely unrecognizable as I rendered it.
The woman who owns the tea house collects antique furniture, and her shop is like a museum. She is on the right in this photo. I regret that I didn't capture her long braid, which fell all the way to her knees.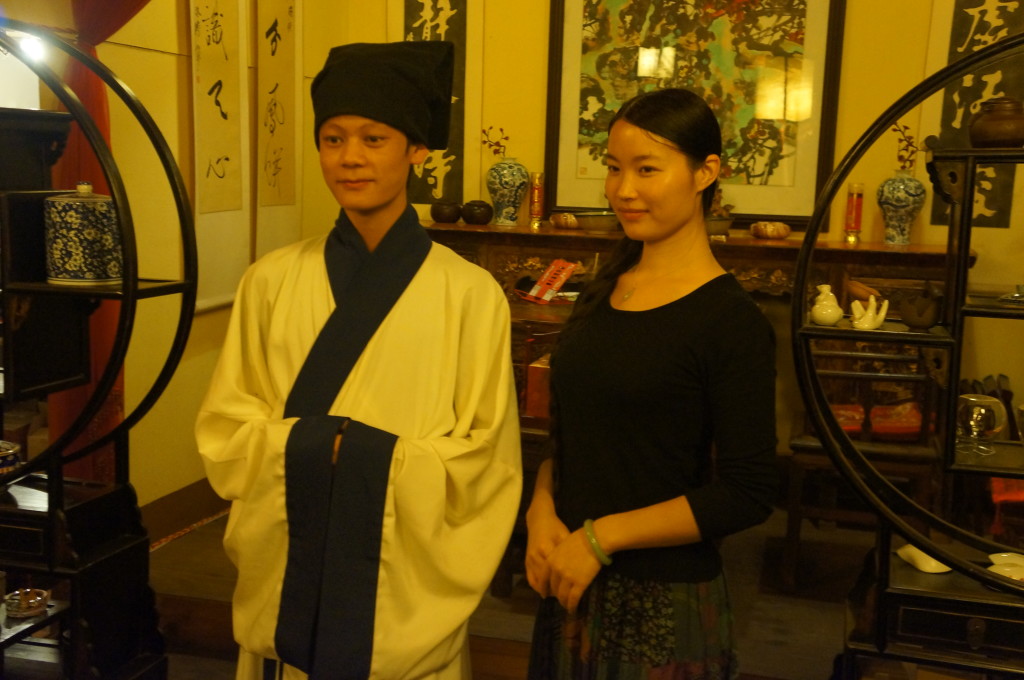 Her collection was nothing like the ornate Chinese furniture that is sometimes reproduced for the American market. It was simple and perfectly proportioned. The decoration wasn't tacked on–it was an organic part of the design. On some, red lacquer had been worn smooth by the centuries to a deep color approaching orange.
There was a party of men and one or two women in the room next door. I was asked if I wanted to join the tea ceremony and gladly accepted. Several of the men were executives in one of Yuxi's television stations and another was a former member of the Beijing Opera. I was greeted very warmly. Many toasts of tea were offered to America, to China, and to Chinese-American friendship.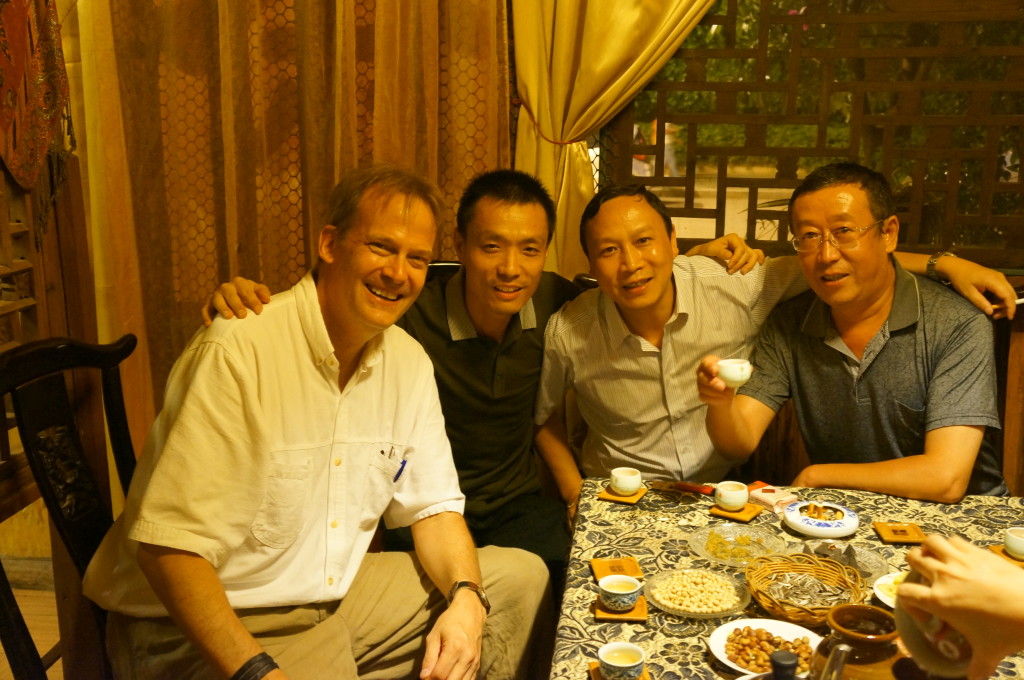 With humor and patience, the men taught me how to properly hold the tea cup (which is different from how women hold it) and quaff the tea down in one big gulp. I drank more tea this evening than I have ever had in a single week. When the party finally broke up, one of the women drove me home on the back of her her electric scooter.
In the last four days, I have been the recipient of much kindness from the people of Yuxi. I was taken to the hot springs south of the central city. The mechanic at Yuxi Bike loaned me his own Trek road machine when he was unable to replace the axle on the Mikey Bike while I waited, and his boss has invited me out for dinner. And then there was tonight, when many strangers went way out of their way to welcome me to their group. I am humbled by their good will.