I was thinking about why people make art when I came across a desolate intersection in Detroit. In the post-apocalyptic environs of Brush and Baltimore Streets, there are dozens of vacant lots where houses and stores once stood. Most of the remaining buildings have been stripped of everything burnable and salable; they stand like monuments to some undefinable slow-moving catastrophe. I shot a few photos of the ruins' exteriors.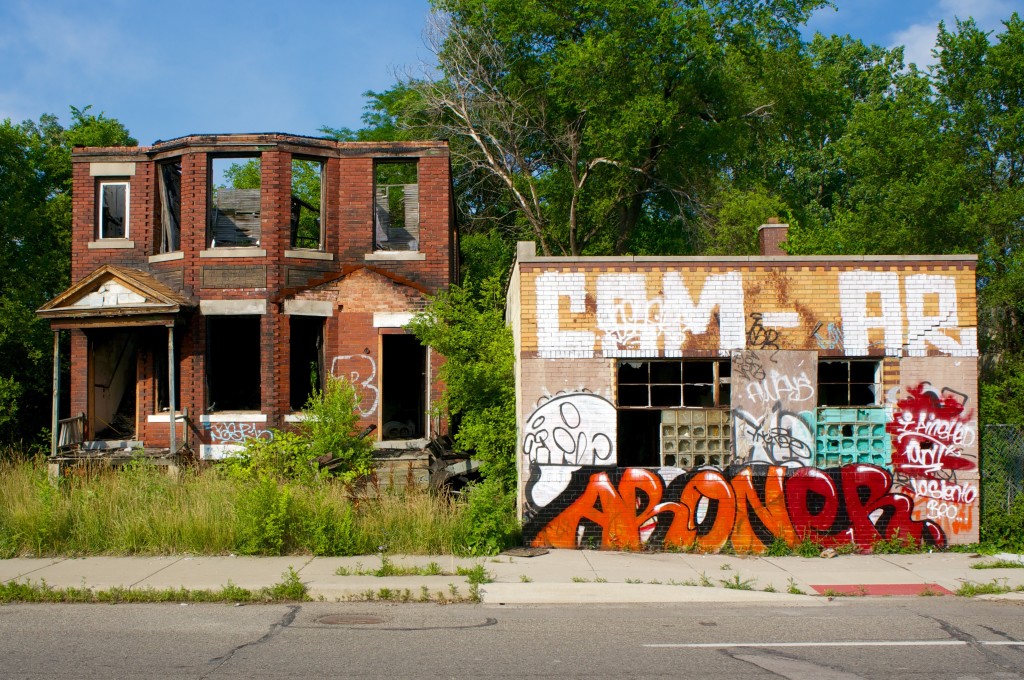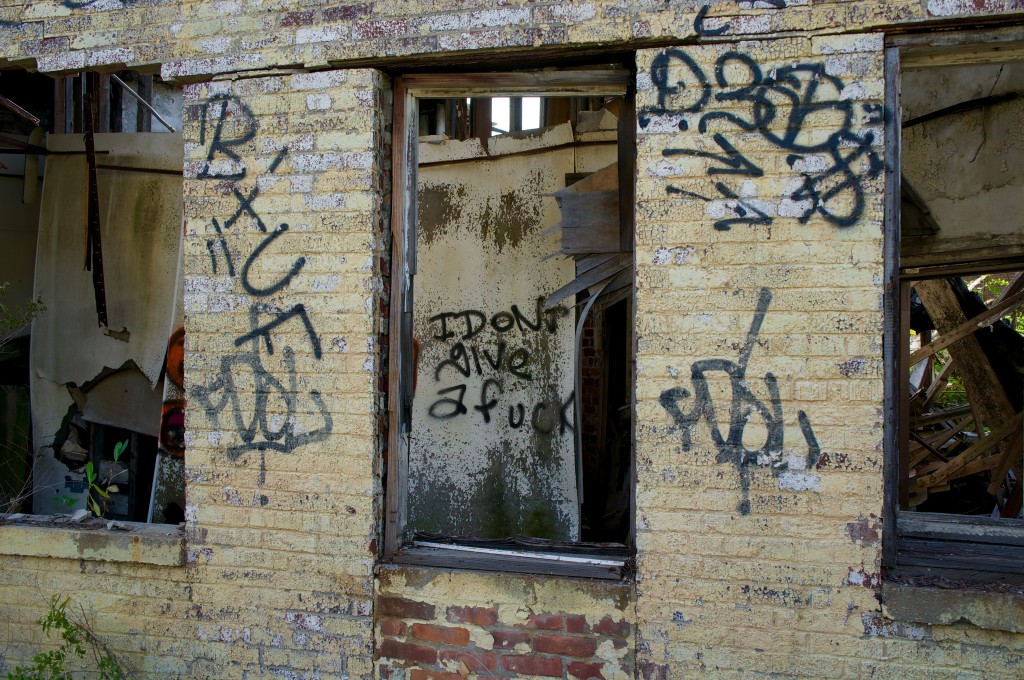 Then a Chrysler drove up. The driver's window slid down. I tensed a little, in spite of myself. Usually when something like that happens to me in neighborhoods like this, there's someone who wants something from me that I don't particularly want to give.
"Hey!" the driver said. "You should go in there." He pointed to a burned-out shell of a building across the street. "All kinds of art in there. Wild stuff. Beautiful stuff."
I was still a little on guard. "Just walk in?" I asked.
"Yeah," replied the driver. "We go in there sometimes, party, look at art. Some of it's done by the people from the gallery there." He pointed to a windowless building across the street that was painted completely black.
I must have looked a little doubtful, because the driver smiled and said, "It's cool."
What the hell. If I've learned anything from two years of traveling, it's that some of the best things happen when you say yes to things you don't understand. So I walked up to the building the driver had indicated. Plastic bags stuffed with moldy, smelly bread were strewn around the porch. Flies buzzed around them. A cinder block was propped against the front door. I toed it aside, pulled the door open, and beheld an amazing art collection.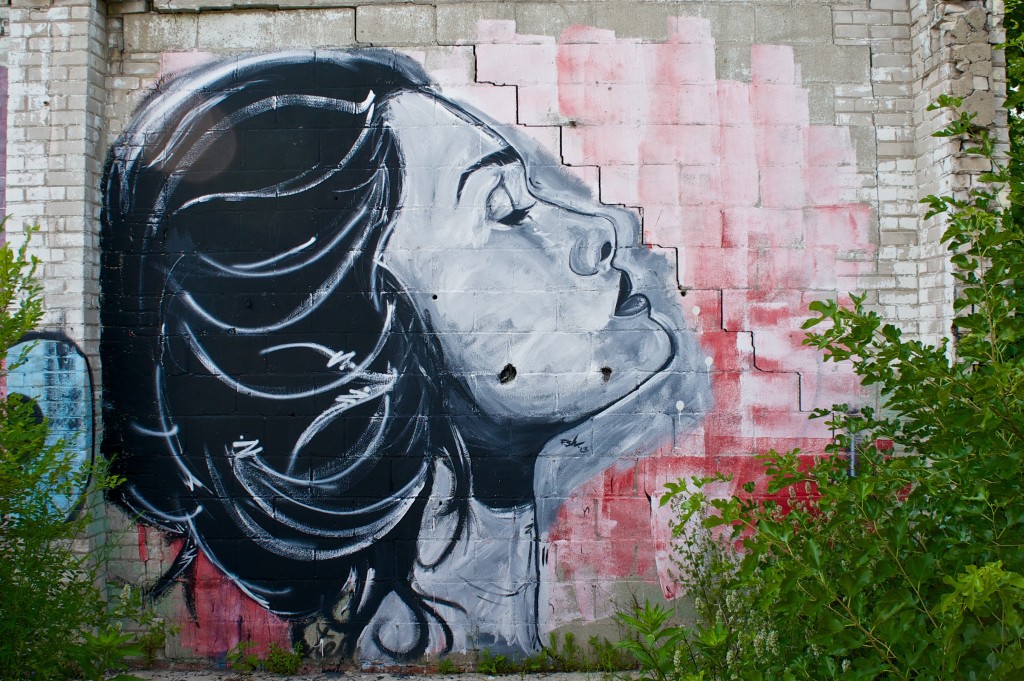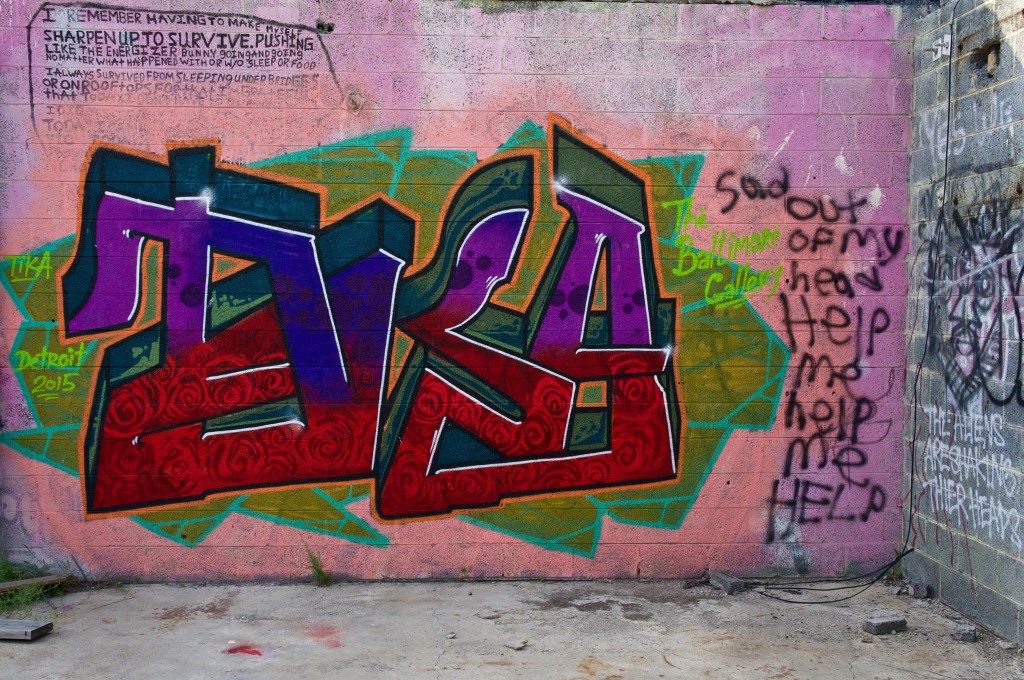 The building I had entered had no roof, no windows, and no finished walls. It did have something much better: stunning portraits of ballerinas painted by Everett Dyson. Some of the them seemed to be dancing their way out of the shackles that once bound them.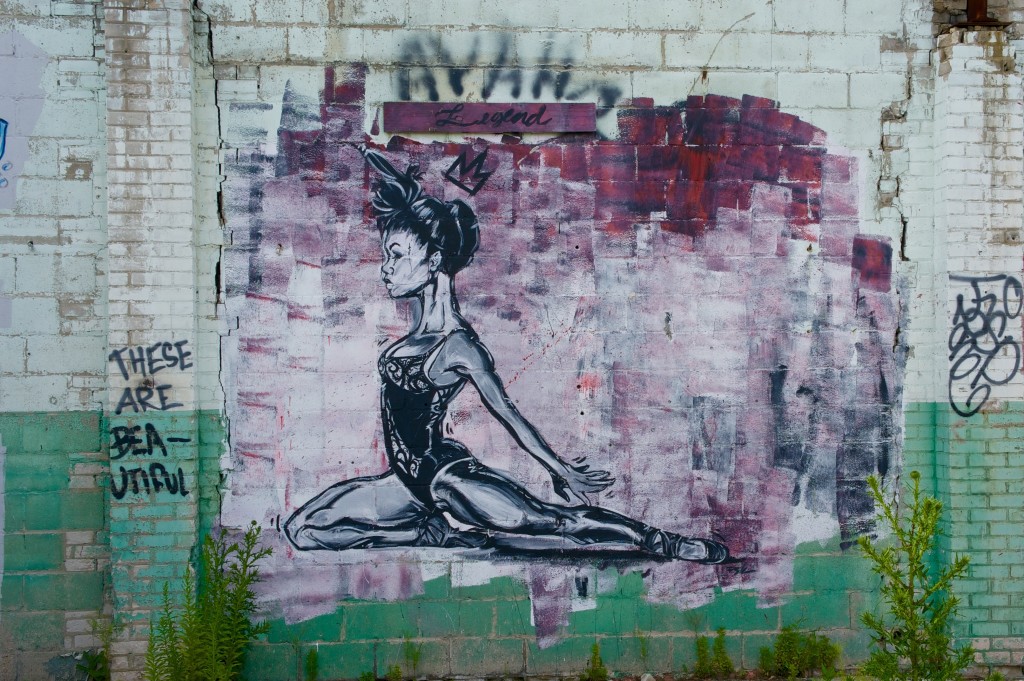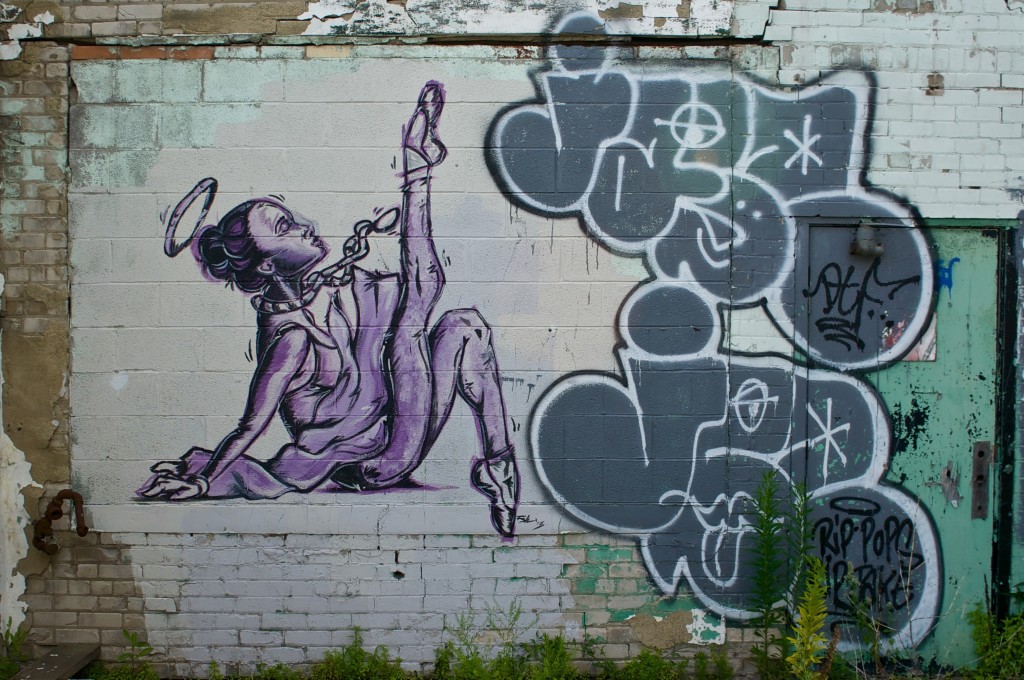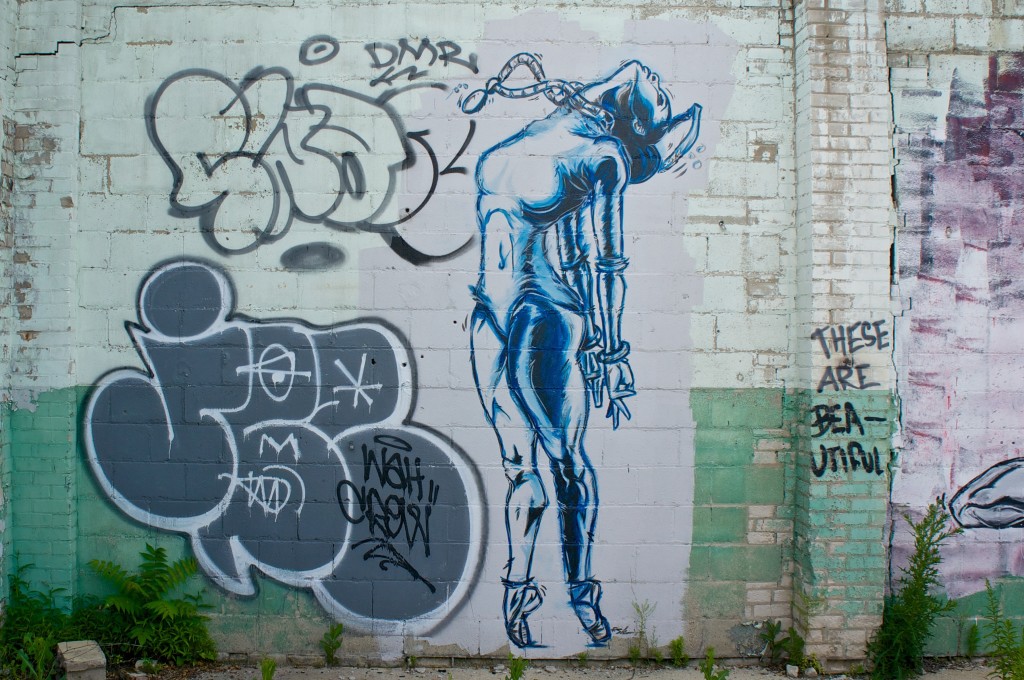 Elsewhere were palimpsests of tags, notes, and images, reflecting unintentional collaborations that are still in progress.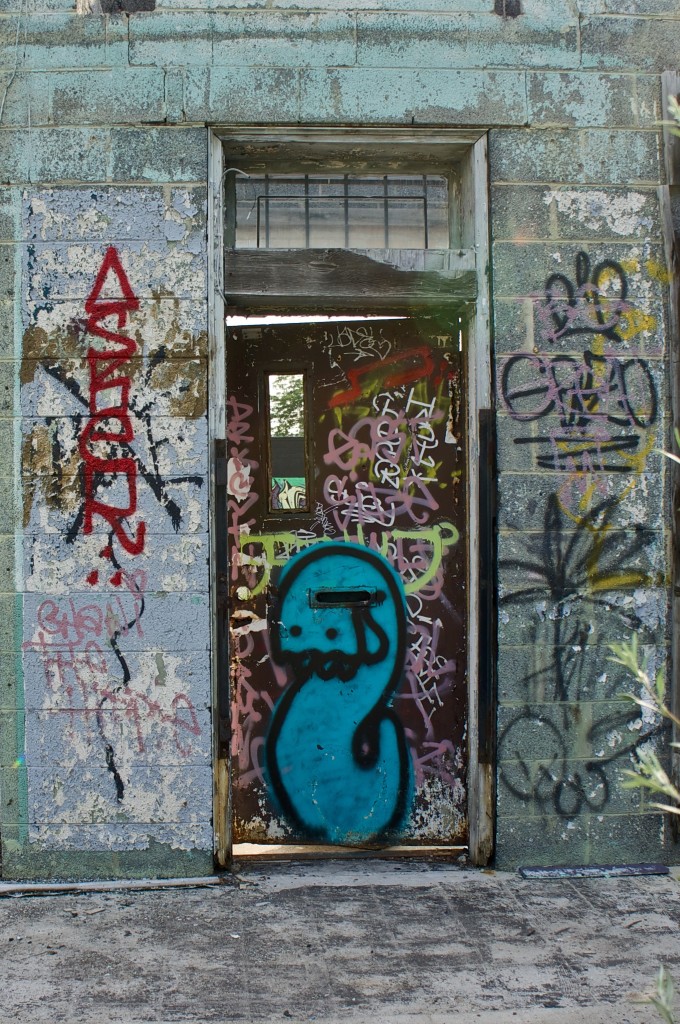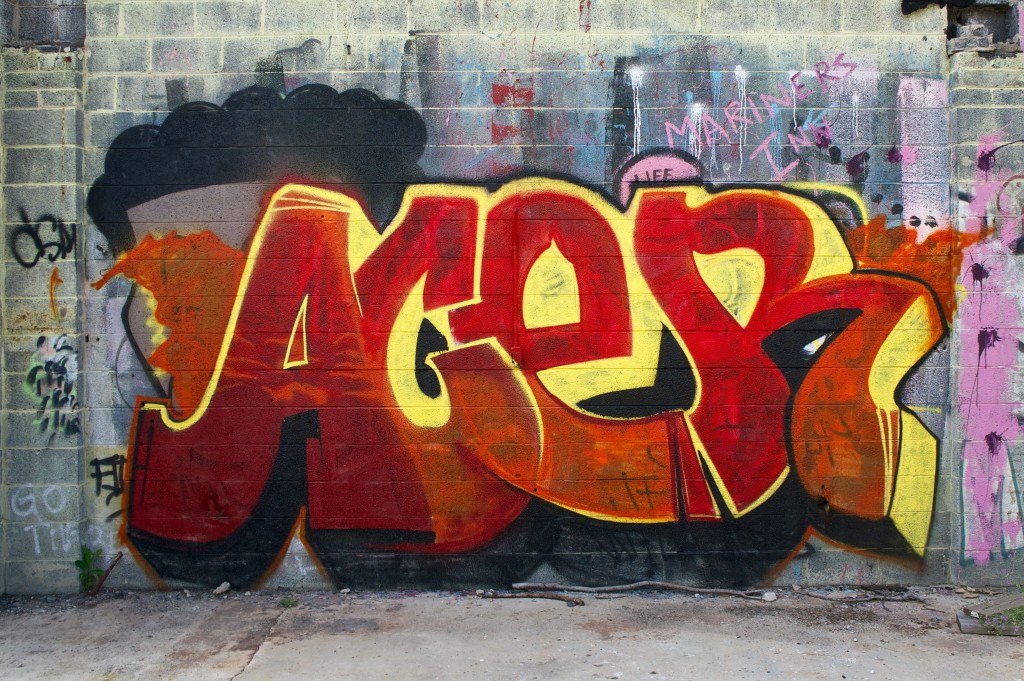 As I photographed the artwork, a freight train rumbled by twenty yards away. Nearly every car on the train had been tagged extensively. Watching them pass was like watching a filmstrip on the tagging aesthetic. I wandered through the back door and found several other small buildings in the same bombed-out condition. The whole complex was a museum with different galleries. I continued to explore.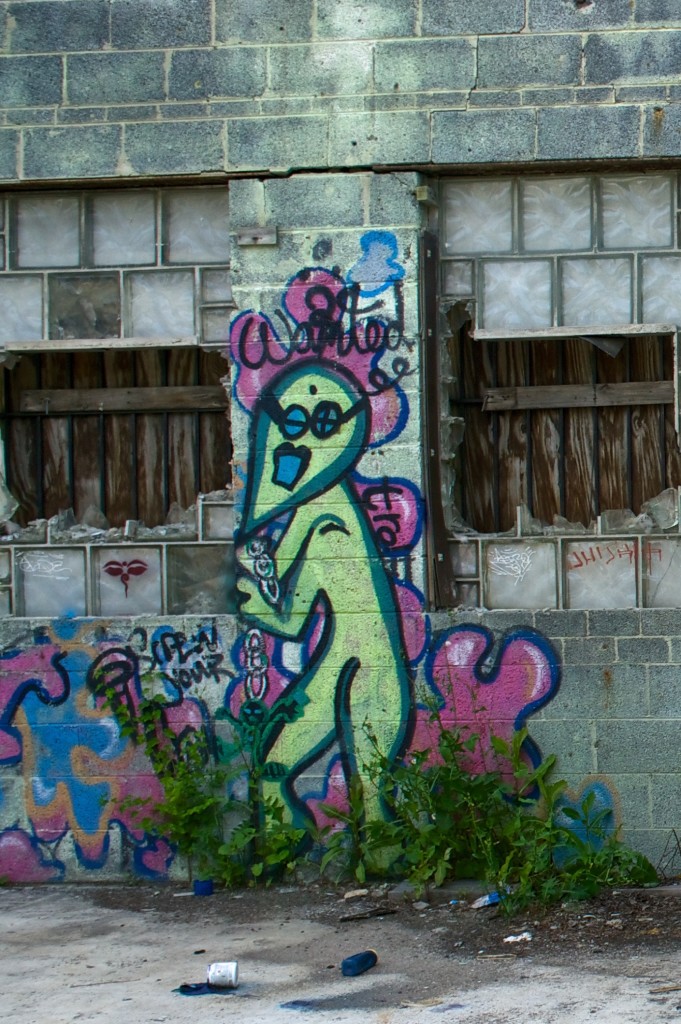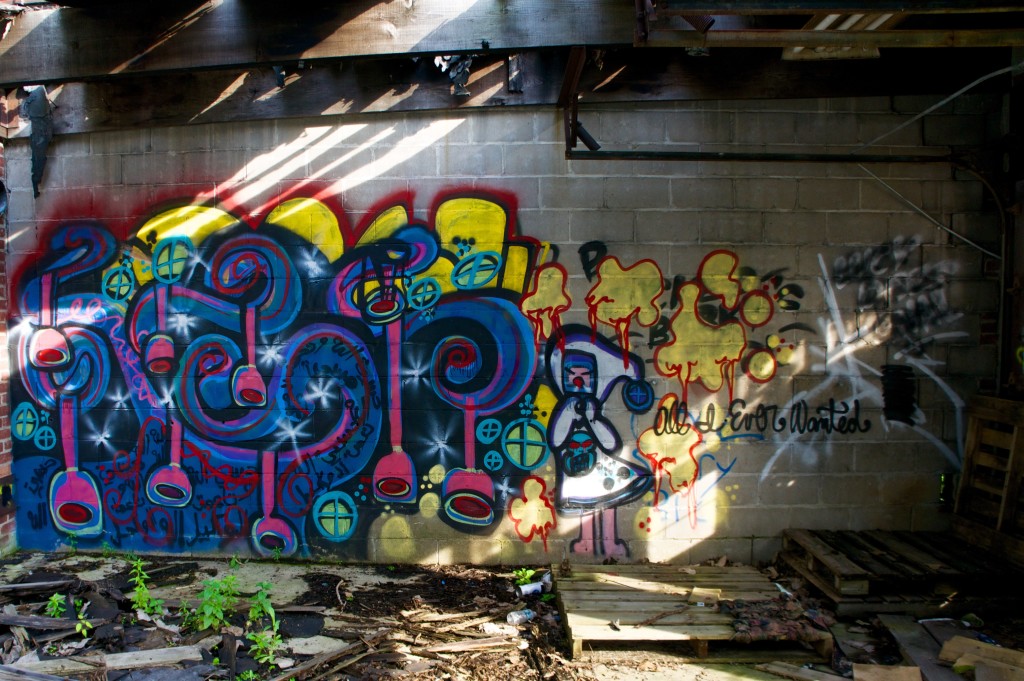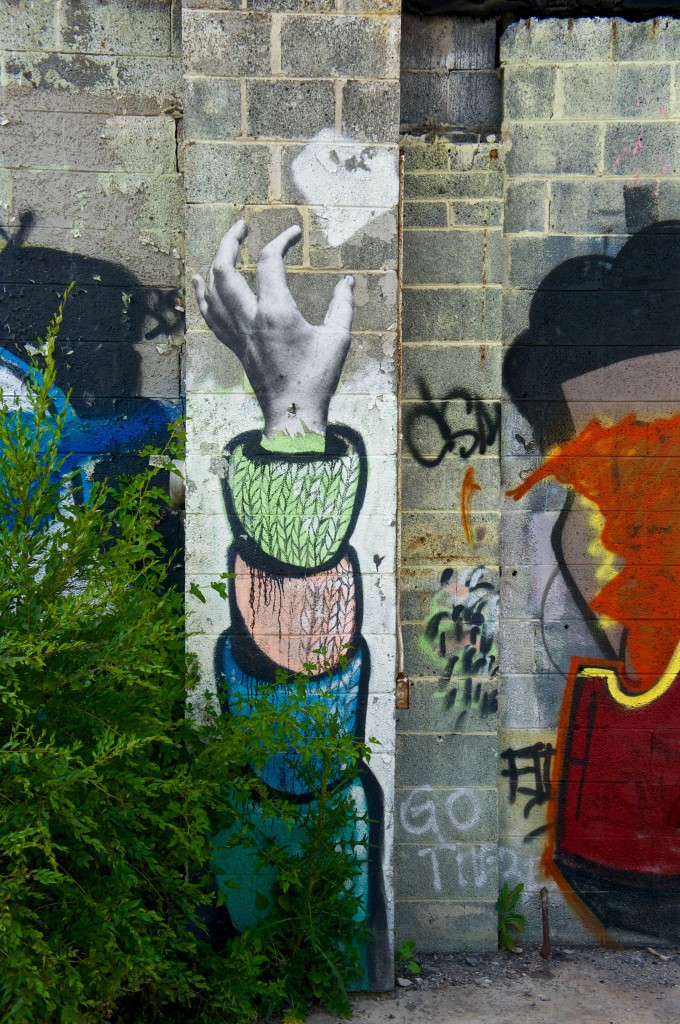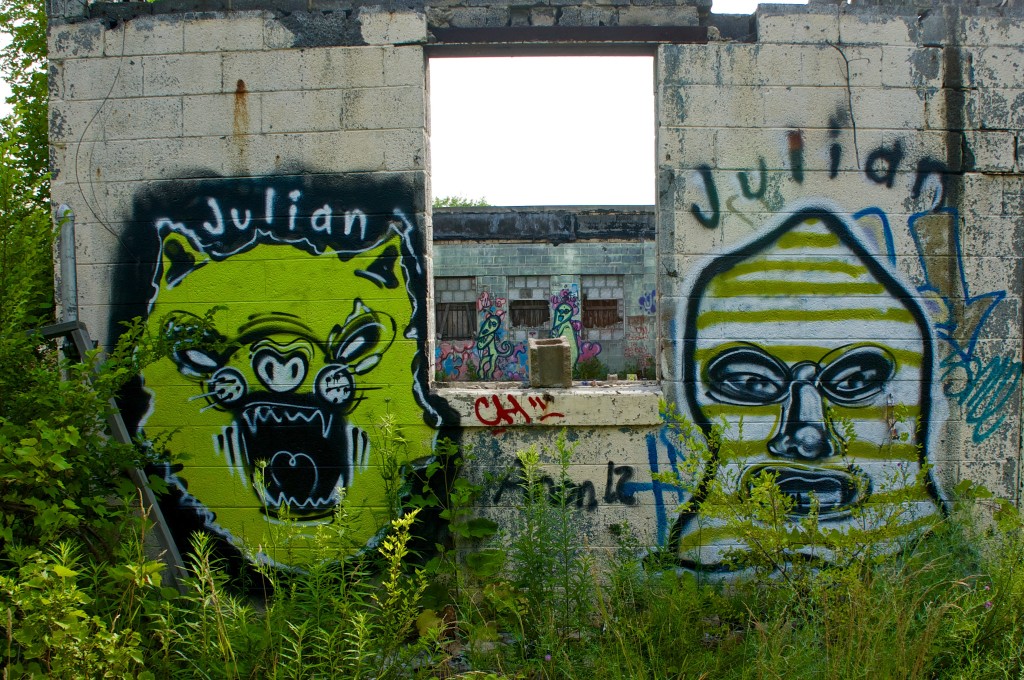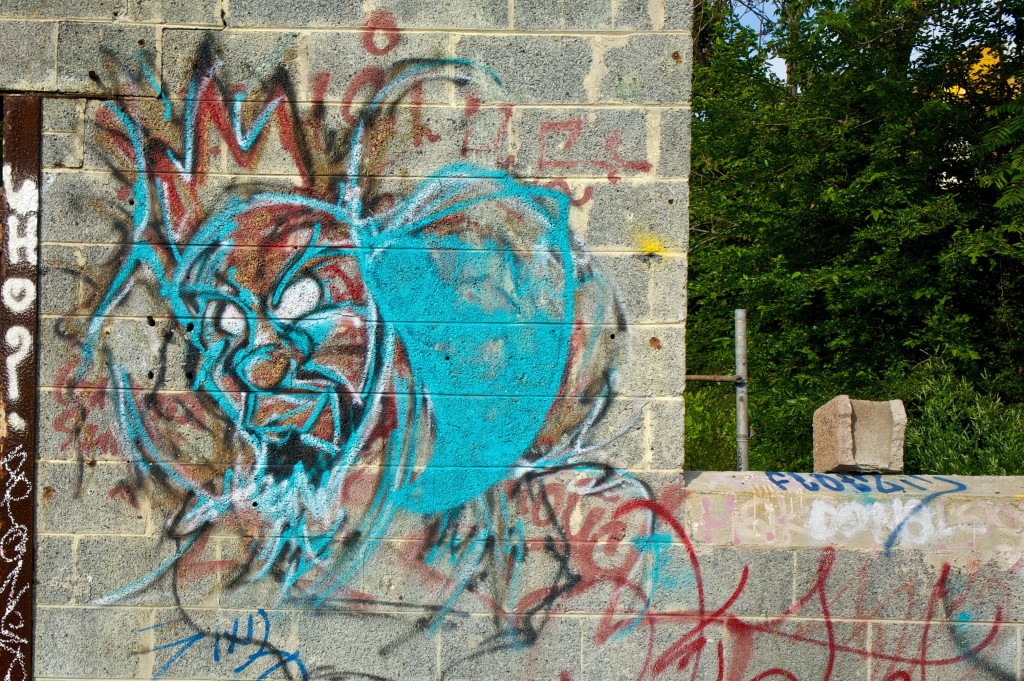 Some of the works were text-heavy, illuminated manuscripts inscribed on cinder block.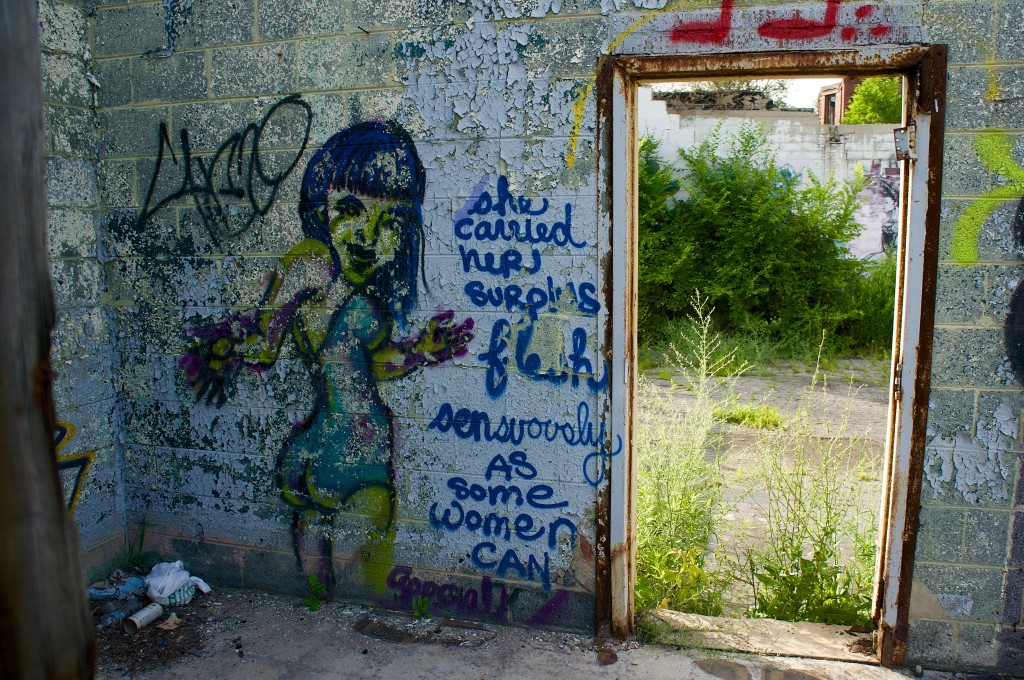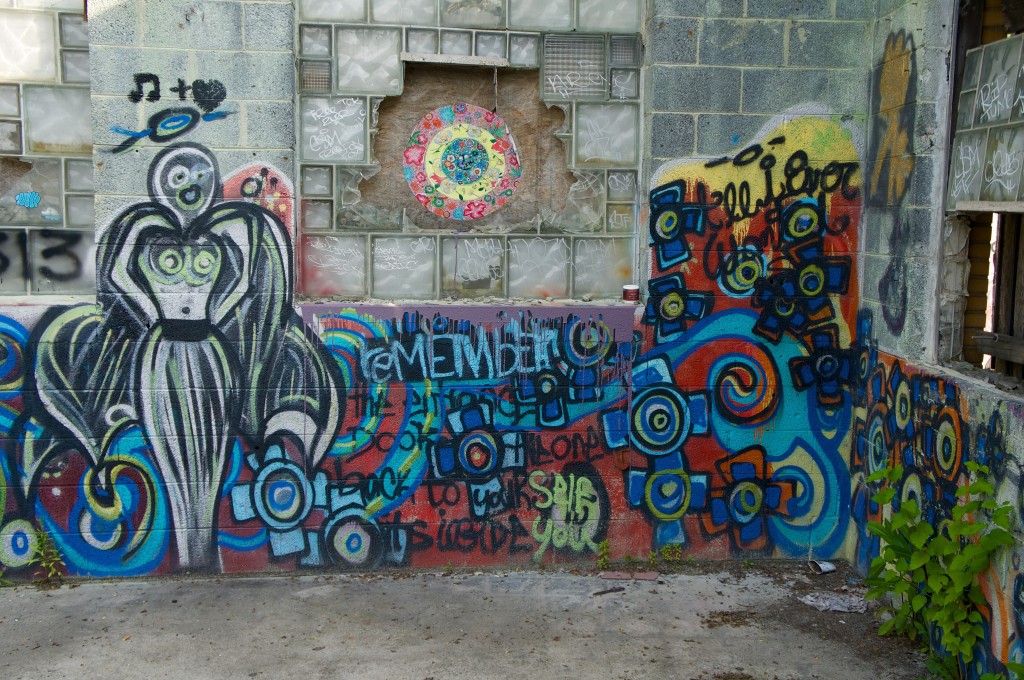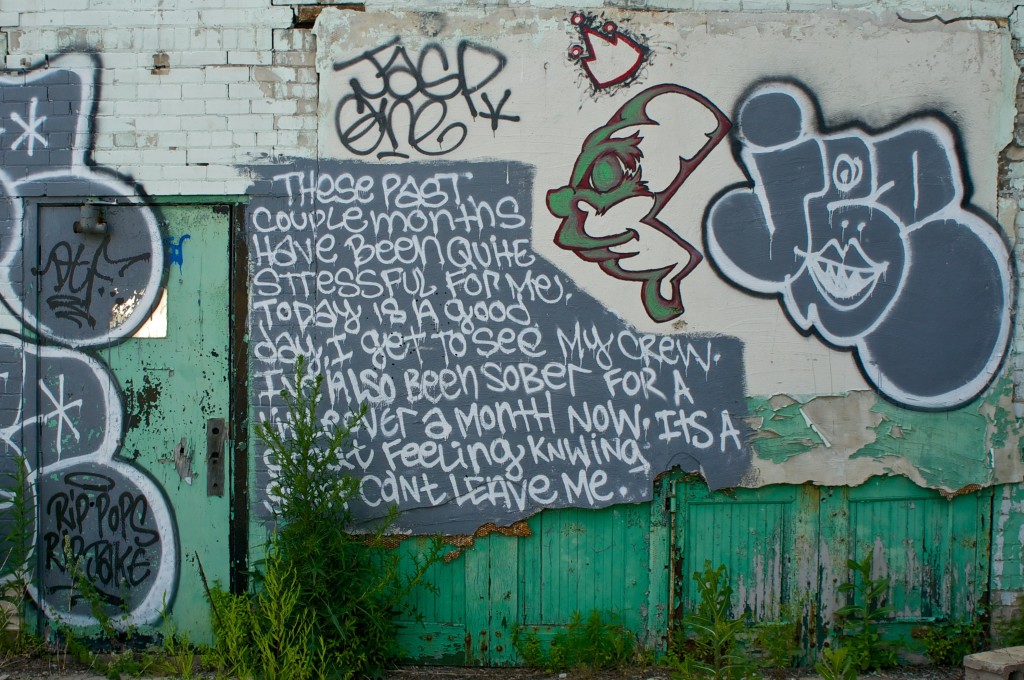 As I made my way back to the street, I again wondered what motivates people to make art. The question seemed especially poignant in this environment. Everything in the "museum" I had visited spoke of the transitory and the ephemeral. The murals that artists spent hours and hours meticulously painting will not long survive the elements or human depredation. In that respect, they are more like performances than fine art, dances that, once completed, live on only in memory. Unlike a "real" museum, the complex at Brush and Baltimore is subject to time, decay, and dissolution. Heraclitus, who famously said you can't put your foot into the same river twice, would have understood. Perhaps the artists who worked here needed to lay down an I-was-here marker in the river of time more than they needed to occupy a static space.