As night fell on our first day in Granada, we heard the sounds of a crowd and the buzz of a small engine coming from the street. I grabbed my camera and went out to see. The streets were aswarm with people. Considering their numbers, though, it was a pretty quiet affair. A long line of people passed quietly by us.
We saw the focal point of the evening toward the end of the subdued parade line. A wood and glass coffin, surrounded by flowers, was being carried atop a cart. The coffin was lit by spotlights powered by a portable gasoline-powered generator, which was sitting on another cart riding behind. Inside the coffin was a female department store mannequin which had been, shall we say, repurposed to resemble the popular image of Jesus: soft features, long curly locks, beard, white skin, and an almost effeminate countenance. Compounding the androgynous appearance was the fact that the figure was wearing a white lacy skirt. His (her?) body was streaked with blood-red gashes. Behind the coffin were two angels and a large cross draped with white linen.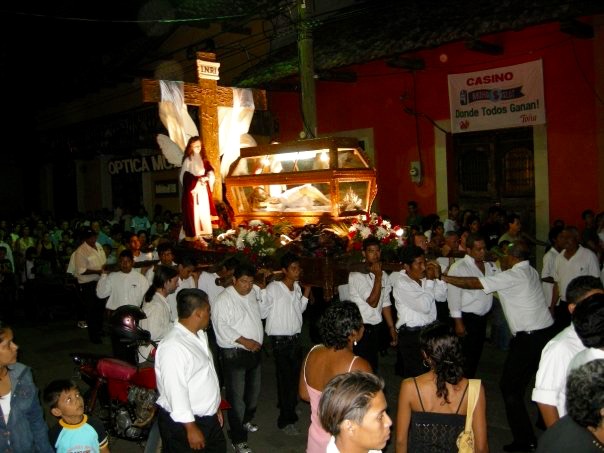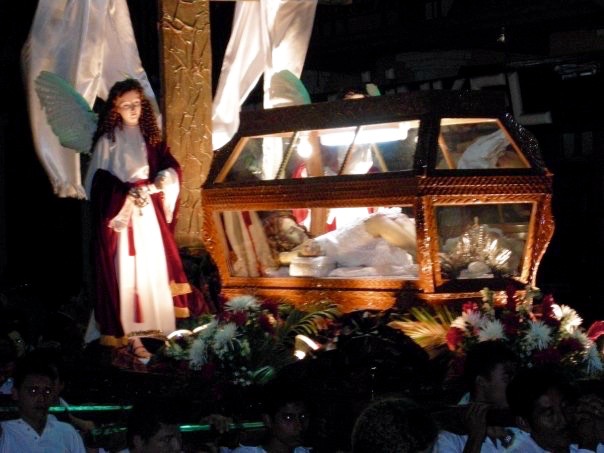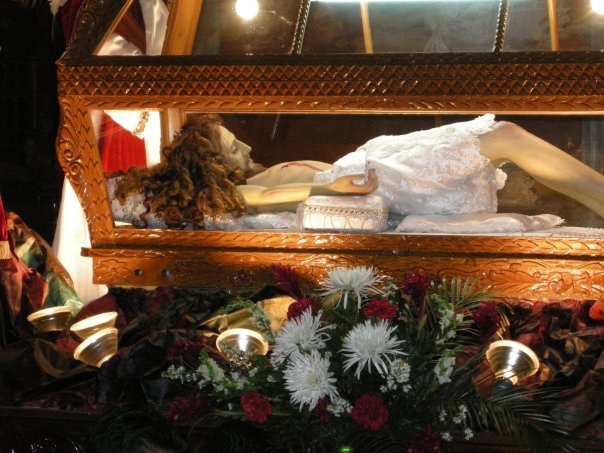 Not having been raised in a Catholic neighborhood, I wasn't sure what was going on at first. Then it clicked with me that this was Good Friday, a holiday about which I had only a dim secular humanist awareness and understanding. I soon figured out that this parade was a reenactment of Jesus' burial. I wasn't sure what was cool to do. Could I join in the parade? Could I take pictures? I didn't want to piss anyone off on my first night in Nicaragua, so for the most part I stood curbside and watched.
I was struck by the immediacy of the proceedings. This was not the abstract American Jesus; this was a bloody, mutilated likeness. It was the barbarous act of crucifixion made real. It wasn't a priest saying "Jesus suffered and died"; it was showing, not telling. My son and I appeared to be the only gringos in the crowd. I felt privileged to be there.
Later that evening, when Spencer and I ventured out for a beer, we saw this figure (Mary? a local saint?) apparently waiting to be seated at the café.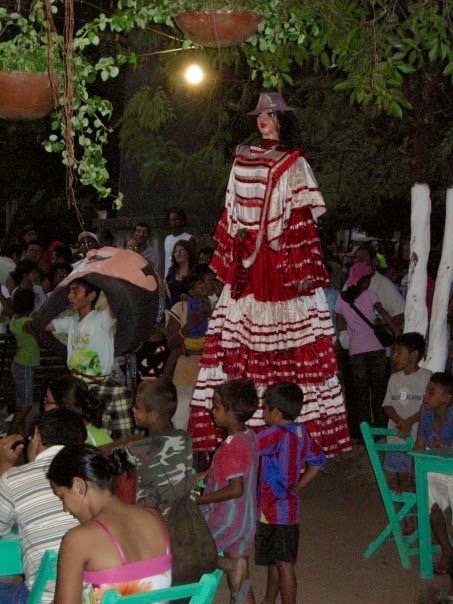 Strange big-headed blow-up dolls also circulated among the throngs of Good Friday celebrants.
The religious procession by this point had given way to more secular concerns of eating, drinking, and relaxing. Strolling musicians came by and parked at our table for awhile.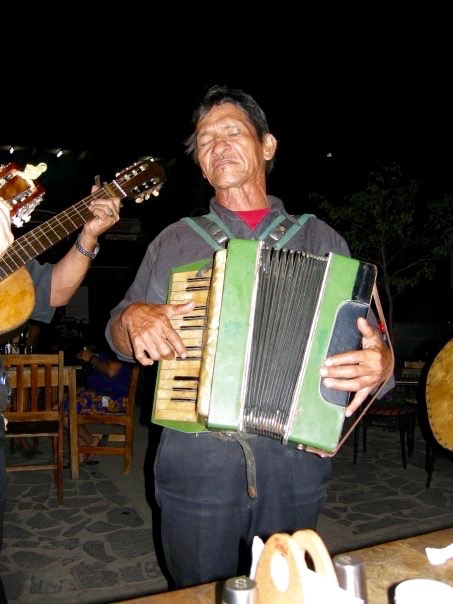 Tired from our travels, but feeling delighted and welcomed by the parade we had just witnessed, we then returned to the hotel and a sound night's sleep.